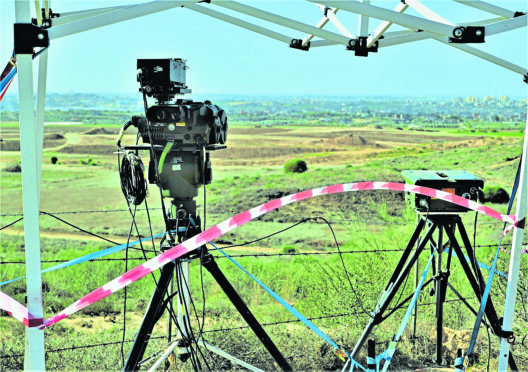 I was part of an official foreign press tour of the Jewish communities on the Israeli side of the Gaza Strip.
While you cannot compare, for example, what the average person in Gaza suffers through no fault of their own, it's only fair to document what totally innocent Jewish civilians, living in their homes and simply trying to go about their business, have to put up with. Rocket attacks that are not precision, but are indiscriminate.
The terrified residents have only 15 seconds to get into a bunker when the warning siren comes. In the past six months alone, more than 1,000 rockets have been fired into Israel. Homes, schools, the railway station, bus shelters and even kids' playgrounds all have concrete bunkers. Little wonder Sderot is referred to as the "bomb shelter capital of the world". Since 2005, Hamas has fired 25,000 rockets into Israel.
We were driven the short distance to the first set of security fences. Obviously being on an official Israeli government press office bus, we were expected and allowed to drive into an area that is off limits to others.
Out of the bus we were allowed to walk at will and soon I found myself right up to an IDF lookout post with two soldiers. The equipment was top of the range – cameras, video and night vision from what I could gather. Understandably they didn't answer my questions about their work, but I got chatting and certainly raised a few eyebrows when I pointed across the open land towards northern Gaza and stated: "That's the town of Beit Hanoun."
"How do you know?" replied the intrigued soldier.
---
>> Keep up to date with the latest news with The P&J newsletter
---
"I've been there," I said. I then pointed directly towards the fields just before the houses of Gaza and commented: "I stood in that field eating strawberries with an Imam. If you were on duty that day, you probably watched me with your cameras."
I looked around; the Israeli border fences, the very ones that get stormed every Friday by Palestinians, was only a couple of hundred metres away. Maybe a mile behind that, the buildings of Gaza. In between where I was standing and Gaza, I spotted a small white hut. It seemed to be staring right back at us.
"That's a Hamas lookout post isn't it?"
"Yes," he said, again with intrigue.
I walked off by myself and just looked over the land in front. I recalled the last time I had been in Beit Hanoun. The houses and surrounding area are in shocking condition, yet I was taken inside a family home and served up one of the best meals I'd ever had in my life. Very kind, the ordinary Gazans, who want nothing whatsoever to do with the violence orchestrated by their leaders, they just want peace. As always, it's always the innocents who suffer.
Back on the bus, we drove past black burned-out fields which is the result of a new Hamas tactic. Every Friday on the Gaza side, kids come to the fences holding helium balloons and kites. Sounds like a peaceful protest? Not so. Attached to these innocent items are rags and mesh soaked with fuel. Just before they are let go and when the wind is blowing in the desired direction, they are set alight and off they sail, over into Israel. Again, totally indiscriminate, these balloons cause havoc. They land in people's gardens, fall on to cars and cause them to blow up, they land wherever the wind takes them. In the past six months, 10,000 acres of Israeli farmland has been set alight and destroyed. Ask innocent Israeli farmers how they feel about this? What have they done to Hamas? Nothing.
---
"Israel can't just keep building stronger defences aimed at keeping Gazans at bay"
---
We drove north, past Erez crossing, where I'd been turned away previously, and ended right up close to the wall. In a secure area, without being on this press tour, I wouldn't have gotten anywhere near here.
After photo opportunities, we went inside one of the Jewish homes, its back garden looking out towards the wall. These are not poor families who find themselves stuck here with no other choice. These are middle-class families who have actually moved here from all over Israel. They are building new homes here. Why? The house owner did explain, but it didn't make much sense to me to bring your family here, too dangerous in the line of fire. But it's their right, so good luck to them. I've also been told that the Israeli government gives tax incentives for any Israeli family moving here; up to 25% rebate. They simply want to populate an area of their land. Please remember, this is not a so-called "illegal settlement". This is not the West Bank, this is in recognised Israel.
This village of new builds is growing all the time, and they are planting trees and shrubs to make it all look normal. It could be any small village in hot rural Spain; it all looks normal, until you see the wall and know that Gaza and Hamas are not far away. I wish these families luck and hope that they are safe from incoming rockets. When it comes to suffering though, my mind cannot help but drift back to Gaza.
The people of Gaza cannot, at this point, change their own situation from within. They simply don't have the clout and have no opportunity to do so.
Therefore, what is going to happen to them? I wrote earlier this year that Gaza may well soon become uninhabitable due to the infrastructure literally crumbling.
I'm sure that all the powers in the region fear this, yet none of them seems to have a solution to the problem. The Palestinian Authority in the West Bank doesn't seem to want to help. In Gaza, Hamas is accused of spending millions of dollars on weapons and salaries and not on the people. Egypt has shut its border near permanently for the past few years and doesn't want to know Gaza.
As for Israel, well while I am all for finding a way to bring hope and prosperity to the ordinary person in Gaza, simply taking down the wall and fences and letting two million go where they want at will without first changing mindsets and Hamas putting its weapons out of reach would be a grave mistake.
Yet, that said, Israel can't just keep building stronger defences aimed at keeping Gazans at bay, the situation has gone well past that. Gaza cannot continue as it is, not for much longer.
And don't expect Hamas and international aid to dramatically transform the lives of Gazans. Seventy countries have contributed an astonishing $5 billion in aid to Gaza already. Where has the money gone? I've been there, believe me, it's not been spent on the people.
Does the Israeli blockade cause Gazans to suffer? Of course it does. Two million people in Gaza can go nowhere. They are prisoners. Many Israelis won't want to hear this, but it is collective punishment. That said, after spending much time here and getting right under the skin of it all, I also see the Israeli view. As I say in my book: "Are walls built to divide or protect?" Both in my view. With regard to supplies and goods, don't be under the illusion that there is no food or clothing in Gaza, there is plenty. Shops are well stocked, I've seen it myself. Having money to buy such items though, well that's another matter as unemployment runs at around 50%. I'm informed that Israel allows on average 950 trucks per day into Gaza via another special crossing. That statistic rarely makes the western media. I wonder why…
Whatever the rights and wrongs, there is only so much the Gazans can take. My fear is that, if nothing changes, within the next 18 months, we will see not a few thousand angry young men rioting and burning tyres and throwing stones at the border on Fridays, we could see a humanitarian event, and massive in scale.
Not Hamas controlled, but literally hundreds of thousands of men, women and children peacefully making their way to the border fences and pleading to be let out. With the world's media watching, what then?
Shooting an armed, tyre-burning or bomb-throwing teenage boy is difficult enough for the west to swallow, but surely there's no way Israel could open fire on hundreds of thousands of peaceful people clamouring to get out of Gaza?
If this scenario is not enough to scare the Israeli authorities and the world at large to come up with a new solution and quick, I don't know what is.
To contact George directly about any of his columns, email nadmgrm@gmail.com