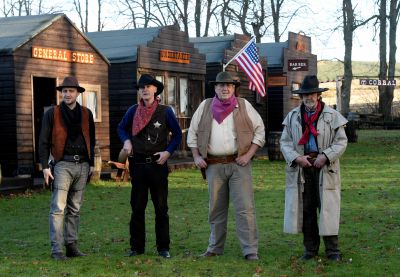 When Alistair Baranowski surveys his back garden, he can choose between visiting the saloon or paying his respects at the cemetery, which is filling up fast due to shoot-outs.
Then he might pop along to the bath house followed by a spruce-up at the barbers, before putting his cowboy hat firmly in place.
The scene is far from your average water feature and garden gnome set-up – for Alistair is the self-appointed sheriff of Scotland's only cowboy town.
He transformed a field behind his house in the grounds of Glendronach Distillery, near Huntly, 13 years ago and the result is remarkable to say the least.
A lifelong passion for the wild west has seen Alistair bring his boyhood dream to life in the form of Tranquility.
The name is perhaps ironic given the "gun fights" which take place and the battered signpost for the town is riddled with bullet holes due to what is known as monthly blast-offs.
But to Alistair, Tranquility has become a haven where both he and like-minded volunteers can indulge their love for the cowboy era.
What started off as one building put together using hand-held saws has now evolved into eight buildings where weekly meetings take place.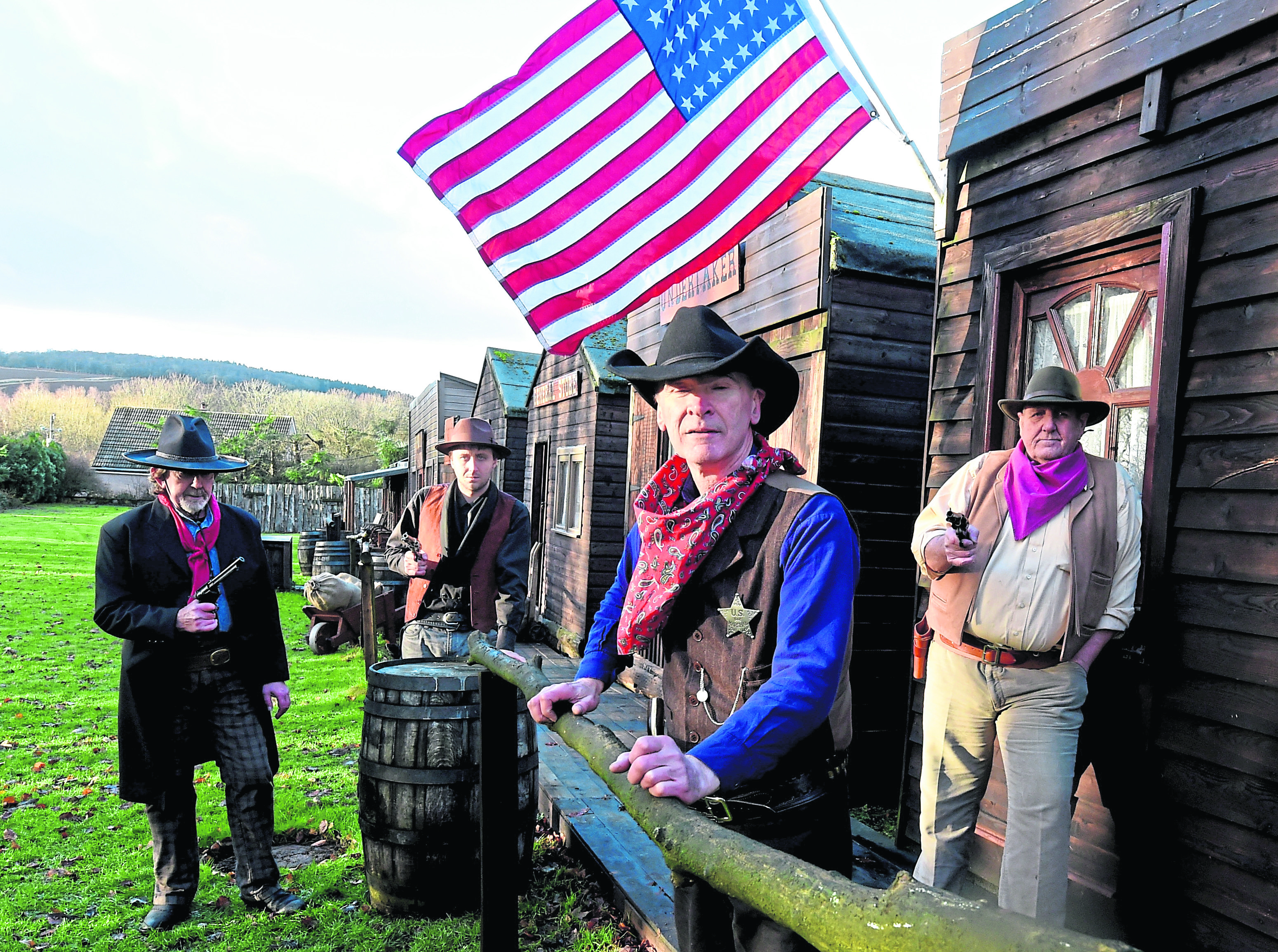 Enthusiasts can enjoy re-enactments and comradeship, and knowledge of the town has gone far beyond cowboy regulars.
The BBC has recently finished filming on site and Alistair welcomed a crew from The Social.
A series of comedy sketches based on the multi-million selling western-themed computer game Red Dead Redemption Two was shot last month.
"I never imagined that Tranquility would grow the way it has – we now have 30 members," he said.
Tranquility has come up against many challenges over the years, from heavy snowfall causing damage to buildings to new gun laws putting the group's future in doubt.
But Alistair has remained steadfast in his belief that the town is a dream worth pursuing.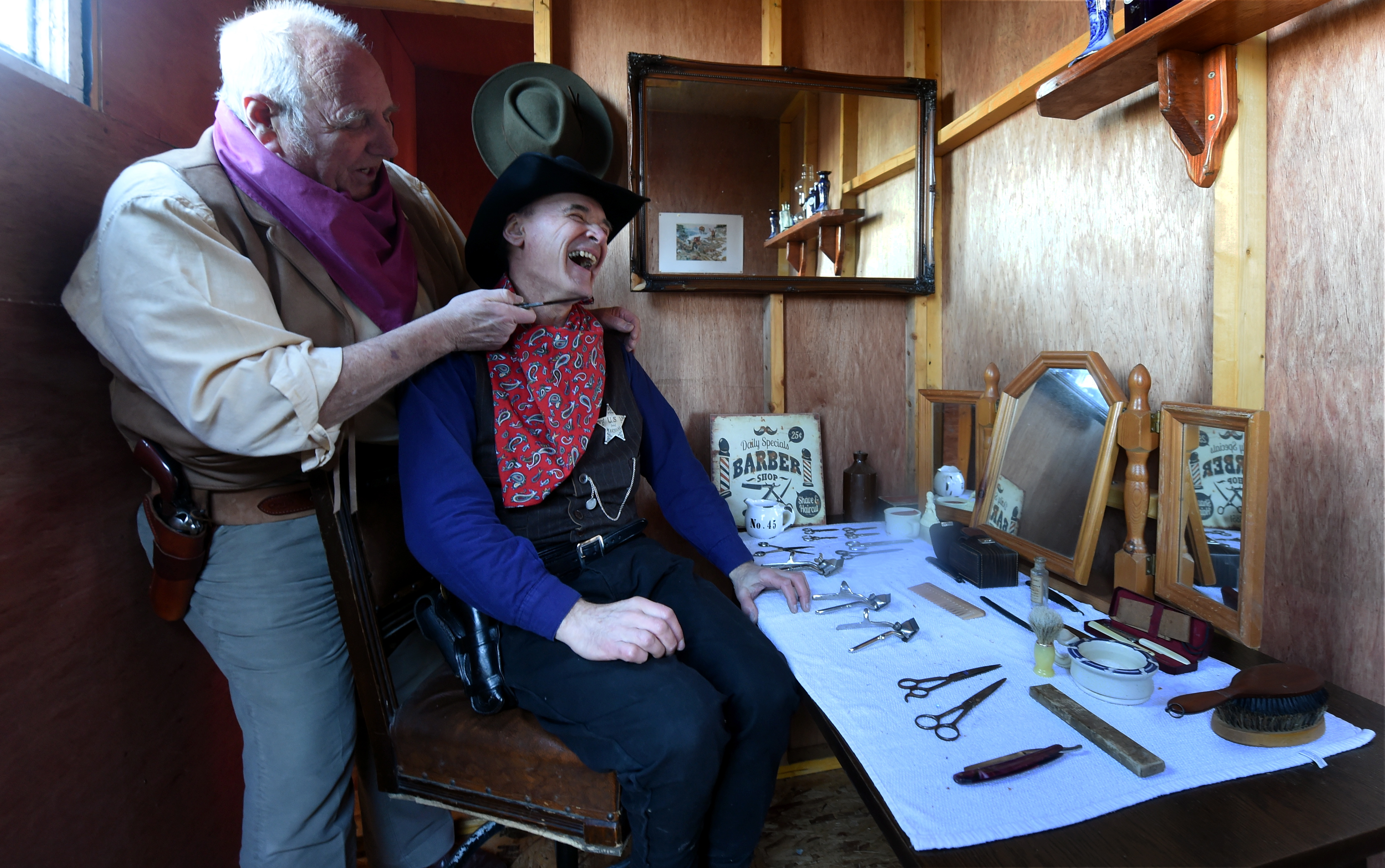 "I used to go to the movies as a kid and see a Saturday morning matinee," he said.
"It was always a western, that was the craze at the time and that's where my passion started.
"People seem to forecast the demise of westerns all the time but it simply hasn't happened.
"In the past we have struggled with getting the word out about Tranquility, though.
"We can't stand on the street in our outfits complete with gun holsters, like we would have done in the 1970s.
"All we need is one member of the public to panic and report us for gun crime.
"Everything has to be pre-arranged, so we've had to think of how to attract members."
When the group re-enacts shoot-outs in the woods at Tranquility, they use what is known as a blank-firing gun.
There are no set roles up for grabs and Alistair believes that the set-up is similar to what happens at paintballing.
"When you become a member at Tranquility, we don't assign you to a certain part, although you can adopt a name if you wish," he said.
"You've simply got the good guys and the bad guys, with one big game of hide and seek in the woods.
"That's better than paying for a game of paintballing or Laser Quest."
"We would really love more people to join us; we're particularly keen for younger members and women to come forward."
The majority of cowboys source their outfits from America, where wild west towns still exist.
But what does the group really offer beyond shoot-outs and role play?
For veteran cowboy Rod Murray, Tranquility has given him a reason to live again and he still tries to visit after moving from Aberdeenshire to Darlington in Northumberland.
"I was on the internet and saw a story about this wild west town," said Rod.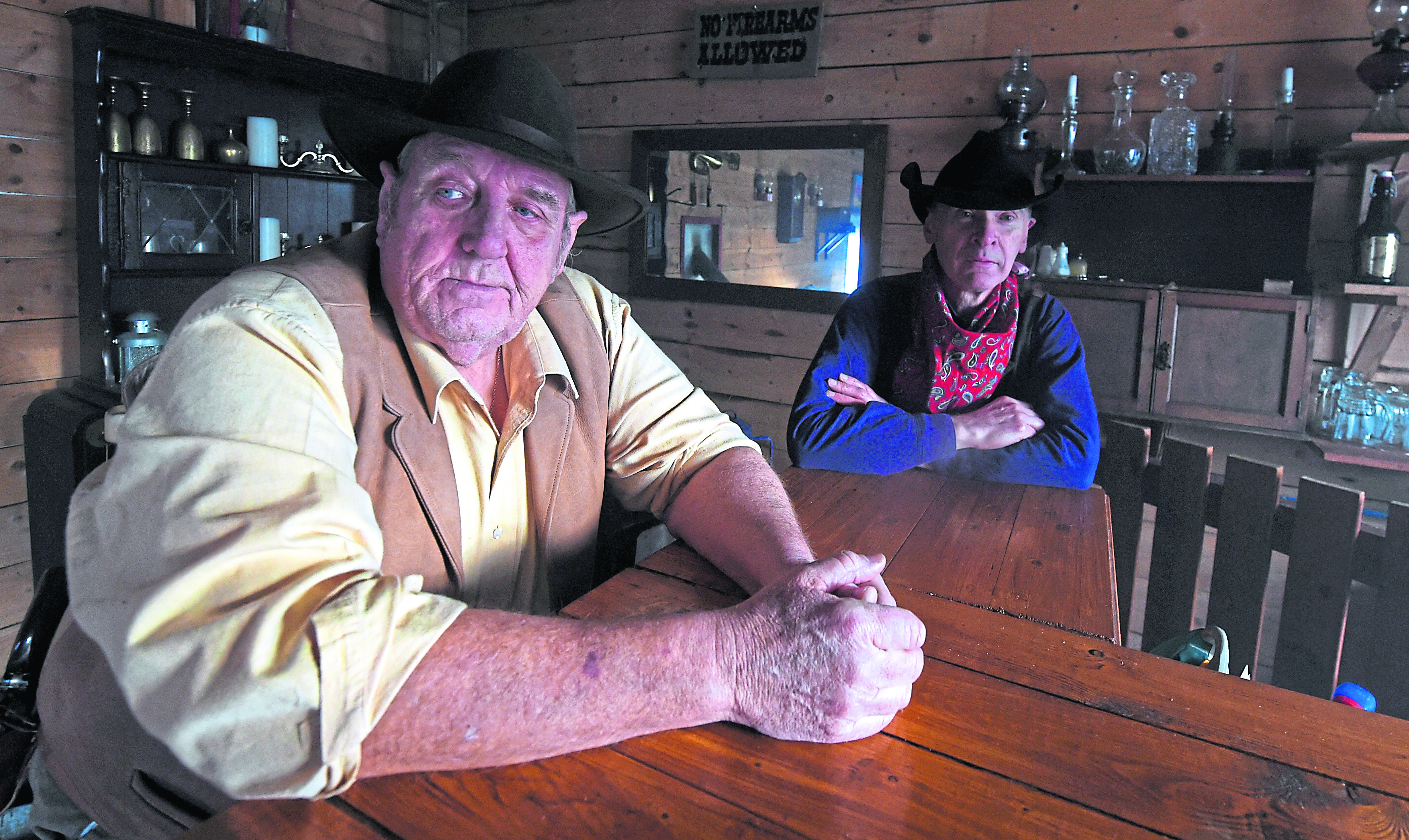 "I went to have a look and joined the group there and then.
"I joined in 2007 and two years previous to that, I had suffered a stroke.
"I wasn't in a good way and I was very low mentally.
"The stroke meant I couldn't do things I did before and I suffered from depression.
"It got to the stage where I thought well, maybe I do not want to be here.
"Joining Tranquility saved my life."
Rod has had what he calls a "fascination" with the wild west since he was 14.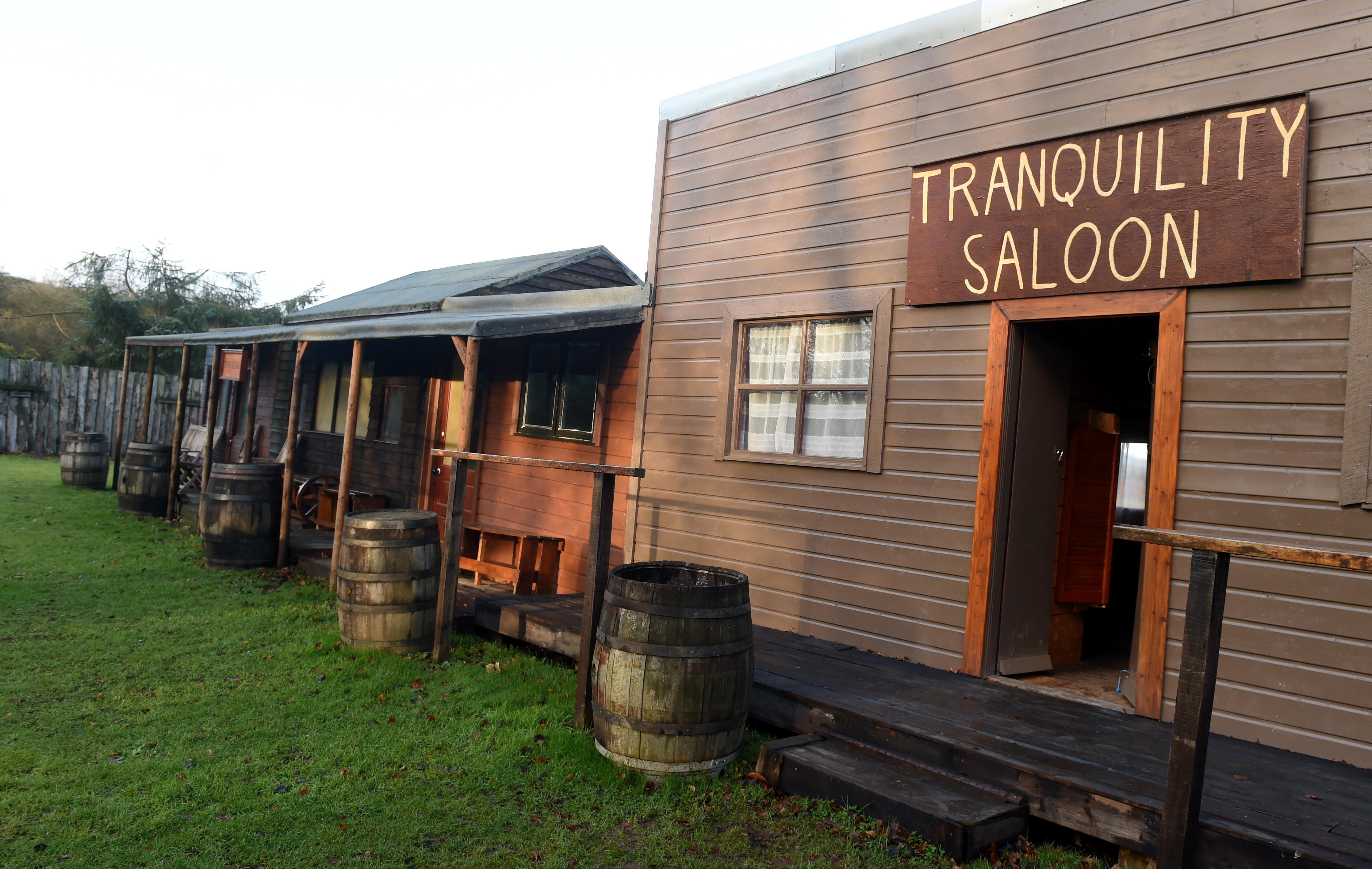 Tranquility has enabled him to socialise with fellow enthusiasts and he even tries to help with the maintenance of the town when he can.
"I'm not a technical-minded person at all and I think I could have happily lived in the wild west era," he said.
"I love being a member of Tranquility because it's like having a community.
"I feel like I belong to something and when I'm there, I don't think about my health and doctor's appointments at all.
"I forget about everything and live for that moment."
Fellow cowboy William Beaton agrees, having joined Tranquility when it first opened.
He was originally a member of re-enactment group Aberdeen gun fighters, before it dissolved in 1997.
"The concept of Tranquility was so exciting, we actually built the saloon using hand saws," said William.
"Thankfully, we were introduced to the world of electric power tools and the surrounding buildings took shape much quicker after that.
"I'm a truck driver and when I get two weeks' holiday, the chances are I'll head for Tranquility.
"There's such a great community there and I like to dress as authentic as possible."
William orders the majority of cowboy clothes from the States and believes you can pick up realistic clothes by shopping around.
He struggles with an American accent in role play due to his naturally quiet speaking voice but that doesn't stop him from giving it his best shot.
"We make our own films quite a lot and it became apparent then that I really need to speak up," he said.
"Tranquility is definitely a bit of escapism, although I find that how much fun I have depends on what kind of humour I'm in."
Michael Bingham is one of Tranquility's youngest recruits at 24.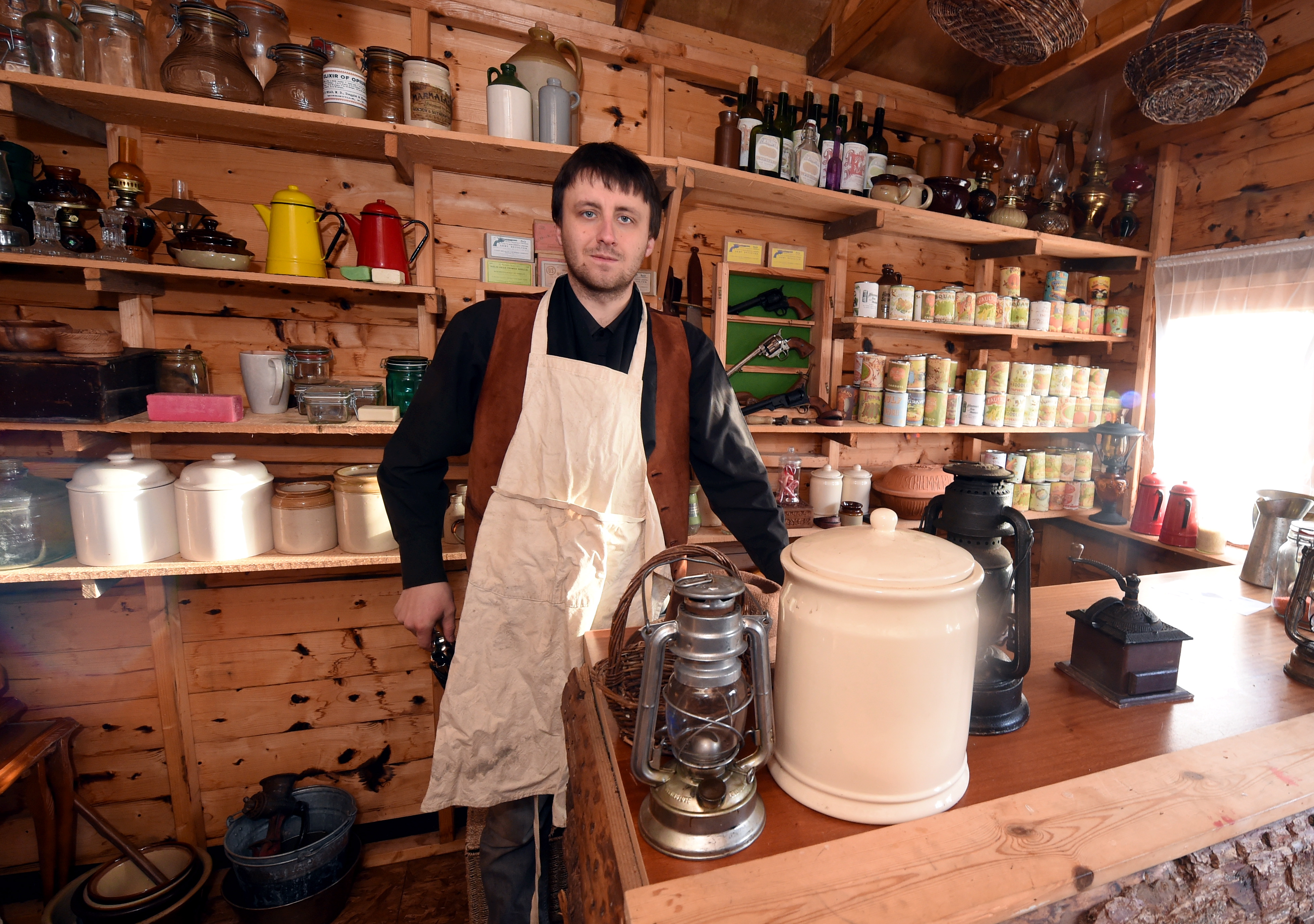 He wants to persuade more people his own age to become involved.
He hopes the experience will further his acting career and is already preparing for an open day in the spring.
"It's one of the best things I've ever got involved with," said Michael.
"I've always enjoyed western films, a shoot-out in the woods can seem a bit daunting but it's actually really easy once you get into it.
"Obviously it has been useful for acting experience but it has also helped me to meet some brilliant people.
"Some of my friends were a bit surprised when I told them about Tranquility but I've managed to rope a few of them in.
"It's really good fun."
The next open day at Tranquility will be held in April and Alistair hopes some new faces will come along to experience the wild west, Scottish style.
"Our members are almost like a family to me and I feel like a shepherd watching over them," he said.
"People often tell me of the impact the group has had on them and say they wish they had joined sooner.
"We're open for all ages to people from all walks of life."
---
To find out more, visit the group's Facebook page at Tranquility Wild West Town.