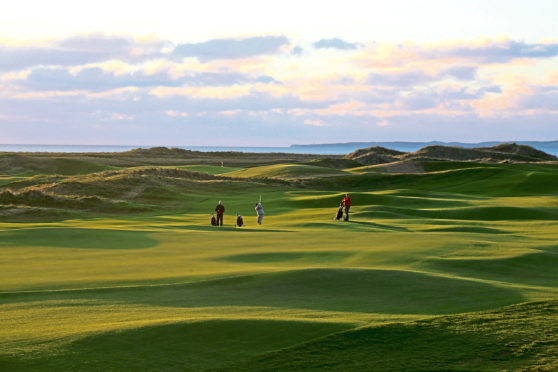 George Orwell didn't play golf, but the islands he described as "the most un-gettable-to places" are being reborn and rediscovered as ancient golfing land.
On the Inner Hebrides, they have been golfing as long as they have been legally distilling.
Soon, the Bein Heartache lighthouse could be as familiar as Turnberry's, and Malodorous Bay mentioned in the same awed breath as Spyglass and Pebble Beach.
The Outer Hebrides has five courses – Isle of Harris, Barra (the most westerly in the UK), Benbecula (a nine-hole services course only opened to civilians in the '90s), Stornoway (1890) and Askernish (1891), designed by Horace Henderson and Old Tom Morris, who described the choice of land for golf in the Hebrides as "staggering", nature being, in his opinion, the supreme golf architect.
Scotland's Inner Hebrides offers hallowed golfing terrain too. Islay – the Queen of the Hebrides, two to three hours from Glasgow and Edinburgh by train or car but only 25 minutes from Glasgow airport by air – has a long golf heritage
"The player who beats the Colonel on level terms requires to play very good golf." So wrote one visitor after playing Islay's long-gone nine-hole par 41 Gartmain course near Bowmore where the island's first legal distillery was built in 1774. Islay now has seven distilleries. Gartmain opened in 1907 but was allowed to grow over. Islay's more famous "natural course with good turf" – as it was described in 1900 – has just re-opened, having undergone a makeover which should appeal to romantics, purists and linksland loyalists.
Islay Golf Club is now the new Machrie Golf Hotel and Links. Investors include Baroness Dye, the former diary secretary of former prime minister, Gordon Brown.
A mile from the island's Glenegedale airport, and 10 minutes from the ferry terminal at Port Ellen, with partner and 1991 US Masters champion Ian Woosnam, DJ Russell, former Ryder Cup vice-captain, has redesigned the historic course through the "machair" – tufted short grass growing in sand dunes between land and sea.
But Machrie isn't the oldest Hebridean island course. Or perhaps the truest and most classic test of seaside golf. Colonsay's golf course, 90 minutes away by CalMac ferry, goes back to 1775.
Every August, it hosts the annual Colonsay Open, when anyone who turns up can pit their skills against the course.
The course measures 4,752 yards. Members enthuse about the crosswinds, the ball-eating burn and "tatty-bye". It has no bunkers, just rabbit holes. Sheep are the greenkeepers.
The 1964 Isle of Skye Golf Club, which hosts its annual Open every July, is more manicured. The 4,776 yard Sconser Club, which has its own full-time greenkeeper, was designed by former Walker Cup player Dr Frank Deighton. He died in February 2018 and his ashes were scattered over the course. At the foot of red Cuillins, the course looks out over Raasay and several Mealls and Munros. Sometimes you can have the course and the Old Man of Storr to yourself.
The old Machrie was created in 1891 over 100 years after Colonsay and 73 before Skye by Willie Campbell, from Musselburgh. He was one of the first professional golfers to move to the US and worked as the professional at Brookline Golf Club, Massachusetts.
Machrie is now run by Campbell Gray Hotels. Operators offer golf packages with private flights from Islay to Kintyre's fabled Machrihanish Links (1873) and new "Dunes".
The big-windowed, 43-room luxury hotel has the island's first cinema and has the feeling of a very modern, high-ceilinged, high-end hunting lodge. The locals approve.
Room 26 is the best room in the house looking over the 18th green and down the fairway.
Machrie at na Torraig, Bruichladdich, is open to all. New tees may have been added, greens raised, re-contoured or moved, greenside bunkers re-jigged and the sixth fairway moved closer to the Atlantic, but as resident PGA golf professional and 2013 Irish Fourball Champion David Foley says, the course is still classic golfing habitat and its original designer would have approved.
"The location and the tranquillity is something you can never change. I have to pinch myself every time I come here," says DJ Russell. "Machrie is a very special place."
The reborn Machrie is not to be feared – although a little Laphroaig single malt in your porridge in the morning helps to give some Hebridean courage.
TRAVEL FACTS
Winter rates at Machrie start from £145 per room, per night, and summer rates
from £235 per room, per night, including breakfast.
Website: www.campbellgrayhotels.com
Visitor green fees are £65 per round and £100 per day.
Loganair operates up to two services daily from Glasgow to Islay, and has
just launched its new Edinburgh to Islay route. Fares start from £52.99 each
way and all bookings include 20kg of complimentary luggage.
Reservations can be made via www.loganair.co.uk or by calling 0344 800 2855.