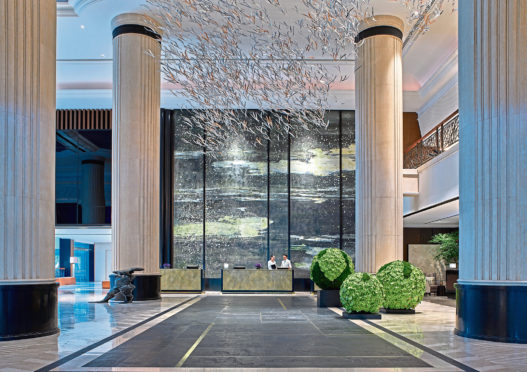 It's beyond expectations – and surprising: thousands of tropical plants, trees, flowers, wildlife, a waterfall amid almost 1,000 rooms and suites spread over 15 acres within minutes of bustling shopping malls and designer shops… Shangri-la Hotel, Singapore.
Then the lobby – massive, colonnaded yet maintaining that sense of tranquillity – from the ceiling, a canopy of falling leaves against a backdrop of raindrops; the "leaves'' metallic, the "rain'' artistically woven on a silkscreen tapestry, the work of Japanese designer Hirotoshi Sawada.
In the lobby's centre, an infinity pool featuring sculptures of children at play, potted weeping figs and a floor-to-ceiling rock wall. All part of a serene oasis a short walk from Orchard Road shopping district.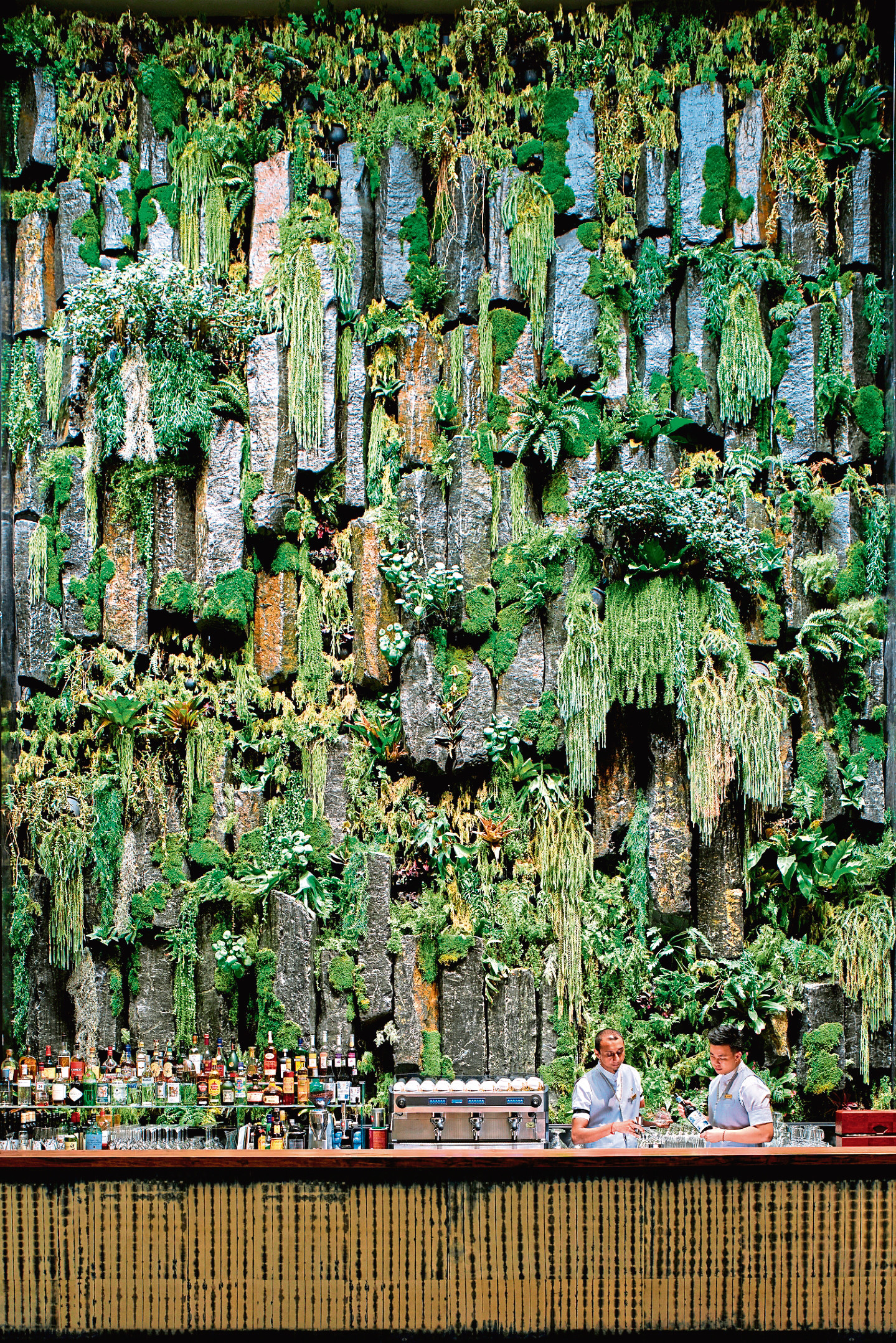 Shangri-la Singapore has 792 rooms and suites (as well as 182 apartments and residences) in three distinct wings. Our Tower Wing junior suite on the 10th floor was spacious and stylish, decor cream and chocolate with a subtle Asian influence, concealed lighting contributing to the overall aura of comfort.
The windows and a lounge alcove provided a stunning panorama across Singapore.
We relaxed after our long flight with complimentary cocktails and canapés in the Horizon Club on the 24th floor and enjoyed an excellent buffet breakfast in the club the following morning.
The Garden Wing, designed for the leisure and family market, emphasises the natural environment where you can choose to walk up winding, roped banister steps surrounded by a forest of plants and trees, gigantic rock wall and waterfall and more plants lining every suite terrace.
The exclusive Valley Wing, the choice for heads of state, corporate leaders and high-profile personalities, includes three sumptuous suites with their own entrance and lift and privileges such as Champagne, cocktails and butler service.
An interactive indoor and outdoor play space for children was introduced in 2018, known as Buds, where kids can paint, sing and bake – there's a wide wall, paints and brushes, where they give vent to creative expression, a little grand piano for music and song and a separate bakehouse for culinary adventures.
Shangri-la Singapore has 11 restaurants and bars with cuisine ranging over Cantonese, Japanese, southern Italian and Peranakan heritage hawker (blending of multi-ethnic fare). Amenities include a 24-hour gym, four floodlit tennis courts and Chi spa.
Five minutes from the Shangri-la is one of Singapore's major attractions, the Botanic Gardens, established in 1859 and extending over more than 200 acres – the only tropical gardens accorded Unesco World Heritage status.
We walked a winding path through the National Orchid Garden, which has the world's largest display with more than 60,000 plants and orchids.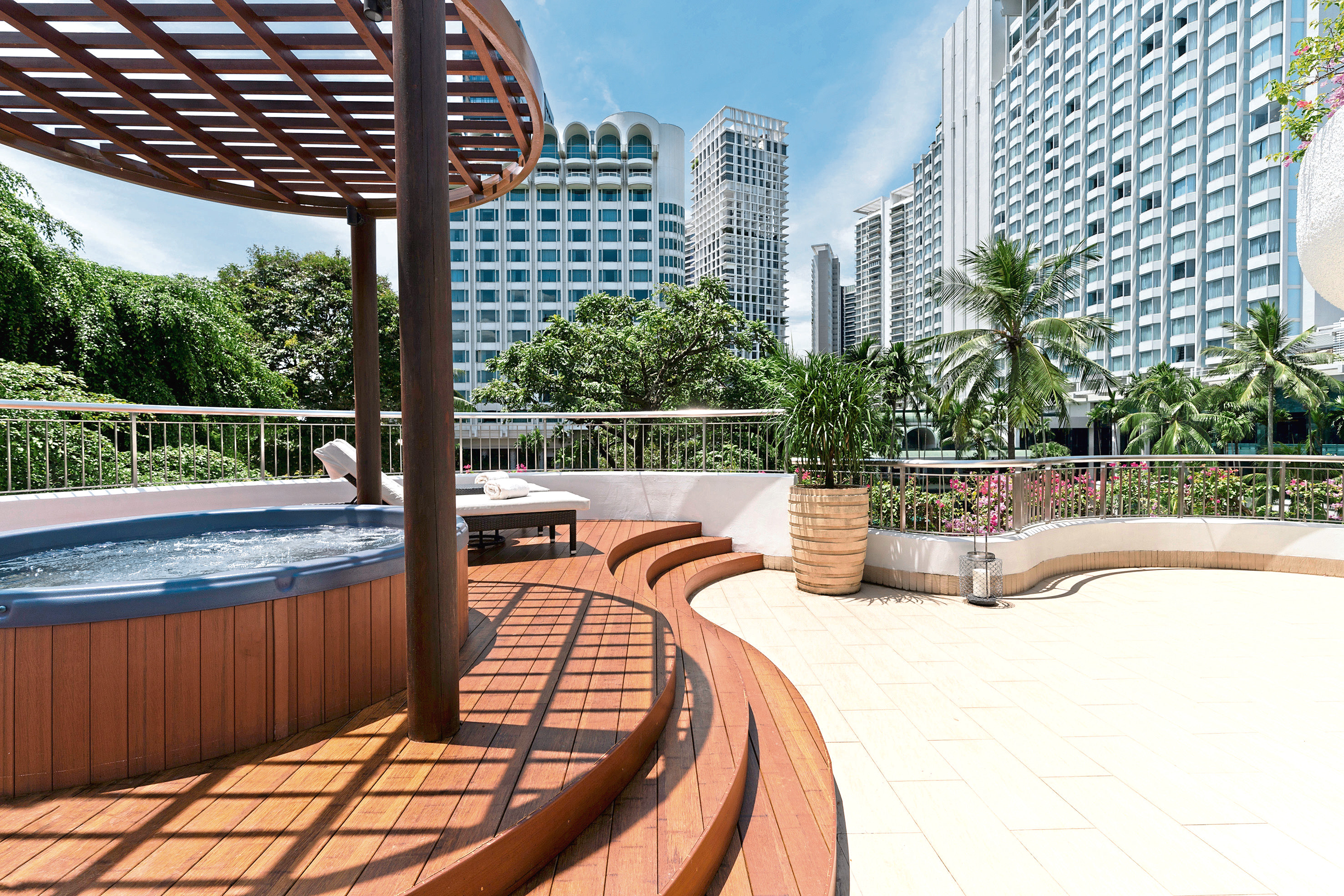 In the VIP section, we viewed the Vanda Miss Joaquim, Singapore's floral emblem, chosen for its bright colours – including white, pinkish purple and orange – and resilience. It was named for the woman who developed it; other specimens honour dignitaries, including Queen Elizabeth.
The gardens have a special place for children – Asia's first garden dedicated to them – a nature learning environment where they can understand how plants grow. Beautiful mute swans – "mute" derived from being less vocal than other species – from Amsterdam glide across Swan Lake.
We drove a little more than 15 minutes to the futuristic Gardens by the Bay, comprising three gardens with waterfront views, spanning almost 250 acres of reclaimed land. Bay South Garden is the largest where tree-shaped vertical gardens tower up to 16 storeys; a suspended walkway between two trees gives a panorama of the gardens.
A massive, glassed Flower Dome replicates the cool-dry climate of Mediterranean regions and contains plants from world desert areas. From the Cloud Forest in an enclosed compound, a 115ft vegetation-covered mountain looms in veiled mist amid the world's tallest indoor waterfall.
Of other attractions, you can best view the pristine, prosperous city of Singapore – and on a clear day, Malaysia and Indonesia – from the Singapore Flyer, the gigantic observation wheel which spins 540ft or 42 storeys above the ground. In-flight packages are offered for dining, Champagne and cocktails.
For shopping, Orchard Road has more than 20 malls, six department and chic stores, and there's the colour and excitement of Chinatown with its Chinese Heritage Centre, while the iconic, 132-year-old Raffles Hotel in the colonial district reopens in mid-2019 following extensive restoration.
There will be year-long events throughout 2019 to mark Singapore's bicentenary, commemorating the arrival of Sir Stamford Raffles and the founding of the modern island state.
John Coleman was the guest of the Shangri-la Hotel Singapore and was assisted by the Singapore Tourism Board.
Room rates at the Shangri-la Hotel: Garden Wing Deluxe start from £234; Tower Wing Horizon Club rooms from £248; Valley Wing Singapore Suites from £2,021. Visit
shangri-la.com/singapore/shangrila
and www.visitsingapore.com.