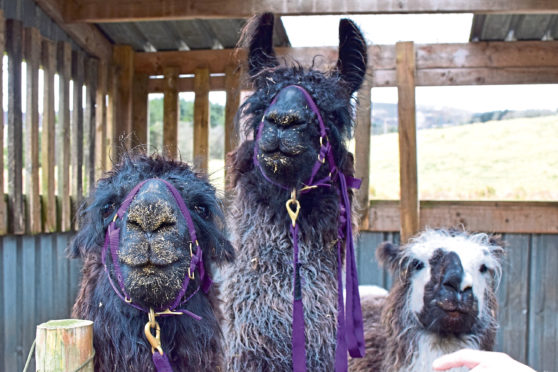 I wasn't quite sure what to expect as I headed for an ecocamp holiday.
Driving down the A90 and then trundling through the Scottish countryside, we passed through Kirriemuir and continued as the roads became bumpier and narrower.
Our destination: Ecocamp Glenshee, where site owners Fiona and Simon Calvin have an animal family of lovely dogs, two adorable donkeys and three llamas you can trek with, train with or just chat to.
Full of uncertainty at what we would actually get to do with the llamas, we were pleasantly surprised when we turned a corner and saw glamping pods and cabins atop a slight hill, alongside a house and toilet block.
Each pod was big enough to comfortably fit a double bed and each faced a different way so no view of the Scottish countryside could be spoiled by a neighbour.
After unloading the car, Simon showed us to our cabin – an unusual-looking grey one – and it was only when he unlocked the door and started telling us about the history that I understood.
The odd-looking hut was actually a restored rail carriage, adorned with railway paraphernalia and train-themed items – mugs, pillows and posters.
Even the Where's Wally jigsaw was set at a station.
With one side taken up by a double bed and the other by bunk beds, it was spacious and left ample room for baggage.
In that space was also the small wood burner which we would soon became grateful for.
Inspired by the country air, we set out on a walk, passing Highland cows, a creepy lake house, some unusually coloured cattle and many pheasants before returning and hopping in a taxi to hunt for some food.
Taking a gluten-free person to picturesque rural Scotland may have once been an unthinkable chore, but we found the experience to be as easy as looking for a regular restaurant.
Our first culinary delight was at Glenisla Hotel where they were more than helpful in suiting our needs, and they also have a stack of board games high enough that we could have played there for many hours.
But we were excited to return to the carriage.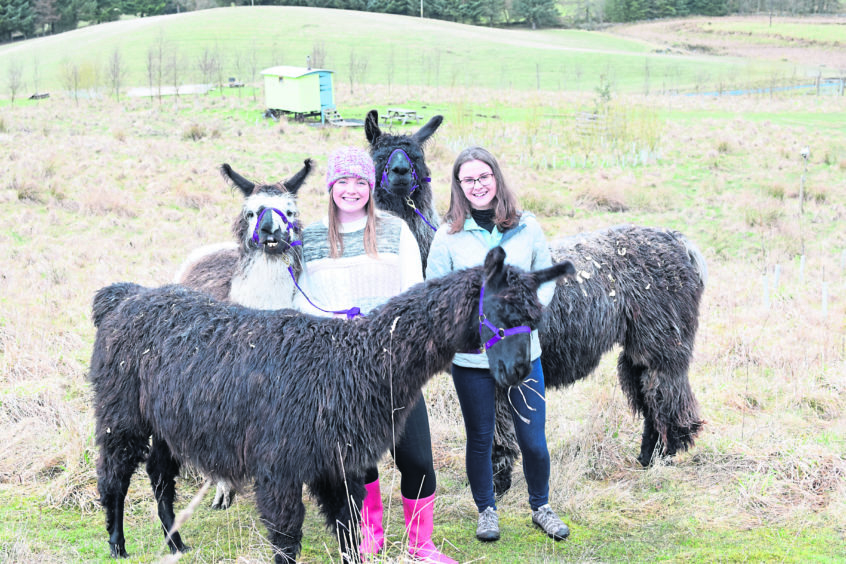 Upon arriving, though, we found our abode was rather chilly and it became our mission to successfully light a fire.
After multiple attempts, it turned out to be quite simple once you get the knack.
It was a brilliantly warm sleep both nights once we understood how to get the best from the burner.
Our first day was the biggie: Simon gave us the llama experience.
The three gelded male llamas Jet, Bradley and Atticus, were waiting for us as we ambled to meet them early that morning.
Simon, an ex-teacher, was excellent at explaining all about the creatures – how they're silent when they walk, the meaning of their ear movements, their pack organisation, the species history, likes and dislikes, as well as a whole lot more.
I've never been so absorbed in a lesson before.
Then we got to lead a llama each on a walk around the fields to the activity course; the llamas enjoy a track similar to that a dog could take on.
We worked individually, as a team and then raced against the clock taking the gangly creatures over jumps, around a slalom, over poles and back.
It was so much fun that I would definitely do it again.
Although neither of us appeared to be a llama whisperer, during our stay a horse trainer took on the course with Bradley and beat the record, managing the tasks in less than a minute.
Free for the rest of the afternoon we set off for Blairgowrie, walking the paths along the River Ericht to Cargill's Leap: the place where, in 1679, the Rattray Covenanter Donald Cargill leaped the river where it cascades down some rocks to escape the dragoons.
As well as the fun story, it's a picture-perfect spot.
We then thought it would be a great experience to visit the world's tallest beech hedge, which is listed online as one of the best things to do in Blairgowrie.
It wasn't quite what we had expected.
In early March, the barren branches just resembled a row of browned trees: rather unimpressive.
It left us wondering what it takes to qualify as a hedge.
However, it was interesting, different and something we can say we've seen.
After driving back to town we stopped for tea at the quaint Little's American Diner where gluten-free options were aplenty and the food was delicious.
I would happily go again.
Returning to our toasty wagon and snuggling into bed was the most wonderful thing.
And it was only when driving away and seeing the long faces of the three llamas disappear from view that I knew it would be one of the quirkiest holidays I would ever have.
Ecocamp Glenshee at Blacklunans, by Blairgowrie, Perthshire PH10 7LA.
Call 01250 882284 or 07774 547380 or email info@ecocampglenshee.co.uk
Visit ecocampglenshee.co.uk/Llama-Treking
Minimum stay is two nights. You can stay in a pod, a shepherd's hut or luxury family pod for £85 a night; the Howff sleeps 10 for £150 per night; a llama-themed hut for four costs £90 a night; the Goods Wagon is £110 a night.
To spend two-and-a-half hours with Simon Calvin and his three llamas getting them to complete several on-site exercises costs £100 for four people and £15 for each person on top of that. The session includes refreshments.