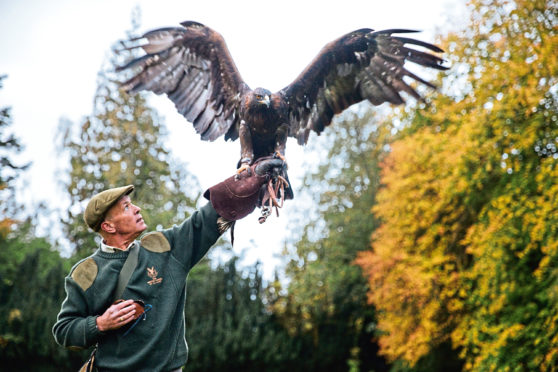 When someone says the name Gleneagles, you don't automatically think of a family holiday destination.
In fact, you may have it down as the preserve of older, wealthier couples, taking to the five-star retreat for a weekend of pampering and fine dining.
And while that is most certainly available at Gleneagles, you might be surprised by what is on offer for children – young and old.
My family and I enjoyed a weekend at the world-renowned luxury hotel recently, and were taken aback by the range of activities designed to delight the younger members of the clan.
From bike hire to ceramics, segways to football sessions, the list seems endless for keeping the kids entertained at "The Glorious Playground" – not to mention the free childcare on offer when the adults want to relax for a while.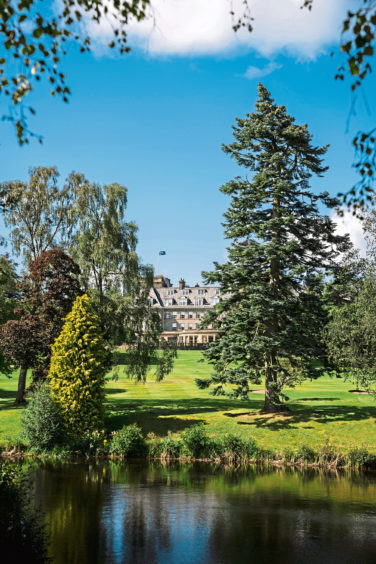 We enjoyed a fantastic hour learning all about falconry from our knowledgeable handler, during which all four of us were able to don a glove and have a Harris hawk land and take off from our hands. I was lucky to have the well-behaved Comet, while my wife had to put up with her cheeky bird, Ron, flapping away, much to the amusement of our two children, aged six and nine.
From there, it was on to the off-roading area where the children each got behind the wheel of a mini jeep and were taken round a fantastic, custom-built obstacle course. They absolutely loved driving through the deep puddles, going over the balancing seesaw and bumping down rocky tracks.
And after this, we visited The Den, a secure, residents-only area where kids can play computer games, watch films and just hang out with other children.
But all this is hungry work, and we adults enjoyed a few treats over the course of the weekend, too. From a delicious 8oz fillet steak at The Dormy restaurant – next to the world-famous golf course – to delicious scallops and bouillabaisse in the stylish Birnam Brasserie, I was in foodie heaven.
And our pleasure went up yet another notch with dinner in the elegant Strathearn restaurant, recently refurbished to evoke the golden age of railway travel, where some of our dishes were prepared on trollies in front of us. The six-foot flames from the crepe suzette were a particular highlight for children and adults alike.
But enough of the food – can you ever have enough of five-star food? – and back to the kids' activities, and next up was the swimming pool. Cleverly designed to cater for all, there is a nice big pool for all ages and a separate pool for adults, along with a steam room and sauna. Our two splashed around in their element, and we even ventured to the heated outdoor pool – a novelty in a country with our climate.
After the pool, we walked to the Arena, just across the road from the main hotel, where we visited the stables. And there we found our ponies for the afternoon – Shadow and Armando.
My daughter adores horses and had been looking forward to her hour of riding and grooming ever since we told her of the trip. My son was less enthused, but his eyes lit up as soon as he mounted his pony and he had a wonderful time. Our little girl couldn't stop smiling, and they both gave grooming the seal of approval too.
Should you be able to tear yourself away from Gleneagles, there is much to see and do in the surrounding area. You can enjoy a tipple and learn about our national drink at a range of distilleries, and of course you are in the right place for golf courses, castles and tourist attractions. But for us, it was all about exploring the plush environs of the hotel, over-indulging on fine food and enjoying the kids' activities.
And I haven't even mentioned our accommodation. Our adjoining bedrooms were ideal for parents with children who are old enough to be given some freedom, allowing us to enjoy a sherry in our room. A wall-mounted TV offering the latest movies for kids was entertainment enough for them, while we took to the balcony and watched the clouds rolling over the nearby Ochil Hills.
After a breakfast bounty in the morning – at which the children were delighted to find a dedicated station with all their favourites, including build-your-own milkshakes – we headed over to the PGA Academy where we were met by golf professional Gilbert who did what he could to turn this non-golfing family into Ryder Cup contenders. He certainly had his work cut out, but his expert tuition was good enough to get all four of us successfully hitting balls on the driving range, and every one of us thoroughly enjoyed the experience.
Sadly, it was time to make the short trip back up to Aberdeen, and that was without having tried the tree climbing, tennis, archery, fly fishing, teddy bears picnic, T-shirt design or air rifle shooting. All of these activities and more will run as part of the summer children's programme, as well as during the October and Easter school holidays.
So the next time someone mentions Gleneagles to you, yes think luxury, sophistication and fine dining, but also think about taking your children. I guarantee they will thank you for it, and the smile on their faces will last all the way home.
THE HOTEL
The Gleneagles Hotel, Auchterarder, PH3 1NF
Call 01764 662231.
Visit www.gleneagles.com
The summer children's programme runs from June 29 to September 1.
This summer children can stay for free in their parents' room if they are 14 or younger.