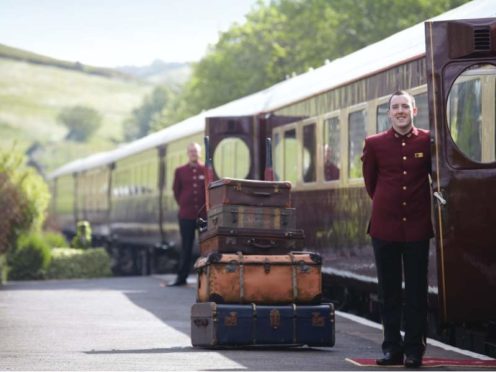 Yes, one of the country's most famous trains is returning to the North East, offering a fantastic Scottish day trip to one of the best-preserved Georgian homes in the UK.
This luxury vintage rail tour aboard the Northern Belle is set to depart from Aberdeen on Friday, 21 August 2020 (the perfect excuse for a long weekend!).
On route to Ayrshire, the Northern Belle will briefly stop to pick up passengers in Dundee & Perth before setting off through 'bonnie' Scotland at a suitably comfortable pace heading for Auchinleck.
Arriving at Auchinleck, an included coach transfer will take guests to the beautiful and rather grand Dumfries House, a true Scottish landmark and one of the most famous stately homes in the entire country.
The Northern Belle
Celebrating the luxurious age of rail travel in the 1930s, the carriages of the Northern Belle each bear the name of some of the UK's most famous stately homes and castles.
Intricately decorated, guests will be transported in true style through the Scottish countryside on route to their destination with attentive staff on hand to ensure you and travelling companions have the very best day escape away possible.
Memorable fine-dining experience
Guests can expect a fantastic dining experience aboard the Northern Belle.
A true gastronomical marvel, the kitchen on board the Northern Belle train is famed for its expertly prepared dishes somehow put together and served to guests all whilst travelling at speed.
The Dumfries House day excursion will be no different.
On both the outward and return journey, guests can expect a host of memorable dishes throughout their day away, served on beautifully laid tables geared towards providing a truly memorable fine-dining experience.
Travelling south in the morning, passengers will be treated to a three-course brunch, providing plenty of fuel for the day ahead, before enjoying a lavish five-course dinner on the return journey using quality seasonal produce.
Dumfries House
Around two miles away from Cumnock, Dumfries House is home to one of the best collections of Chippendale furniture in Great Britain.
Famously saved for the nation by HRH Prince Charles Foundation, Dumfries House has undergone extensive restoration work in recent years bringing it back to its stately Georgian best.
Stepping inside the stately home, visitors will be drawn into a world of Georgian grandeur unrivalled anywhere else in the country.
Extremely well-preserved pieces of Chippendale furniture can be spotted throughout this Scottish landmark, each adding their own important and distinct charm to these lovingly restored rooms.
A stunning estate
Standing within 2,000 acres of beautifully kept gardens, guests will be able to explore parts of the house and spend time in the surrounding grounds, home to a few glorious wonders of their own.
Lovely green spaces to enjoy in the last throws of summer include the expertly landscaped Queen Elizabeth Walled Garden spread over five acres, an Asian-influenced bridge and a maze.
One of the most tranquil spots in the collective gardens, the Chinese Bridge offers a way across the flowing Lugar Water.
Originally intended to be decorated in a lovely shade of red, the bridge and its central pagoda are painted white and green, letting the bridge blend almost magically into the surrounding greenery.
Almost symmetrical, the maze at Dumfries House offers something a little different for guests.
Something of a challenge, the maze was created by Fife-based landscape designer Michael Innes.
If laid out in a straight line, the puzzling route would stretch over half a mile!
Thankfully, thousands of visitors have navigated their way through the maze although you will still need your wits about you!
All in all, this glorious day trip away is set to be a fantastic occasion and is the perfect gift for someone very special.
Join us for this perfect Scottish day trip away

We are delighted to be able to offer places on this fantastic day out from an exclusive price of £390pp*.
Exclusive price of £390pp* for our readers (*RRP £400pp); Based on a shared table of four people; upgrade to a private table for two for £420pp.