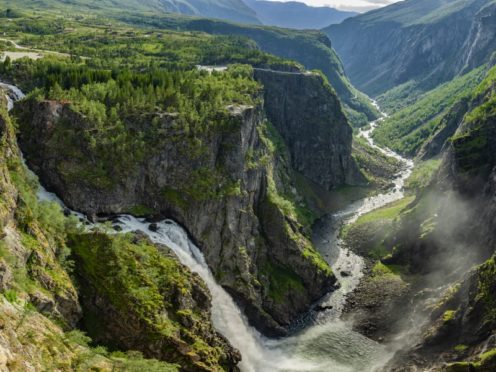 Still mulling over or have booked our 'Best of Norway & Scottish Isles' cruise?
Here are 5 incredible experiences available during this wonderful 9-night itinerary sailing from Dundee on 14 June, 2020.
1. Sognefjord
The stunning 'King of the Fjord's, Sognefjord is the third-longest fjord in the world.
This incredible long stretch of water passes through some incredible landscapes.
Onboard Magellan, passengers will have the ultimate vantage point as the cruise ship travels along at a comfortable pace, providing plenty of memorable scenic moments.
2. Iona
Often cited as the cradle of Scottish Christianity, Iona off the coast of Mull is one of Scotland's most beautiful islands and where St Columba first brought Christianity to Scotland in 563 AD.
Small yet extremely pretty, Iona is best known for its religious landmarks and lovely beaches and can be visited on an optional excursion from Tobermory.
Iona Abbey (pictured), is one of the oldest Christian landmarks in Europe and is one of the most impressive buildings in Scotland.
A true Hebridean gem, the island is the ideal destination for holidaymakers looking for a little adventure.
Being relatively small, exploring the traffic-free island on foot is the perfect relaxation activity and not too challenging a task.
We thoroughly recommend spending some time following the island's spectacular coastline where you will undoubtedly stumble on some of Iona's secluded and romantic beaches.
3. Mount Fløyen
The historic fishing port of Bergen is the final Norwegian port of call before Magellan sets sail to begin the Scottish leg of this incredible cruising showcase of both countries.
As well as taking the time to explore the UNESCO-listed Bryggen waterfront, we thoroughly recommend journeying up Mount Fløyen on a cable car taking you to the summit.
Arriving at the top, you will be met with panoramic views of Bergen below, a city often referred to as the 'Gateway to the Fjords'.
4. Skara Brae
Paying a visit to Skara Brae really is like taking a step back in time where visitors can explore a wonderfully preserved archaeological site dating back over a staggering 6000 years!
Leaving the comforts of Magellan during a port of call at the Orkney capital Kirkwall, an optional excursion presents the perfect chance to explore this archaeological wonder.
Hidden away until a violent storm struck the coastline in the 19th century, Skara Brae, alongside the mythical Ring of Brodgar, is one of the most important places to visit on Orkney.
5. Vøringfossen
In a country as beautiful and packed with as many spectacular sights as Norway, it is hard to pinpoint its most iconic locations.
Right up there amongst the country's greatest, Vøringfossen is one of the country's best-known waterfalls.
A true Norwegian natural wonder, the waterfall can be admired during an optional tour from the pretty port of call at Eidfjord.
Dropping over an impressive 180 metres, Vøringfossen falls dramatically into a canyon-like valley often full of greenery, making this one of the most beautiful experiences available during the entire cruise.
Book your place
Highlights mentioned may be subject to pre-registering specific shore excursions and are subject to operation and availability.