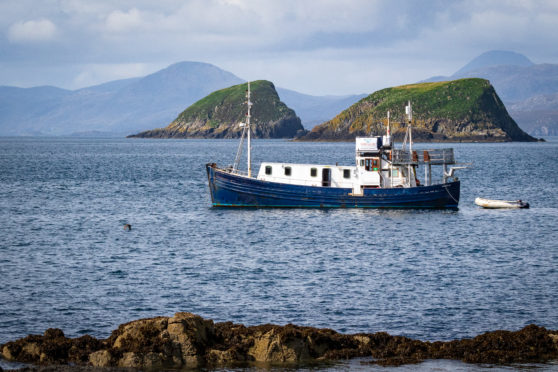 We really do have an amazing backyard, here in the Outer Hebrides.
For those who enjoy the outdoors, it's a total adventure playground – and I was lucky enough to get out on a day trip with Hebridean Adventures recently to go wildlife spotting.
Their boat is the MV Monadhliath, skippered by Tony Morrison. It was a midweek day in mid-September and the plan was to go out from Stornoway about 10am, back by 4pm latest, and get down to Keppoch Head and maybe the Shiants.
We would be looking for marine mammals and sea birds and there were a couple of volunteers from Whale and Dolphin Conservation among the passengers who were particularly focused.
We weren't out of the harbour before we spotted our first marine mammal – Sammy the Seal, a permanent harbour resident – but we had also spotted a pod of porpoises before the Arnish light.
In fact, we saw numerous pods of porpoises on our trip. So many that, after a little while, our crew guide, Robyn Palmer, explained the boat would not be slowing down to get a closer look at them as they were so common.
She also explained that if we did see any other mammals then skipper Tony would slow down and come in for a closer look. And later on, that's exactly what happened.
The two women from Whale and Dolphin Conservation had spotted something interesting that turned out to be a pod of dolphins.
This sighting was near Keppoch Head, an area rich in sea life, and as the boat slowed down and turned to approach the dolphins, we were all able to get a closer look.
The powerful binoculars which had been handed round came in very useful and it was exciting to get such a good look at these lovely creatures.
They are very bonny indeed, with their grey and white two-tone appearance, and it became apparent that there was quite a number of them. There were at least 10 dolphins in the pod, and there were also one or two smaller youngsters among them.
We were able to watch them for quite a while. They came closer to the boat and seemed to be playing, and some of the other passengers, who had good cameras, seemed to be getting good close-ups of them.
Robyn told us: "It's always pretty exciting when we see the common dolphins, because they show off the most. They like to play."
They sometimes bow ride, and Tony explained how that happens: "There's the pressure wave on the bow, below the surface. They effectively surf that."
There are a number of boat operators working out of the Outer Hebrides but Hebridean Adventures focus on finding wildlife and exploring the wildlife-rich island areas.
They do full-day trips and half-day trips, as well as overnight cruises lasting anything from two days to six.
As well as enabling us ordinary individuals to have wildlife experiences, Hebridean Adventures are also contributing to the wider knowledge of our sea life, for scientific and conservation purposes.
They look out for all sorts of mammals on their voyages, including basking sharks, minke whales and Risso's dolphins. Sea birds are also important, and can always be relied on to make a day worthwhile if there's no sign of whales or dolphins.
Given that the area between Keppoch Head and the Shiants is so rich, the boat usually heads for the Shiants during the longer day trips, stopping there for lunch. We made good enough time to reach the Shiants during our trip and enjoyed a good look at the many birds on the clifftops as we sailed around the islands.
The peak season for whale and dolphin watching is July and August, but Tony said that the whole season is from April to October – in a large part because of all the birds at the Shiants.
I left the boat incredibly contented, having seen the dolphins.
I was also feeling properly relaxed, and that doesn't happen too often. Maybe it was the sea air, the motion of the boat, plus the fact there wasn't much to do but watch the sea while holding on to a cuppa in a thermos mug, but it was all very soothing.
So soothing, in fact, that I kept nodding off on the return to Stornoway Harbour.
It is a beautiful piece of Earth and we share it with some amazing creatures.
FACTS
Hebridean Adventures offer live-aboard cruises, day trips and land-based tours, which are all about exploring the wildlife-rich islands of the Outer Hebrides.
You can find them at thebrideanadventures.co.uk, where online booking is available, or call them on 07871 463755. The company also has a base near Stornoway harbour.
The Half Day Wildlife Experience costs £60 (under 14s £45) while the Full Day Wildlife Experience costs £120 (under 14s £90). The Half-Day Land-Based Tour, where you can visit the hotspots on the Isle of Lewis for views of whales, dolphins, eagles and more, costs £40 for adults (£30 for under 14s).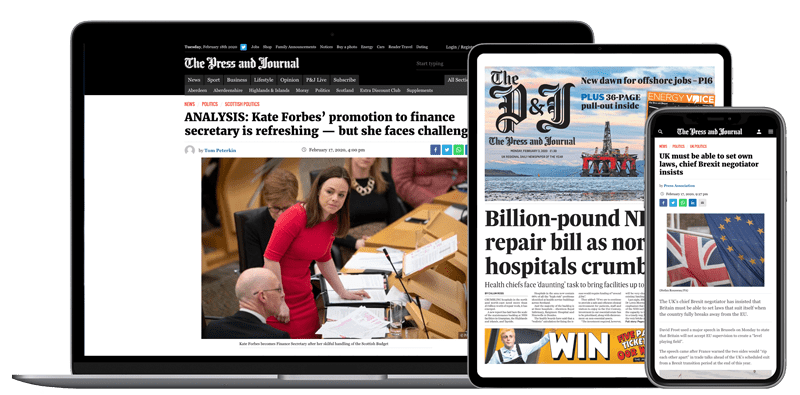 Help support quality local journalism … become a digital subscriber to The Press and Journal
For as little as £5.99 a month you can access all of our content, including Premium articles.
Subscribe