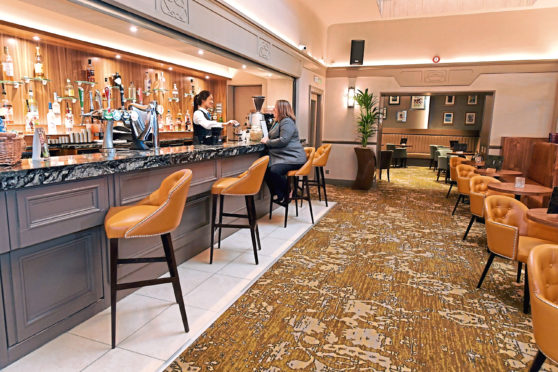 Normally I find Christmas shopping stressful and usually do it online at the last minute.
But I do love spending time in lovely hotels, so when I got the chance of two nights in the newly-refurbished Station Hotel in the heart of Aberdeen's shopping district, I thought I wouldn't mind giving traditional shopping another go and enjoy a bit of luxury along the way.
As far as locations for a city or shopping break go, you can't get better than this. As suggested in the name, The Station Hotel sits right across the road from the railway station in one of the busiest parts of Aberdeen's city centre. It is surrounded by shopping streets and centres including the upmarket Union Square, with more than 80 shops, plenty of places to eat and a cinema .
The hotel was built by the Great North of Scotland Railway Company for its headquarters in 1894, and the adjoining building was acquired in 1910.
On entering, I was relieved to see that its revamp didn't interfere with the charm of the old building and it had retained many of its original features. It has recently undergone £5 million worth of renovations, redoing the reception, lounge, bar areas and many of the bedrooms. While some work has still to be completed, the large public rooms with modern mixed with old-world decor are very impressive.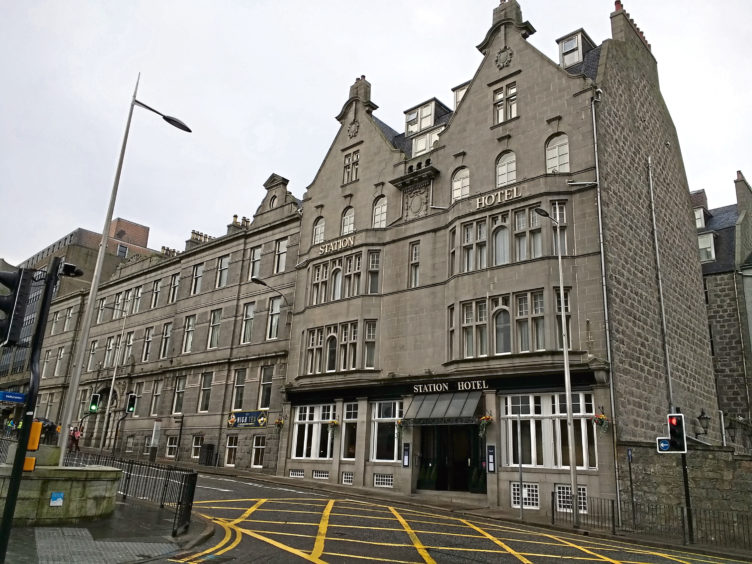 I especially liked the huge glass Art Deco ceiling lights, the large leafy plants and carved wooden fireplace. Hung on the walls in the lounge and reception are old black and white photographs depicting Aberdeen's past, with scenes of fishwives at work and the old streets with trams and carriages.
We decided to try the hotel's afternoon tea to refuel before heading to the theatre that evening.
We were served in the comfortable coffee lounge as the restaurant was still busy with the lunch crowd. Our afternoon tea was attractively served with traditional crockery. There was a mix of sandwiches, cakes and warm fruit scones with jam and cream, which was my highlight.
His Majesty's Theatre is just a 10-minute walk away and is another old building worth seeing. The inside is beautiful, done up in red velvet and gold with an ornate ceiling and giant chandelier. Funnily enough, it isn't as old as the Station Hotel, being 11 years younger.
Returning from the theatre to the hotel, after a few gins at a nearby bar, we were pleased to get back to our comfortable room, which was one of the recently refurbished ones. It was large, stylish and comfortable with all the usual amenities, including free wifi. It was decorated in the same colours as the rest of the hotel – browns, golds and cream, and had a huge smart TV on the wall.
Breakfast was a buffet with everything from a traditional Scottish cooked breakfast (which was hot and fresh) to croissants, pastries, fruit and yogurt. The coffee was good too.
During the day, we actually got a bit of Christmas shopping done, and squeezed in a look around the much-talked-about, newly opened Art Gallery. As everything is within easy walking distance, it was nice to just take our time meandering around taking everything in and stopping for a pre-dinner craft beer in Cask, which was just round the corner from the hotel.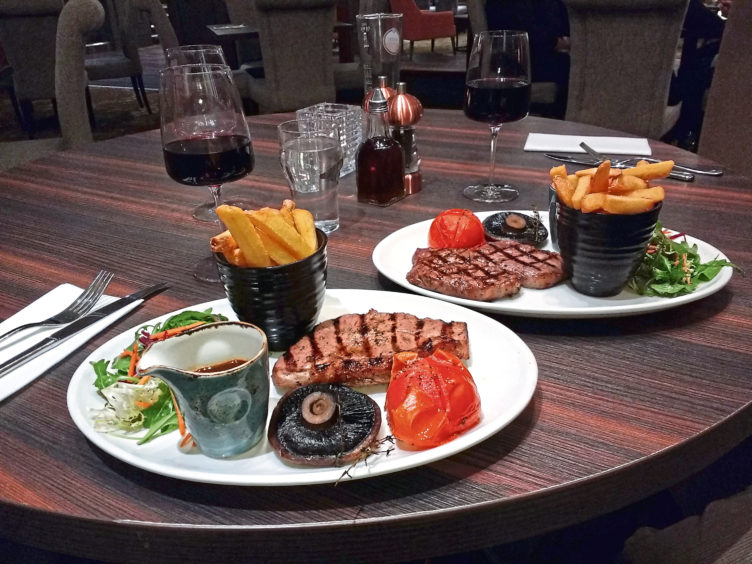 On our second night, we had dinner in the hotel's brasserie. It was peaceful and relaxed, which was nice after a day about town.
To start, I had seared scallops with bacon in a pea puree, which looked attractive and had good texture and flavour. My husband had the Cullen skink, which he said was tasty with good amounts of fish. Then we both had steak, him the ribeye and myself the sirloin, which were cooked medium to our taste and served with chips, grilled tomatoes, mushrooms, salad and a sauce of our choice.
The steaks were good quality and the vegetables cooked nicely.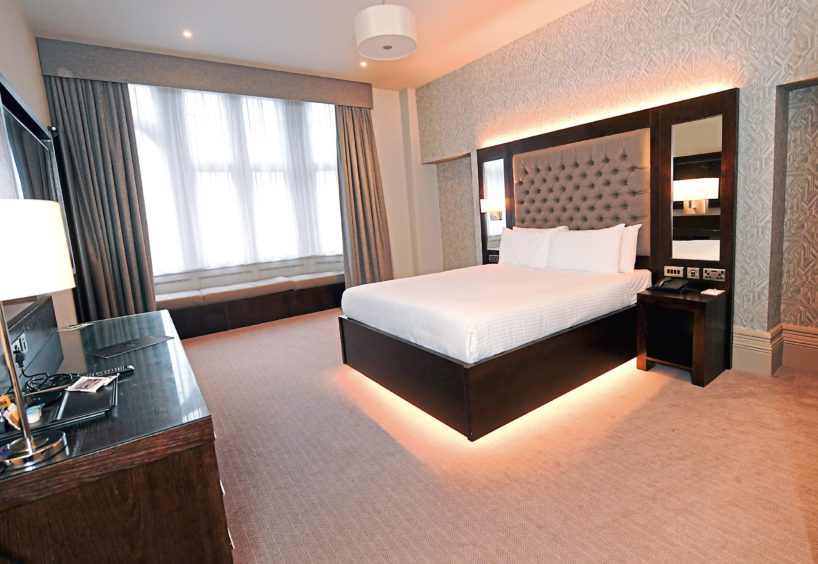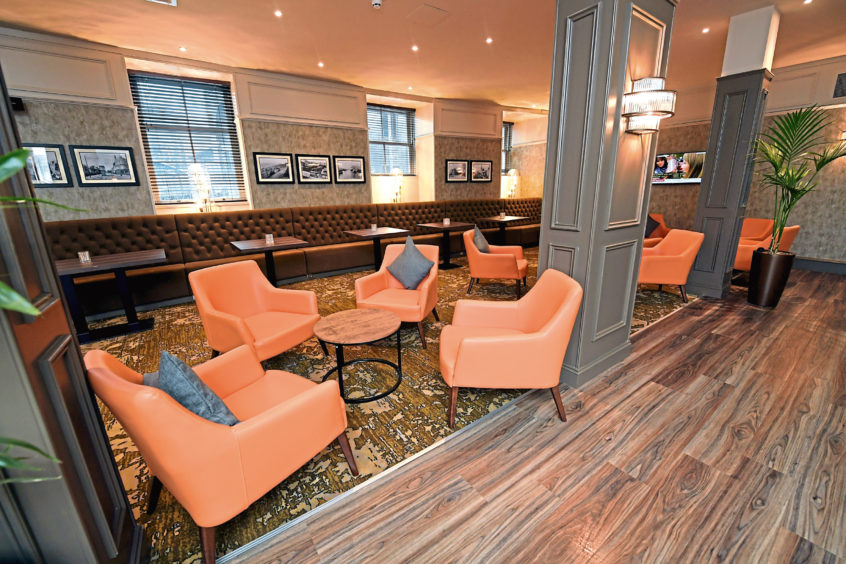 We then shared a dessert – the hotel's take on a cranachan, which was especially indulgent and creamy and had a surprise ball of vanilla ice cream in the middle.
We had a wonderful time in Aberdeen. There is so much to do and see surrounding the hotel I don't think we ventured further than a mile in radius. I had planned to take a walk to the beach to see the old fishing village of Footdee, but there wasn't time.
The hotel itself is stylish and comfortable and the atmosphere is welcoming and friendly. It was nice to see a mix of ages and nationalities who all seemed content. During the day, the hotel is bustling with local customers as well as foreign visitors, but there were a fair few Aberdonians stopping off for lunch or coffee while shopping, and I think that's down to the good value for money and the friendly, helpful staff.
THE HOLIDAY
The Station Hotel, 78 Guild Street, Aberdeen AB11 6GN
Tel: 01224 587214
Visit: www.stationhotelaberdeen.com
Prices start from £90 per room, per night (based on two people sharing) for dinner, bed and breakfast in a refurbished room Friday to Sunday, subject to availability.