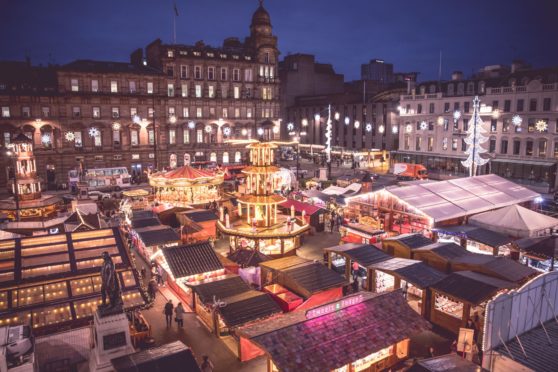 Draped in a lab coat and hunched over a beaker, I began having flashbacks to high school chemistry lessons.
However, the excitement of creating your own gin from a variety of potent but tasty ingredients is a far cry from the sort of experiments which take place in the classroom.
I was in a group of about a dozen people taking part in a Blendworks session run by the Eden Mill gin producers at its base nestled in the bottom corner of the Princes Square shopping centre in Glasgow.
The chance to concoct your own blend of the increasingly popular spirit is just one of scores of adventures people can enjoy on a festive break to the city this month – and I aimed to sample as many as possible during a recent weekend trip.
Arriving at Queen Street Station, I made my way to nearby Bath Street and the Abode Hotel.
A stylish boutique hotel, the Abode's ornate interior is capped off with a traditional cage lift surrounded by a grand stone staircase.
While the welcome may have been reminiscent of something from the golden age of Hollywood, the room was comfortable and modern.
The building is footsteps away from the busy city centre – which makes it the perfect base for a shopping mission.
But my first destination was the Mackintosh at the Willow tea room on Sauchiehall Street – to try out its festive afternoon tea for two which is on offer throughout the yuletide season.
The famous spot first opened in 1903 and is the only surviving tea room designed by Charles Rennie Mackintosh for local entrepreneur and patron Miss Kate Cranston.
The cafe was abuzz with families chatting happily and old friends catching up over a cuppa when I arrived at lunchtime.
Sipping a cup of spicy Chai tea, I gazed out at shoppers walking along Sauchiehall Street carrying bulging plastic bags.
Those looking to rest their feet could have done worse than step inside the cosy cafe.
The afternoon tea itself was an indulgent spread of exquisitely cut sandwiches, scones fresh from the oven served with generous dollops of clotted cream and tangy strawberry jam, truffles formed in the shape of Christmas pudding and mini mince pies.
From there, it was easy to walk off a slightly full stomach by doing a bit of Christmas shopping or taking in either of Glagow's bustling Christmas markets.
The House of Fraser department store, which is currently adorned with a waterfall of twinkling fairy lights cascading down from its roof, is a popular destination.
Nearby there is a row of designer shops which are ideal for those looking to leave a swanky something from the likes of Ted Baker, Molton Brown or Omega under the tree for their loved ones.
The St Enoch Square market has dozens of stalls selling food, drink and craft items, with its steaming cups of mulled wine acting as the perfect winter warmer on a chilly day.
Another larger market has transformed George Square into an amusement park for the season and is an ideal place to take children.
After returning to the hotel to change, I met up with a friend and we set off to the Corinthian Club on Ingram Street for dinner.
The staff gave us a Christmas cracker to pull and we entered the spirit of the season by picking from the festive menu.
My friend had Ellerslie turkey breast with pancetta-wrapped chipolatas, roast potatoes and all the usual trimmings, while I opted for the black treacle cured centenary ham – which was packed with flavour.
Our Sunday began with a trip to Jax Cafe in Princes Square for a lavish lunch, which we enjoyed while listening to a local musician playing a selection of tunes on the piano.
We again decided to pick from the Christmas menu and made sure to sample a few festive cocktails before the food arrived.
We shared a selection of the "small plate" offerings and the mound of cheesy nachos, bowl of sweet potato fries and delicious black pudding and haggis bon bons proved more than enough.
The Eden Mill shop is conveniently located next door, and our visit there would prove the highlight of a most enjoyable weekend.
Our gin guru was knowledgeable and entertaining company as he told us about the properties of the drink and took us on a journey charting its history and growing prominence in the UK.
We got to pick from dozens of bottles lining the room to make sure our own unique blend had the perfect flavour combination.
There were countless varieties to choose from, and the friendly staff even added labels featuring a name of our choosing before we left with two bottles of our own creation.
Amid all the hustle and bustle of the festive season, it is all too easy to become snowed under with stress and worry.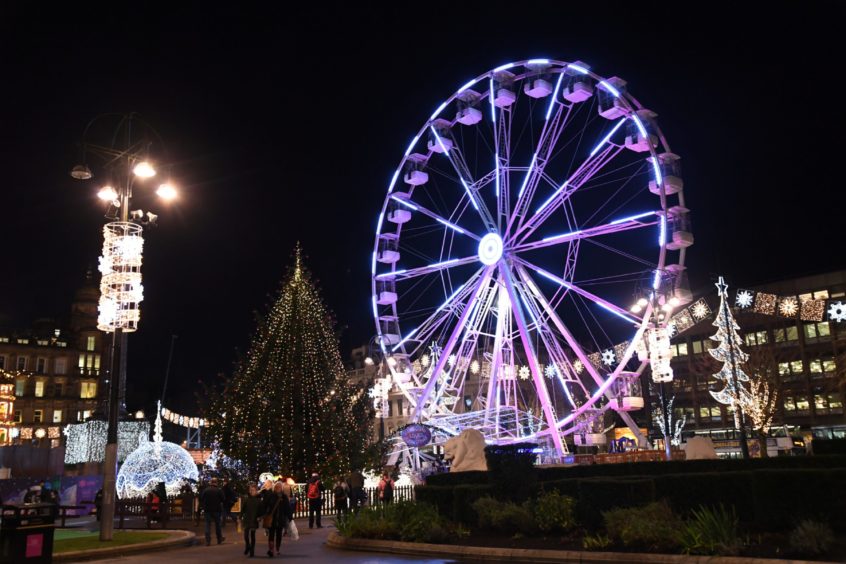 But Christmas can be a time for treating yourself, as well as others, and a fun break in Glasgow could be the perfect present.
THE HOLIDAY
For further information on booking a trip to Glasgow visit www.glasgowloveschristmas.com
ScotRail Advance fares start from £12.10 one way, Aberdeen to Glasgow