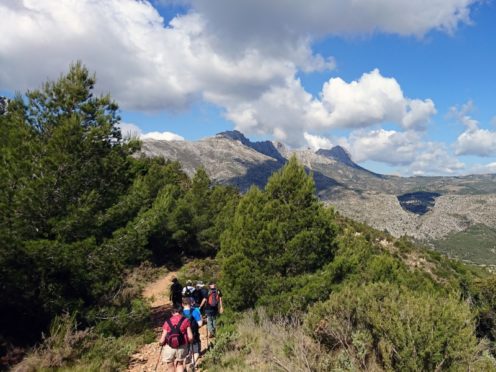 A great way to experience the very best of scenic Europe, here are 7 excellent reasons why you should consider going on a walking holiday.
1. Expert & locally based guide
Our walks all include the services of expert, locally based guides.
Many of the guides have been based in-country for a number of years and are perfectly placed to provide some crucial local insight, shedding light on your chosen destinations history, culture and wildlife.
Whether looking to squeeze in some further adventure, looking for tips on the best places to eat or searching for the best wildlife spotting opportunities, your guides will be on hand to share some of their local insight.
Based in groups often ranging in numbers between 15-20 walkers, your guide, sometimes accompanied by an assistant, is a fountain of knowledge as they lead through some of Europe's best walking country.
2. New Year, New You
Stepping out into the countryside and following carefully crafted routes give walkers the ideal chance to work on their inner wellness.
Truly getting away from the stresses of everyday life, from the first steps right through to the last gives travellers the chance to unwind and work out built-up tension, achieving a sense of accomplishment at point of completion.
Crucially, going on a walking holiday gives you all the perks of going away with that extra active element placed into the mix for good measure, helping you fulfil those New Year fitness goals!
3. Sensational Scenery
Taking you to some of Europe's best scenery, each of the available walks all include their own amazing scenic highlights.
Travelling out into the countryside with your guide pointing out local points of interest, you will be exposed to some to truly memorable locations, many resting slightly under the radar.
4. Get away from it all
Featured walking itineraries often provide a refreshing twist to some rather well-known holiday destinations.
Explore stunning favourites including Mallorca, the Algarve, Catalonia and Italy's amazing Cinque Terre or venture out to some undiscovered places including the Julian Alps of Slovenia or Transylvania – each of these amazing destinations await discovery.
5. Authentic Experiences
Often heading off the well-beaten track, travellers will be able to gain an authentic sense of the chosen destination.
Travelling out away from the resorts, walkers will be able to get a flavour of different cultures and trace the history of their chosen destination throughout the holiday.
6. Meet like-minded travellers
Arriving from across the UK, travellers join holidays all sharing common interests and a passion for travel.
Throughout your walking adventure together, you will be able to share experiences, travel tips, bonding as a group as the holiday progresses.
7. Eco-friendly way to explore
Taking advantage of public transport where possible, your accommodation included in different itineraries is often chosen picked based on location.
Steering away from hiring cars or other modes of transport, scenic walks give you the chance to enjoy the great outdoors in an eco-friendly manner.
Learn more about the walking experience