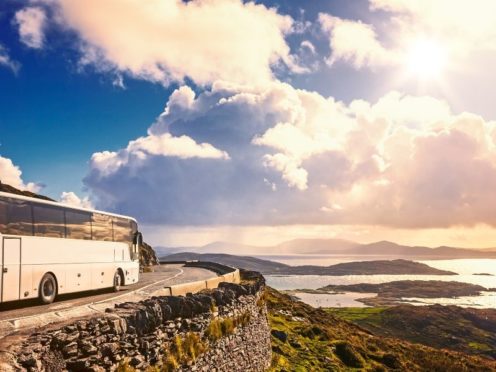 If you're the kind of person who loves to travel but could do without the hassle of planning routes and booking hotels along with the stress of wrong turns and honking horns as you drive on unfamiliar roads – then a coaching holiday just might be the perfect answer.
Coach travel is very much in vogue these days and you may well have watched the popular Channel 4 series, Coach Trip and wondered if this is the kind of holiday for you. Coaching is regarded as a greener, safer, more economic and enjoyable way to travel – especially in times of ever-rising fuel costs and concerns about fossil fuel usage.
Coaching presents the opportunity to discover places both in the UK and abroad that air travellers often miss.
---
---
Explore ancient castles, sink your toes into a sandy beach, visit iconic cities, stroll through history in medieval towns, relax in leafy countryside or be awestruck by glorious cathedrals and natural wonders.
Coach travel has come a long way since bygone days of bone-rattling buses with no facilities and the dubious pleasure of sharing a room with a stranger! Nowadays, you step aboard a state-of-the-art vehicle with comfortable reclining seats, generous leg room, climate control and panoramic windows as well as an onboard restroom should nature call.
Then there is the convenience of joining your holiday locally with pickups in locations such as Aberdeen, Inverurie & Stonehaven – saving you both time and money
Itineraries are well planned to make the most of your well-earned holiday and with the coach's satellite navigation on screen; you can follow the route and know where you are at any given time.
Some tour operators even provide an onboard welcome pack with refreshments and travel items to make your journey even more comfortable.
Then there is the convenience of joining your holiday locally with pickups in locations such as Aberdeen, Inverurie & Stonehaven – saving you both time and money.
Coaches also take you right to your hotel, avoiding the additional expense of taxis from an airport or train station.
What's more, the buying power of a reputable coaching firm like Glenton Holidays means that great deals can be passed on to readers of The Press and Journal so you stay in excellent hotels and visit landmark attractions for a fraction of the price an independent traveller would pay.
Hotels are carefully chosen and range from family owned seaside 'home from homes' to four star properties from well established chains with superb leisure facilities. Overall, coach holidays offer outstanding value for your holiday pound.
Travelling with like-minded people who bid you a friendly good morning, chat about the day's events over dinner and soon become friends is another huge tick on the coach holiday checklist.
As is knowing your travel, accommodation, food and excursions are all taken care of leaving you free to relax and take in the sights.
Simply put, coach holidays are stress free and convivial with a tantalising slice of adventure thrown in. Little wonder this type of holiday grows in popularity every year.
Join us in 2020 for a coach journey of discovery.
---

Tour Highlights
Free time to explore Dusseldorf and Cologne at your own pace
A visit to Bonn the birthplace of Beethoven
Enjoy the thrilling Rhine in Flames spectacular
Departs 28 April 2020
8 days from £849pp
Tour Highlights
2 days to explore Innsbruk – including a guided tour of the city
See the sights of Salzburg, including Hohensalzburg Castle and the stately Mirabell Palace
A spectacular ride up the mountain on the Achensee Steam Cog Railway
Departs 1 June & 30 July 2020
12 days from £1,099pp
Tour Highlights
A day at leisure to discover Bournemouth – unwind on the beach, explore the piers or relax in one of the floral parks
An excursion to Weymouth and the island of Guernsey
Ferry trip to the delightful Isle of Wight
Departs 13 June 2020
8 days from £649pp
Tour Highlights
Visits to St Ives, Leach Pottery, The Barbara Hepworth Sculpure Museum
Explore pretty Penzance and the tiny coastal haven of Looe
Discover the old world charm of Polperro
Departs 25 June 2020
7 days from £539pp
Tour Highlights
Sail to Cochem and witness the imposing Reichsburg Castle
See the spectacular sights of Boppard with its chairlift
Ancient Koblenz is overlooked by a mighty statue of Kaiser Wilhelm
Departs 3 July 2020
7 days from £539pp
Tour Highlights
Visit to the quaint town of  Windsor
Free time to relax and explore London
Entry to the  delightful Hampton Court Flower Show, with time to browse
Departs 6 July 2020
6 days from £399pp
Tour Highlights
Explore Vienna at your own pace
Experience the rich cultural heritage of Hungary capital, Budapest
Bratislava's commanding castle dominates the city skyline
Departs 6 July 2020
12 days from £1,499pp
Tour Highlights
Enjoy cruising on board Prinses Christina
Take a coach excursion to visit Baden-Baden and Freiburg
Spend free time exploring Strasbourg
Departs 31 July 2020
12 days from £1,299pp
Tour Highlights
Spend a day in the bonnie Isle of Arran – dubbed Scotland in Miniature
Sail to magical Millport
Relax in Rothesay, renowned for its mighty castle, palm trees and promenade
Departs 3 August 2020
5 days from £399pp
Tour Highlights
An entry ticket to the Edinburgh Tattoo performance
Bed and breakfast accommodation in either Edinburgh or Glasgow
Free time to explore Edinburgh
Departs 12 & 19 August (Glasgow Hotel) / Departs 7 & 27 August (Edinburgh Hotel)
2 days from £179pp (with Glasgow Hotel) / 2 days from £219pp (with Edinburgh Hotel)
Tour Highlights
A tour of the Jarlshof archaeological site as well as Scalloway Castle
Visit the World Heritage sites of Skara Brae, the Standing Stones of Stenness, Ring of Brodgar, plus Skaill House, Churchill Barriers, Italian Chapel and Scapa Flow
Enjoy some free time in Lerwick and Kirkwall
Departs 13 August 2020
4 days from £599pp 
Tour Highlights
A guided tour of Belfast, taking in landmarks such as the Titanic Dock, Grand Opera House, Crumlin Road Jail and the Cathedral Quarter
Cruise around Lough Erne, a dazzling lake split in two by Enniskillen
Sail past fascinating sights such as the Old Abbey and Seal Island aboard the comfy Donegal Bay waterbus
Departs 5 September 2020
4 days from £679pp 
Tour Highlights
Return ferry crossings to the Isle of Man
Excursions to Castletown, Castle Rushen, Cregneash Folk Museum and Port St Mary
Free time to explore Douglas, the capital of the island
Departs 13 September 2020
6 days from £449pp
Tour Highlights
A trip to Prague to visit the Choco Story Museum and the Staropramen Brewery for a presentation of the process of brewing beer
In Salzburg we have a guided tour of the filming locations for the 1964 movie the Sound of Music
A sightseeing cruise around Lucerne's harbour aboard the luxury yacht, MS Saphir
Departs 16 September 2020
16 days from £1,899pp
Tour Highlights
Explore the enchanting hamlet of Tenby it's enclosed by ancient walls with a maze of narrow streets, medieval buildings and blue flag beaches
Enjoy some free time in Swansea or relax on the city beach
A day in Cardiff (guided tour included), home to a historic castle and the modern Cardiff Bay waterfront development
Departs 21 September 2020
7 days from £699pp 
Tour Highlights
Full board while you cruise on the MV Esmeralda river cruiser
Glide along the delightful Danube and picturesque waters of the Rhine
Visits include Nuremberg, Bamberg, Kitzingen, Wurzburg, Miltenberg and Cologne
Departs 28 September 2020
13 days from £1,349pp 
Tour Highlights
Entry to Pitlochry's Enchanted Forest to see the glittering displays
Free time in Perth & Pitlochry
Hotel accommodation in Pitlochry with dinner, bed and breakfast
Departs 1, 11, 22 & 25 October 2020
2 days from £159pp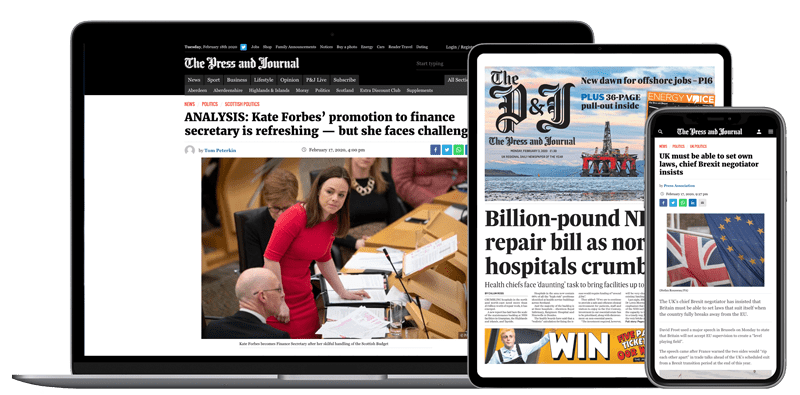 Help support quality local journalism … become a digital subscriber to The Press and Journal
For as little as £5.99 a month you can access all of our content, including Premium articles.
Subscribe