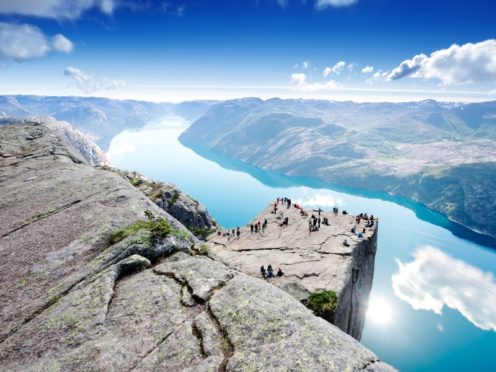 The new cruise is launching with a fantastic BUY ONE GET ONE FREE offer.
Press and Journal Travel's exclusive Norwegian cruise, due to sail this summer, has met with such a wave of success a second one has been launched for 2021.
It will see the Magellan cruise ship sail from Dundee on an 11-night voyage to Norway's Land of the Midnight Sun & Fjordland – giving our readers the chance to take in some of the most breathtaking scenery in the world.
In collaboration with Cruise & Maritime Voyages, this latest voyage with Press and Journal Travel will depart on June 27 2021.
News of this exciting cruise comes just months before our inaugural cruise, The Best of Norway & Scottish Isles, departs this June.
There was such a clamour for berths only a limited number of cabins are still available.
---
---
Craig Houston, head of enterprise for DC Thomson Media, said; "The positive feedback from readers on our 2020 sailing has been the big driver for this announcement.
"It is fantastic to be able to continue our growing partnership with Cruise & Maritime Voyages.
"Norway's Land of the Midnight Sun and Fjordland is a brilliant itinerary, which will see Magellan sail from Dundee as far as North Cape for the very first time.
"In 2021, readers will get to spend even longer on board, and we have the added benefit of sailing from and returning to Dundee. I hope the readers are as excited as we are."
Unlike the 2020 cruise, which sails from Dundee and finishes in Greenock – the 2021 departure will see passengers leave and return to the City of Discovery.
Coach transfers will be available from Inverness and Aberdeen and other parts of Scotland including Perth, Stirling, Falkirk, Edinburgh and Glasgow to the port of Dundee, so the new departure is accessible and convenient for all.
For the new 2021 itinerary, we will once again be sailing on board the majestic Magellan.
She will carry around 1,250 passengers towards to the "top of the world" at North Cape, on Norway's northern coast.
Here holidaymakers will be in prime position to experience the spectacular midnight sun of Norway.
Another cruise highlight will be at the port of Leknes, where passengers can explore the celebrated scenery of the Lofoten Islands, with mountainous peaks, stretches of open sea, fjords and beaches.
Magellan will also glide through some splendid Norwegian scenery, as it travels the fjords of Nordfjord, Romsdalfjord and Boknafjord.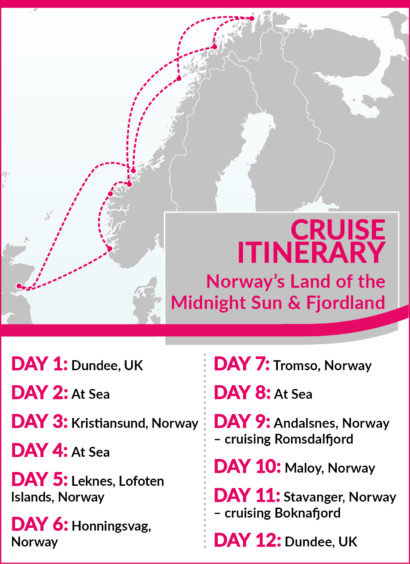 Port of calls in well-known towns such as Tromso, Kristiansund Andalsanes, Maloy and Stavanger will provide a base for some wonderful organised excursions, before sailing back into Dundee on July 8 2021.
---
A unique getaway
to discover stunning
landscapes
---
There will be plenty of entertainment on board during the special trip – all organised between Press and Journal Travel and ship operator, Cruise & Maritime Voyages.
Chris Coates, group commercial director for Cruise & Maritime Voyages, said: "We are very pleased to be launching another great sailing in partnership with DC Thomson Media.
"The popularity of the first cruise we launched proves that there is a real demand from Scottish readers to sail from a regional Scottish port.
"The 2021 itinerary to Norway's Land of the Midnight Sun & Fjordland is a unique getaway to discover stunning landscapes and the top of the world, so we hope the readers enjoy it."
Fresh delights will await every day as a dedicated team of expert chefs and attentive restaurant staff serve up high-quality meals and a luxurious evening dining experience, with up to five courses.
The journey will once again evoke nostalgic memories of the days when the Press and Journal's parent company, DC Thomson, ran a famous shipping line in the 1800s.
Magellan, named after the great explorer Ferdinand Magellan, offers an incredibly large variety of activities within its 726ft (221m) frame, including a show lounge, pubs, coffee shops, casino and shopping galleria.
Its relatively small size – compared to some modern cruise liners, which can carry up to 10,000 passengers – makes it accessible to more ports of call.
It also means readers can expect an intimate on-board experience that is both traditional and leisurely – an ideal combination for a memorable travel experience.
Alternatively, call 0844 998 3892 and quote DCT118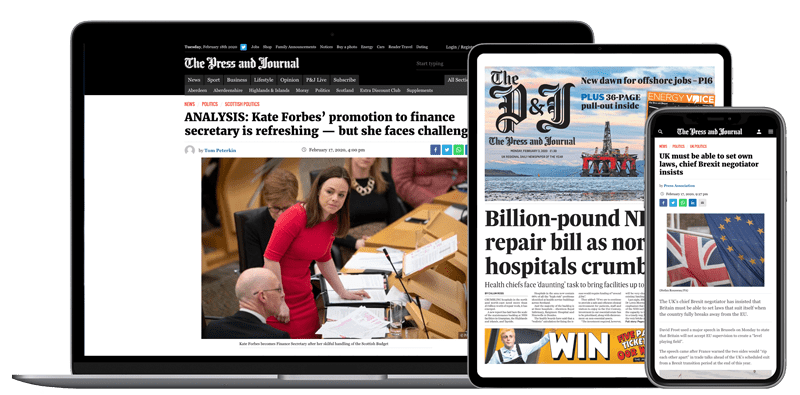 Help support quality local journalism … become a digital subscriber to The Press and Journal
For as little as £5.99 a month you can access all of our content, including Premium articles.
Subscribe