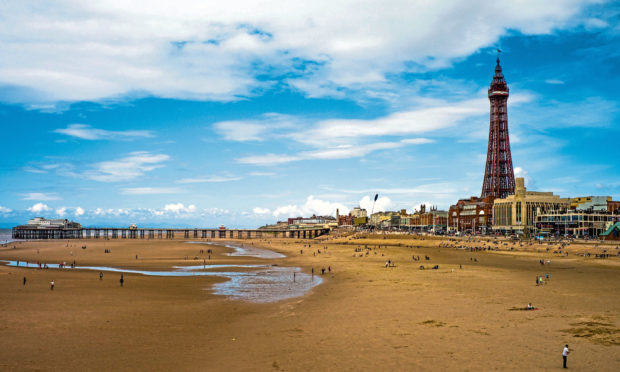 As a family of four with two teenage boys, opportunities to spend quality time together are few and far between, so when we were offered the chance of a weekend break to Blackpool we jumped at it, and it was non-stop laughter and fun from start to finish.
The west coast seaside resort is best known for its Pleasure Beach – an old-school amusement park with vintage wooden rollercoasters alongside state-of-the-art modern stomach-churning rides, as well as its landmark tower built in 1894.
So as I travelled down the M6 motorway in blazing sunshine during the October holidays, with the kids still excitedly looking out for the tower even though they are 13 and 16, I knew, as always, we'd be in for a fun-filled time.
We had just two days and one night at the newly-built Boulevard Hotel, located right next to the iconic Pleasure Beach and within walking distance of the bustle of the town centre and promenade amusements, pubs, cafes and gift shops.
The hotel boasts 120 stylish rooms, including 10 suites, with views on to either the famous rollercoasters behind, or the beachfront and illuminations. Our room had all the mod cons including a large flat-screen TV, tea and coffee-making facilities, air conditioning, hairdryer, alongside a super-king bed and 6ft bunk beds in their own section of the room. Each bunk bed had its own TV with individual lighting and USB charging points – absolutely fantastic for older children.
It was our intention to cram in as much as we possibly could during our visit so we opted to get a Tower Explorer ticket. The ticket includes entrance to The Blackpool Tower, the wonderfully ornate and historic Tower Ballroom, The Tower Circus, The Blackpool Tower Dungeon, Escape Room and Dino Golf.
And what better way on arriving in Blackpool than to take a relaxing afternoon tea in the surrounds of the incredible Tower Ballroom. Rounds of sandwiches, delicious scones with clotted cream and jam and a dainty tray of pastries and desserts too. And we couldn't stop watching couples dancing to the mighty Wurlitzer in the glorious ballroom all afternoon. But my lads were eager to explore.
And so up the tower we headed.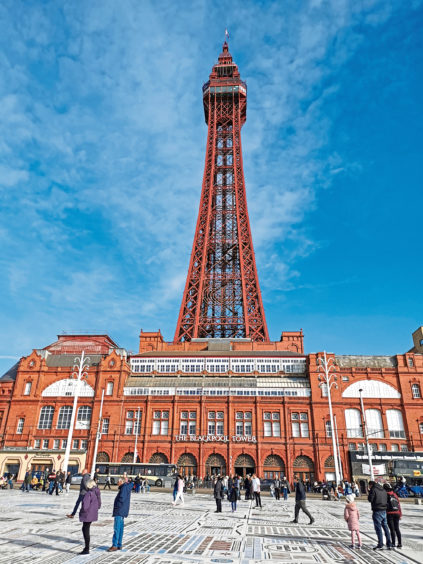 Needless to say, with it being a warm, sunny day, the views from the top were incredible. If you venture on to the SkyWalk – the five-centimetre-thick glass viewing platform at the top of the tower – it's not for the faint hearted. Between the metal struts of the tower is what appears to be a 380ft drop to the famous beach promenade below. My youngest was jumping up and down with no fear at all, but not everyone feels quite as brave once up at that height staring down at the ground far below!
After our afternoon tea and the adrenaline of the SkyWalk, we were excited and prepared to be amazed by the circus up next. The Tower Circus is without doubt one of Blackpool's grandest spaces and the show was one of the most entertaining I have seen for quite some time.
The Endresz family has wowed audiences and delighted families for more than two decades with jaw-dropping stunts and comedy capers in what can only be described as the must-see show of the season. Mooky and Mr Boo deliver belly laughs aplenty with their hilarious antics teamed with edge-of-your-seat death-defying stunts from top-class acts from all over the world.
After a busy day, we headed back to our hotel to freshen up and then wandered out to feed our ever-hungry boys and experience some of the amusements.
After a great night's sleep and fuelled by a superb all-you-can-eat breakfast the following morning, we put our minds together for the Escape Room, where you work together to escape a locked room within a set period of time by finding clues, solving puzzles and breaking codes. Sadly we didn't quite manage to crack our task as we ran out of time just before completing the challenge, but we had fun trying all the same.
After we were released, we headed round to the Blackpool Tower Dungeon where we were treated to a vivid, gruesome and interactive trawl through Lancashire's grisly history with an amazing cast of actors and special effects. Our visit concluded with a thrilling vertical drop ride and the whole experience was fantastic, frightening and funny.
Our final visit of the weekend was to Dino Golf on the seventh floor within the tower. There was a nine-hole course to complete, and the family were quite competitive during the game. We found this game would suit all age levels and would be fun for everyone even if you haven't played golf before.
After a quick lunch on the seafront, it was with heavy hearts that we headed to the car ready for the journey back to Aberdeen after a fantastic family time at this ever-popular resort.
The holiday
Boulevard Hotel, Ocean Boulevard, Blackpool FY4 1PL
Tel: 01253 336081
www.boulevardhotel.co.uk
Blackpool Tower: www.theblackpooltower.com
Blackpool Tower Dungeons: www.thedungeons.com/blackpool