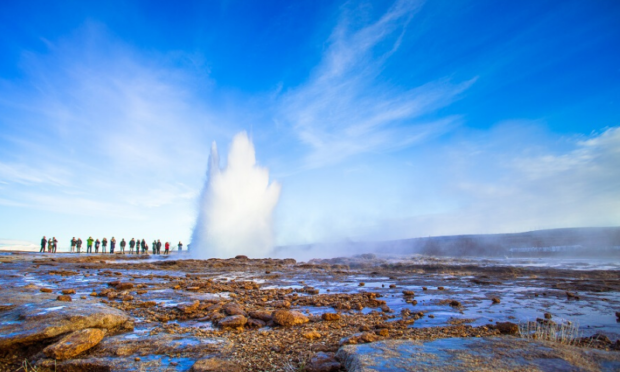 A photographer's dream holiday destination, Iceland is world-renowned for its dramatic beauty.
From glorious geysers, to awe-inspiring natural light displays, we count down our favourite 7 opportunities to capture the perfect snap on a tour of the 'Land of Fire and Ice'.
1. Seljalandsfoss waterfall
It would be impossible to pick out Iceland's best waterfall – there are approximately 10,000 of them thanks to the country's climate and Arctic location.
Some of these waterfalls are particularly fascinating, running with geothermal, hot water, or surrounded by stunning black lava columns like Svartifoss, in the Vatnajökull National Park.
One of the most spectacular waterfalls to photograph is 65m tall Seljalandsfoss, located on the south coast.
What makes this waterfall so popular is that a cavern has eroded into the cliffside, so readers can actually walk behind the cascading water.
Although a stunning location full of photography possibilities, you're likely to be drenched, so remember to bring along a waterproof!
2. Reynisfjara beach
Reynisfjara's striking beach is a popular filming location for movies and tv shows – and it's easy to see why.
The powerful Atlantic Ocean waves crashing on the black sand shores create a dramatic scene to behold.
Not far from the shoreline, visitors can also spot the Reynisdrangar basalt sea stacks.
One story of local Icelandic folklore describes how these towering columns were once trolls, dragging ships to the shore.
However, the trolls stayed out too late and were turned to stone at the break of dawn, creating the looming towers we see today.
3. Strokkur geyser
There are a number of geothermal wonders to admire and enjoy in Iceland, such as the popular Blue Lagoon and hot springs around Lake Myvatn.
One of the most exhilarating spots to capture an incredible image, is the Strokkur Geyser, located near Gullfoss waterfall.
The geyser erupts regularly, every 5 to 10 minutes, sending hot water an impressive 15-20m high into the air (although it has been known to reach up to 40m!).
Active geysers are rare across the world as they require very specific conditions to form – so this photo opportunity is not to be missed!
4. Whale Watching
Encountering a whale on an Icelandic adventure is on the bucket list for many animal-lovers and keen photographers.
Readers spending time in the northern town of Akureyri are perfectly placed to head out for a spot of whale watching.
Sail out into one of the longest fjords in Iceland on a boat tour and get ready to spot the area's breathtaking array of marine wildlife.
---
---
Humpback Whales are the most common species sighted here – and they're known for entertaining visitors!
Humpbacks often exhibit surface behaviours such as breaching, where most or all of the whale's body leaves the water, meaning there are plenty opportunities to photograph this truly unforgettable experience.
5. Thingvellir National Park
Iceland's first national park, Thingvellir, is a key stop on the Golden Circle route, presenting both a fascinating history and geology.
In the 10th century, settlers chose Thingvellier as the location for the world's oldest parliament, the Althingi (the Icelandic Parliament). The intriguing geology of this spot created a natural amphitheatre, ideal for hosting meetings.
Interestingly, the whole area also sits on top of the Mid-Atlantic Ridge, a rift valley between two tectonic plates.
Readers can walk through the valley, between the North American and Eurasian continents – an incredible experience to catch on camera!
6. Reykjavik
A trip to Iceland wouldn't be complete without a visit to the capital, Reykjavik.
The city boasts some striking landmarks, which, when set against a backdrop of dramatic Icelandic weather, are truly awe-inspiring.
Whilst in the city, a key must-visit is the impressive Hallgrimskirkja Church.
The building is 74.5m tall and, from the church tower, readers are treated to incredible views across Reykjavik and even Snaefellsjokull glacier on a clear day.
The church itself was designed to look like basalt rock, formed when lava reaches the Earth's surface and cools.
7. The Northern Lights
Catching the Northern Lights on camera or film is a dream for many readers.
There are many stunning locations across the island to experience this natural dancing light display.
Led by experts venturing out of cities in search of the Northern Lights takes readers into the beautiful Icelandic wilderness largely unaffected by light pollution.
Guided to these select locations give hopeful readers the chance to witness the incredible Northern Lights and capture images to treasure forever.
Visit Iceland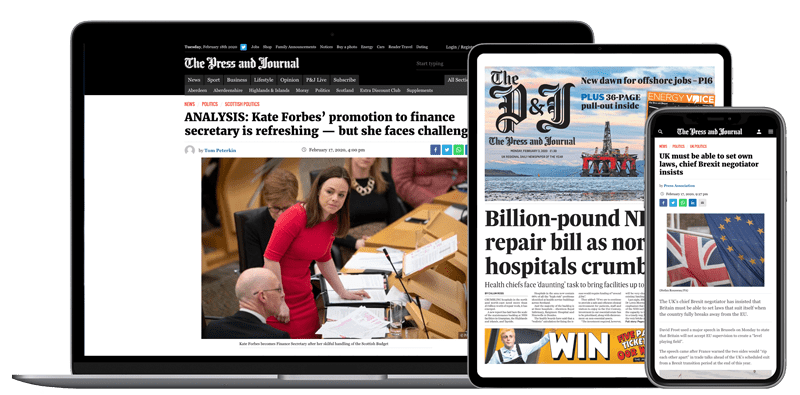 Help support quality local journalism … become a digital subscriber to The Press and Journal
For as little as £5.99 a month you can access all of our content, including Premium articles.
Subscribe