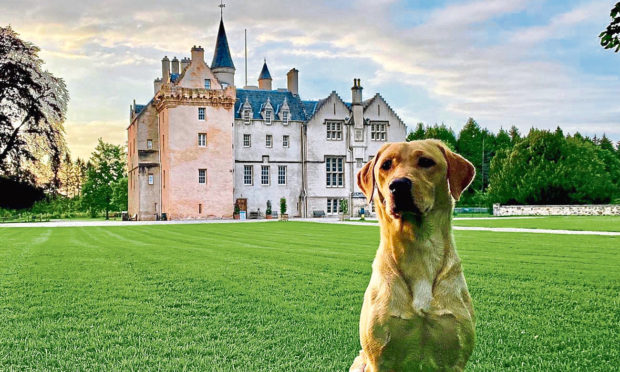 Delve into history or tuck into new dining experiences this autumn, writes Susan Welsh
Strike a 'paws'
Two of Scotland's most handsome dogs have been pictured striking a pose at two famous landmarks to highlight Striking Out For Scotland.
Willow the Golden Labrador and Lachie, a Parson Collie, visited National Trust for Scotland Highland attractions Brodie Castle and Inverewe Garden.
The charity, which cares for some of the nation's most treasured buildings and places, announced recently that 33 of its built heritage properties will reopen this year, thanks to receiving £3.8 million in funding from the Scottish Government and £2.5 million raised by supporters. Fundraising efforts are still ongoing, while a new campaign, Stride Out For Scotland, is encouraging people to get out and enjoy Scotland's incredible natural heritage at the country parks, Munros and wild spaces the charity cares for.
From enjoying the grounds of Brodie Castle to exploring the Pinewood Trail at Inverewe, for Willow and Lachie these Dog Days have been worth waiting for…
Staggered openings of properties will continue across Scotland.
• For full details of what's open visit nts.org.uk
Coastal castles of Clan Donald
A new exhibition at the Museum of the Isles, within Armadale Castle on the Isle of Skye, explores the fascinating history of Clan Donald castles on Scotland's western seaboard.
As Lords of the Isles in medieval times, Clan Donald chiefs commanded the sea routes that were vital to maintaining power over wild and inaccessible lands.
Their castles from this time are touchstones to a remarkable period in Scotland's history.
The exhibition, created to celebrate Scotland's Year of Coasts and Waters, uses prints, drawings and maps from the museum archive, as well as photography and film, to trace the evolution of clan castles from 10th Century fortification to 19th Century manor houses.
Featured castles include the ancient Lordship seat of Finlaggan on Islay; Castle Sween in Argyll, Scotland's earliest stone castle; the evocative tower house of Ormacleit on South Uist; and Castle Camus (Knock Castle) on Skye – site of bloody inter-clan rivalry and evocative legend.
The exhibition also reveals characters and stories associated with the castles such as the Warrior Queen Scathach of Dunscaith, and castle-builder Amie MacRuari. Exhibition visitors can explore the permanent galleries of the museum, which traces the history of the Highlands and Islands through the story of Clan Donald.
The museum is part of a five-star visitor attraction in Sleat, South Skye.
Armadale Castle sits in fantastic, historic gardens which are a must-see attraction.
The gardens, museum and exhibition are open Thursday-Sunday until the end of November.
• Visitors are advised to check the Armadale Castle website, www.armadalecastle.com, before visiting, to familiarise themselves with Covid-19 precautions and opening times.
New ways to dine out
One of the joys of visiting a different city or area is finding new places to eat out.
In Glasgow, 26-year-old chef Modou Diagne, has opened his first restaurant, 111 by Modou, located at 111 Cleveden Road in the city's west end.
He's offering a rather unusual five-course tasting menu and immersive experience with guests creating their own food journey through a choice of ingredients for each course.
And if the restaurant name sounds familiar that's because it was formerly 111 by Nico.
But it's been transformed by Modou, a protégé of Nico, and while it can accommodate 46 guests, it's currently reduced to 28 to ensure social distancing.
The seasonal tasting menu is priced at £30 per person, with a matching wine flight at £25 per person, available Tuesday to Saturday.
• www.111bymodou.co.uk
Meanwhile, aforementioned chef Nico Simeone returns to his Italian roots with a six-course tasting menu featuring the tastes, shapes, scents and colours of Sicilian cuisine at Six by Nico in Glasgow and Edinburgh. The offer runs from September 7 until Sunday October 18 and is available from noon onwards, priced £29 per person, while an optional wine flight is priced at £26 per person.
As ever, there is a vegetarian alternative available for every course, as well as Sicilian-inspired snack sides.
• www.sixbynico.co.uk
Culinary pop-ups at Gleneagles
This autumn, Gleneagles is hosting a number of pop-up eateries for food lovers, and is inviting guests to take their pick from a changing line-up of seafood shacks, street-food festivals and modern pie shops.
It means guests visiting from now until October 11 can either dress for dinner in Scotland's only two-Michelin-starred restaurant, or go casual and enjoy a more relaxed dining experience at one of the pop-ups.
Between September 9-20, visitors exploring the grounds will discover a slice of colourful Punjab life with a pop-up Indian Street Food Festival, inspired by the cult hit London restaurant and Ennismore Group's Tandoor Chop House.
The hotel's new summerhouses will be transformed into a technicolour roadside dhaba, decorated in shades of powder blue, burnt tangerine and earthy scarlet.
On October 10 and 11, The Gamekeeper's Hut celebrates the game season and autumnal produce with a range of hearty dishes for guests preparing for an adventure in the hills, or looking to try the spoils of the hunt.
Rates for a country double room start from £395 including VAT and breakfast.
• www.gleneagles.com
Feeling inspired?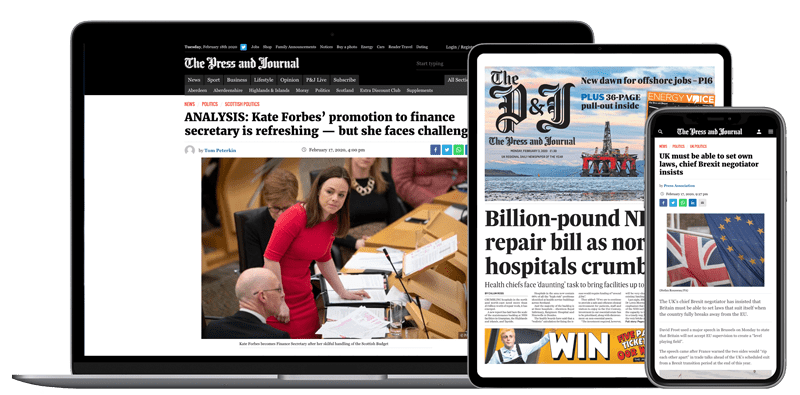 Help support quality local journalism … become a digital subscriber to The Press and Journal
For as little as £5.99 a month you can access all of our content, including Premium articles.
Subscribe