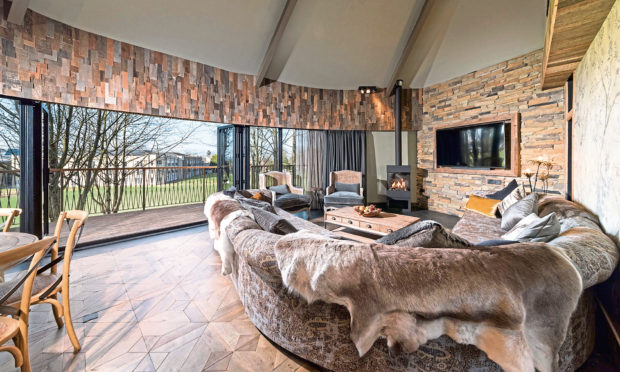 We were really excited about our weekend away, just before the coronavirus pandemic – driving down to Humberside to visit family before heading back up the A1 to Durham and staying at Ramside Hall for a night.
We were booked into the new treehouse suites and I'd been checking out the images online.
They looked amazing, and a night of luxury and fabulous food was just what we needed.
Determined to make the most of our time away, we had a look at what County Durham had to offer to keep us entertained for the day. My husband had been on family holidays to the area as a child and fondly remembered his visits to Beamish museum. I was pleasantly surprised by the number of exhibits to see.
Whole villages have been rebuilt from various decades, a coal mine, railway, even a sweet shop and fish and chip shop serving food. We couldn't cover the whole site in the time we had to spend there so, vowing to return, we made our way to the hotel.
We checked in at reception and the concierge was called to drive us to our lodge. It was only a minute or two around the estate before we arrived at the lodge – giant wooden huts on stilts, overlooking the golf course.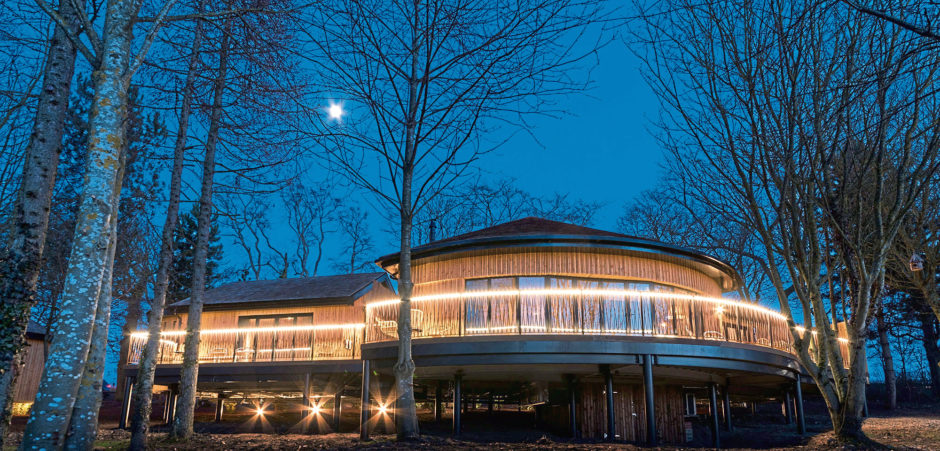 Going into our room we felt like perhaps we had been given the wrong one – it was amazing! A giant living room, with huge windows looking over the golfing green, a bedroom on a balcony above us and to the left another door leading to the master bedroom and bathroom.
The copper bath was a real feature, standing in front of a double-entry shower, hidden from the bedroom by only a frosted glass screen. The room had a modern country hunting-lodge feel to it with stags' antlers decorating the ceilings and animal pelts adorning the furniture. It was very nicely designed with clearly no expense spared – even down to the ESPA toiletries and Nespresso coffee machine provided for our use.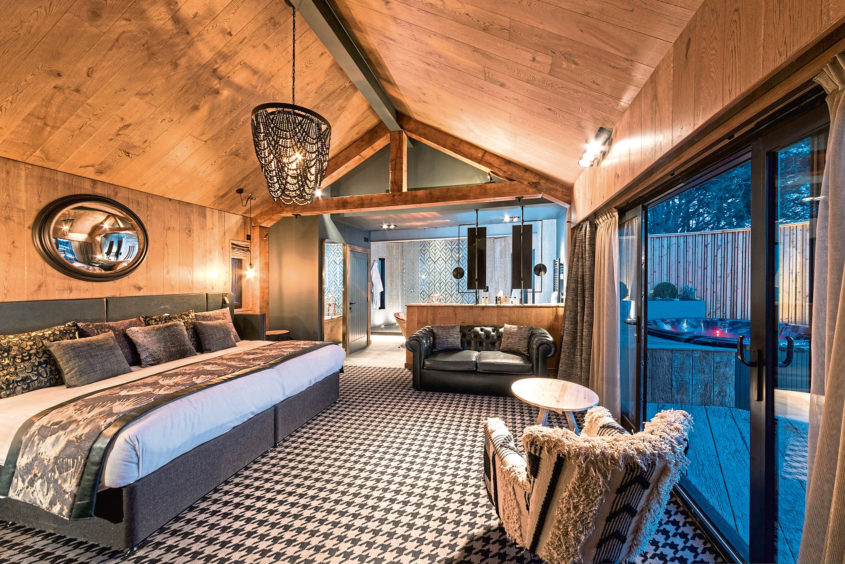 We had booked a table in the Rib Room for the evening, and though this meant tearing ourselves away from the gorgeous room, we were hungry. Calling concierge to collect us, we were dropped off outside another part of the main hotel.
The Rib Room was a mix in style of an old-fashioned pub and an Art Deco bar – quite unusual but very interesting to look around.
We ordered moules mariniere for my husband to start with, and I had the pork ribs with barbecue sauce and fennel slaw. Mine was tasty but I did end up sneaking my fork across the table to steal a mussel or two, with the sauce mopped up with some crusty bread.
For our main course my husband ordered the house special of a 20oz rib-eye steak with chips and peppercorn sauce. You never really appreciate how big 20oz is until it turns up on your plate.
This was a case of his eyes being bigger than his belly as he struggled to finish it.
I went for the surf and turf – half a lobster and an 8oz fillet steak. I was slightly worried about this as there was a tank of live lobsters near our table and I didn't want to have to pick one to eat. Fortunately, after closely watching the staff, I can assure you the tank lobsters weren't harmed on this occasion.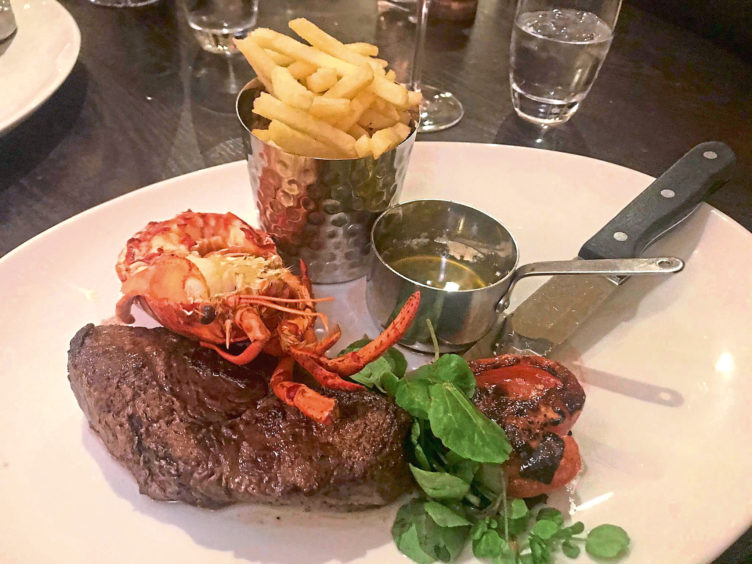 My lobster and steak came with garlic butter, fries and salad. Much to my delight, it was really garlicky and tender. We washed our steaks down with a nice bottle of Argentinian wine before sharing a panna cotta for pudding. Throughout the meal we both agreed several times that we would return one day.
We called concierge and asked for our lift back to the treehouse. The whole lodge was lit up, leading from the path and around the balcony. Feeling really full, we hopped into the hot tub for some relaxation before bed.
After a comfy night's sleep we were left wishing we had more than one night booked here. We headed for breakfast at the Fusion restaurant. Choosing from a set menu, I had yoghurt and fruit before an omelette, while my husband had a full English breakfast.
We visited just before lockdown, but since then the hotel has put in place measures to ensure guests' safety. Hotel staff have been provided with PPE and have their temperature checked regularly. Hand sanitiser stations have been installed for guests, and newspapers and magazines have been removed from public areas but are available upon request.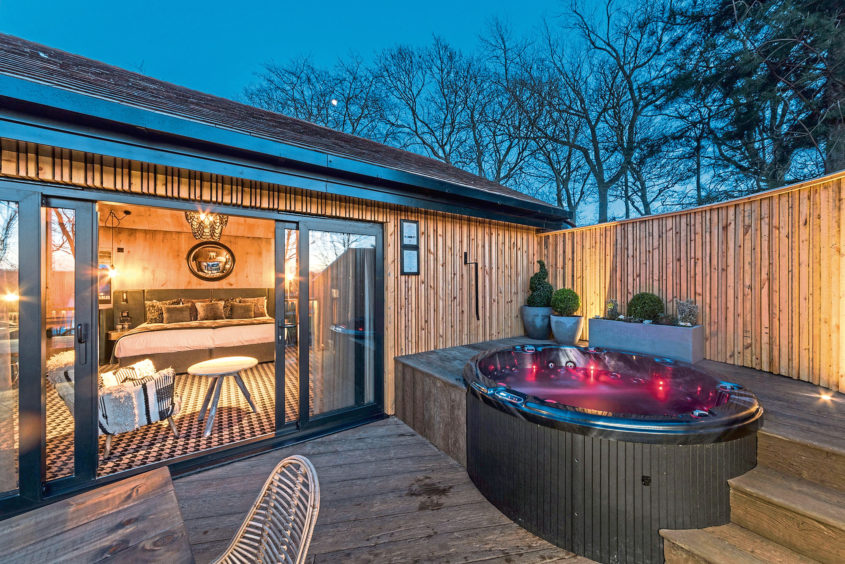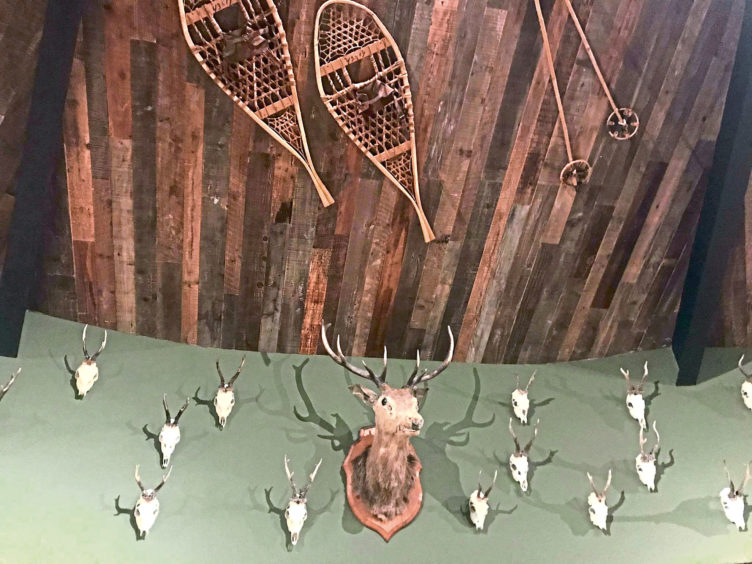 Ramside Hall has also put in place many more measures which are listed on its website.
Overall the hotel was amazing, luxurious and the food was top notch.
A little on the pricey side but a lovely treat for a special occasion.
THE HOLIDAY
Ramside Hall Hotel
Carrville, Durham DH1 1TD
Call: 01913 865282
Visit: www.ramsidehallhotel.co.uk
Treehouse prices start from £350 a night for a one-bed treehouse; £600 for a two-bed and £850 for a three bed