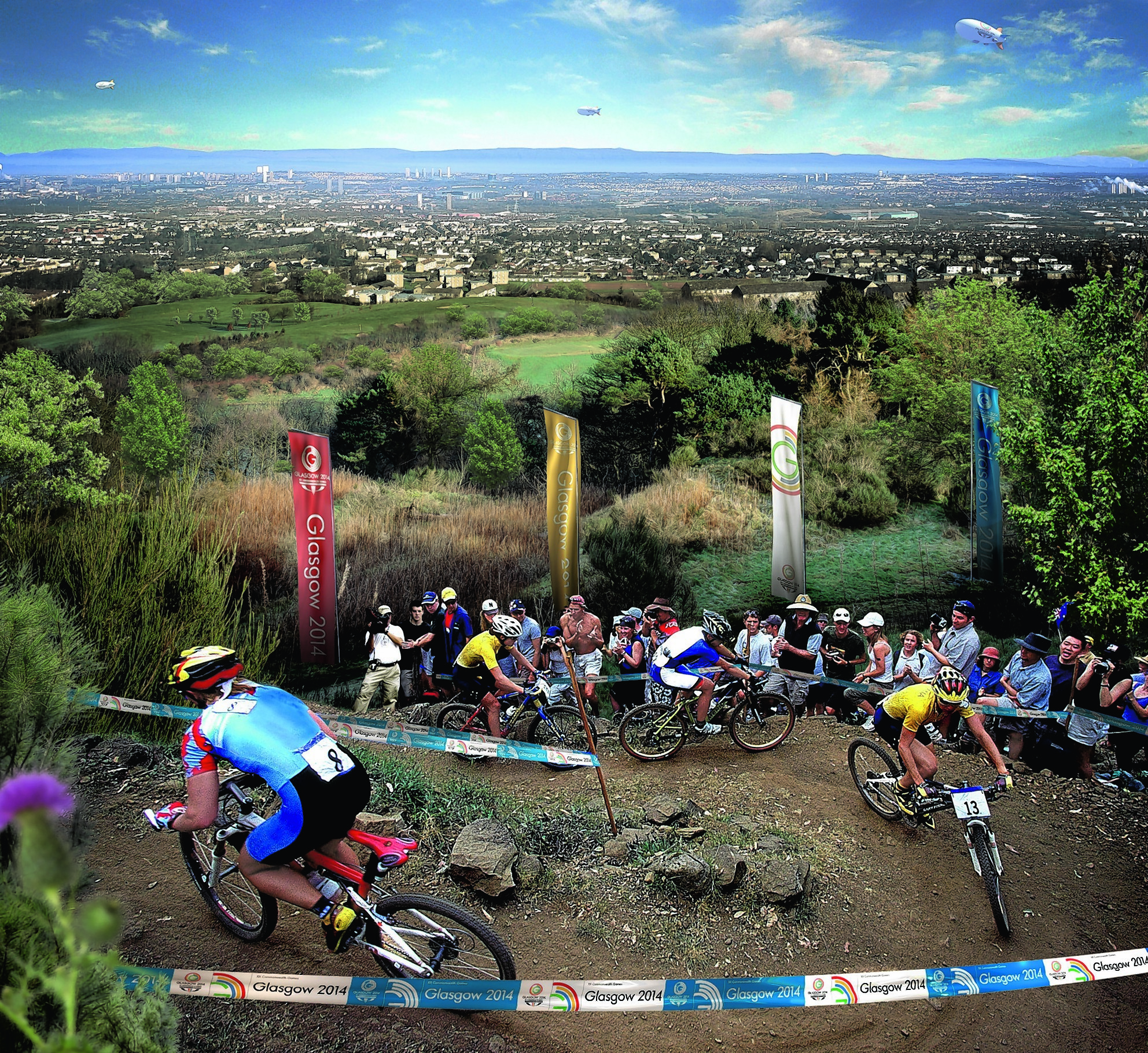 Our train arrived in Glasgow bang on time and right in the middle of the 2014 Commonwealth Games. Greeted by fabulous warm sunshine, we made our way to our hotel on Waterloo Street, just a 10-minute walk from Queen Street Station. The city centre was extremely busy with crowds wandering around the centre or enjoying the sunshine at some of the outside pavement cafes.
We wondered if we had disembarked at a Spanish city rather than Glasgow but we were brought straight back to Scotland when we passed a 12-year-old boy playing the bagpipes on a street corner.
The Commonwealth Games was evident everywhere we turned with athletes mingling with the crowds, supporters carrying flags or one of the many volunteers who helped with the smooth running of the games.
We stayed at Hotel Indigo, a 94-room boutique hotel. Local artwork is featured throughout the hotel showing the living history of the city and its people. The decor is modern and vibrant with lime green and cerise pink in abundance. Our room was beautiful – with one of the biggest showers I have ever seen, while atmospheric lighting added to the relaxing vibe.
But we weren't here to relax. It was straight out to watch our first Commonwealth sport. Ladies' hockey at the Glasgow National Hockey Centre was our first port of call.
No problem getting there by taxi and we joined the queues filing in to get our bags and tickets checked. As the sun was splitting the skies, volunteers were checking we had plenty water and sunscreen; are you sure this is Glasgow? My only hockey experience was during my time at Golspie High School, shivering in horizontal rain, ankle-deep in mud. Wow, this was completely different and we were blown away by the players' skills and speed. Across in the other stand we spied Prince Harry, Prince William and the Duchess of Cambridge enjoying the spectacle.
Glasgow is famous for its restaurants and nightlife and visitors are spoiled for choice in this cosmopolitan city. Before dinner we had to try the Commonwealth Cocktail. This cocktail was housed at Kelvingrove Cafe, a 127-year-old former ice cream parlour. The drink has been specially blended using 71 different ingredients sourced from each and every Commonwealth nation competing in the Games. Of course, it was whisky-based.
We dined at Ox and Finch in Sauchiehall Street, recently launched by former head chef of the McLaren Formula 1 team. With a Mediterranean feel, an open kitchen and relaxed stylish environment, it was the perfect place to escape the busy streets outside. The emphasis is very much on sharing so we devoured an assortment of dishes including plates of seared scallops with chorizo, confit pork belly, buffalo mozzarella, peach, mint and prosciutto salad – but definitely not for sharing was my dessert, peanut butter parfait with cherry sorbet.
The following day we ventured up to Cathkin Braes Country Park to watch the Commonwealth Games mountain biking. Located on the south side of Glasgow, this purpose-made facility will become a permanent venue for use by local communities and for international competition.
The usual Scottish weather had returned with four seasons in one day on the mountain, but the crowds were all layered up to support the cyclists lapping the course. We got amazingly close to the action and could feel their pain as they pedalled up steep embankments and down steep rocky declines in the wind and the rain.
Big screens at the finishing line and a great atmosphere brought the crowds. The commentator had us all on our feet cheering and flag waving when the last competitor had to ride her final lap with a flat tyre.
All that fresh mountain air made us hungry and we dined that night at Hutchesons, one of Glasgow's new and most stylish restaurants. Following a £1.3million investment of the Hutchesons' Hall, formerly a hospital, library and school, it is now a top-class venue for the trendy city-centre clientele.
Spread over three floors, it serves luxurious breakfast, scrumptious high teas and decadent dinners from dawn until dusk.
We indulged in juicy steaks, roasted cashew and wild mushroom gnocchi, mopped up with delicious homemade bread and a surprisingly sweet butter flavoured with maple syrup.
During the Commonwealth Games, Glasgow also has a £4million cultural programme under way, showcasing dance, theatre, music, visual arts, comedy and much more. We went to News Just in at The Arches, a nightly round-up of all things Commonwealth Games from the Tartan Tonight newsroom. It featured a cast of six of Scotland's top comedy actors.
We also enjoyed The Tin Forest, a puppet theatre experience by the National Theatre of Scotland. It is a story of a crabbit wee man who dreams of a better world and decides he'll just have to build it himself. An oddball cast of lovable bampots and eccentric puppets guide brave punters through manky wee howffs and wide windswept places alike.
Our final visit on the cultural trail was to the Gallery of Modern Art. I cannot believe I have never visited this treasure chest before. It is Scotland's most visited modern art gallery displaying work that highlights the interests, influences and working methods of artists from around the world and over the weekend had more than 10,000 visitors.
The current exhibition is part of GENERATION – 25 years of Contemporary Art in Scotland, which showcases work by more than 100 artists in over 60 venues across Scotland until November.
We enjoyed lunch at Jamaica House before heading home. 29 Private Members Club was transformed into Jamaica House 2014, bringing a taste of the island's world-famous party atmosphere to the city centre. It was quite quiet when we there and sadly Usain Bolt didn't make an appearance but we enjoyed lunch all the same.
Sadly it was time to depart our mini-break to Glasgow. The legacy of the Games will without a doubt encourage visitors to Glasgow long after the athletes have returned home. People Make Glasgow is the city marketing bureau's slogan and they are absolutely right. We were warmly greeted wherever we went. A special mention must be made for the volunteers, who really took to their task at the events and in the city streets.
In the words of Prince Isram at the closing ceremony "Glasgow, you were pure dead brilliant".
For more information on booking your trip to Glasgow, visit www.peoplemakeglasgow.com www.visitscotland.com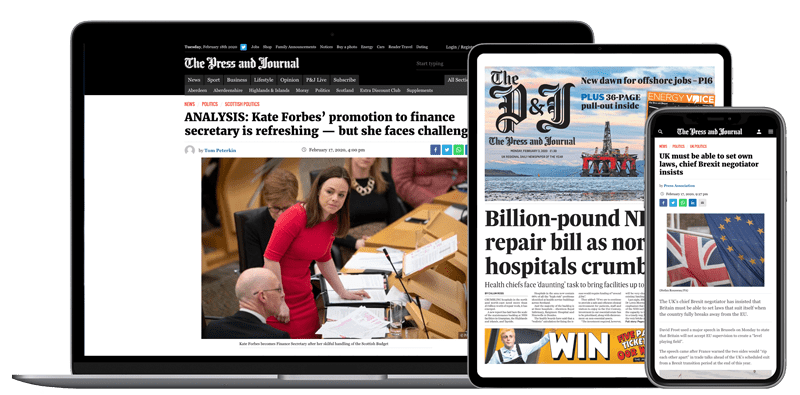 Help support quality local journalism … become a digital subscriber to The Press and Journal
For as little as £5.99 a month you can access all of our content, including Premium articles.
Subscribe