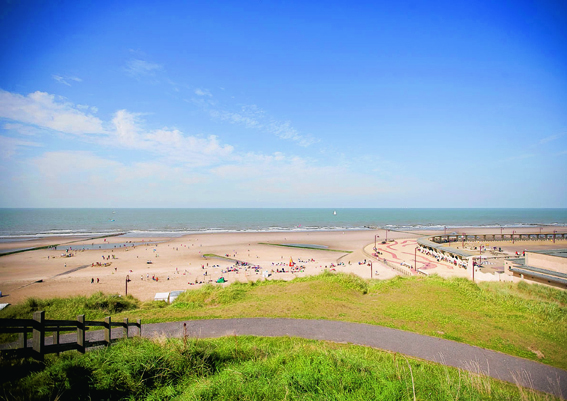 Land of mussels and chips, Belgian beer, beautiful Bruges and much besides
As we settle back with a coffee and a full cooked breakfast, the English Channel stretching before us, calm as a millpond under a blue sky, we briefly consider the rather more stressful trips we've taken that began with a plane or train.
But this time was different.
The ease with which we cleared customs at Dover, drove on to our ferry headed for Dunkirk and waved farewell to the "marshmallow cliffs" had gotten the holiday off to a very good start.
It is a two-hour sailing, and once we've all eaten, stocked up on duty-free and supervised a run-around in the children's soft play area, our destination port is in sight, and we've not heard a single "are we nearly there yet".
We hadn't previously considered Belgium as a holiday destination, but the opportunity to indulge the children's obsession with bike riding and their appreciation for waffles inspired us to give it a go. We fancied an easy trip abroad with the prospect of mussels, frites and mayonnaise, and of course, it would be rude to visit without sampling the Leffe.
We're staying at Sunparks De Haan, a family holiday park that's an easy 45-minute drive up the coast from Dunkirk. It offers cottages with gardens, a lake and safe roads, once everyone has unloaded their luggage and deposited their cars in the separate car park. It's the perfect base to explore 42 miles of Belgian coastline on foot and by bike, with museums and theme parks thrown in for good measure.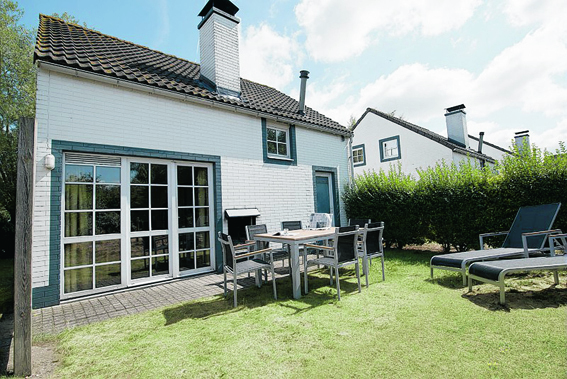 One of the park's attractions is the Aquafun subtropical pool complex with three water slides, waves every 15 minutes and pools to suit any age. We spend our first afternoon, conscious that the children have been up since 5am, very happily shambling around the waterways before hitting the adjacent restaurants and huge outdoor deck for pizza and beer as the sun sets.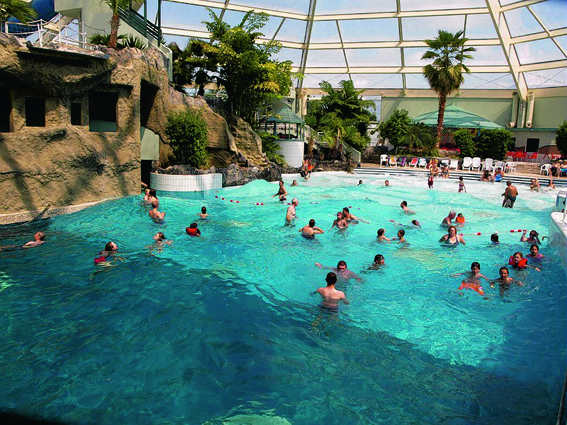 We're careful not to indulge too much though, because the other main draw card here is the cycling. We strap our youngest into a seat on the back of one bike while our five-year-old quickly comes to terms with a tandem. The evening is still blissfully warm so we set off for a ride around the lake, the children waving to all the other youngsters whose parents are similarly merrily disregarding bedtimes.
Being Belgium, there are dedicated cycle paths criss-crossing the countryside, so we take to the bikes the next morning and set off for De Haan, the coastal town with its beautifully restored Belle Epoque neighbourhood, in search of sea and waffles.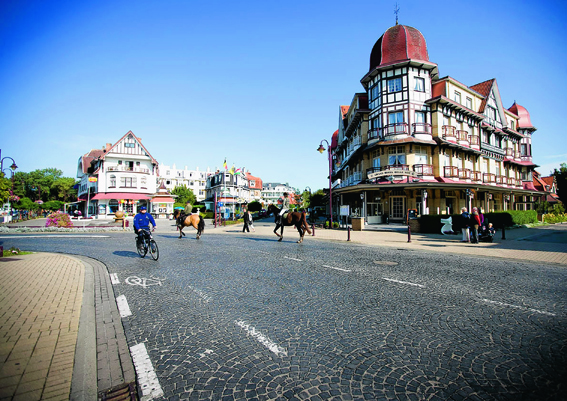 It's an easy 15-minute cycle, marred only by one in our party throwing up his hands in horror when we come across a car, before we find ourselves amid exquisite homes and gardens and the elegant La Potiniere recreation park surrounded by picture-perfect carousels and ice cream vendors.
High-rise building in the town is forbidden and owners are only allowed to build on one-sixth of their plot. The winding streets guarantee peace and quiet and safety for junior cyclists. Restored approximately five years ago, La Potiniere is the "green heart" of the De Haan and has a network of paths perfect for the go-carts available for hire.
We stroll to the promenade and select a beachside cafe where we order the best waffles we'll ever eat.
De Haan is a 15-minute car journey from Bruges – too tempting a trip to pass up. We wrangle the children away from the pools and bikes with the promise of a canal trip, which we make as the sun sets on the city's plentiful and beautiful spires and bridges.
The city, for all its world-class history and architecture, is a blast for children. Ours spend the afternoon marvelling at the steady procession of horses trotting around with their carriages full of tourists and street entertainers handing out lollipops to those throwing them a coin.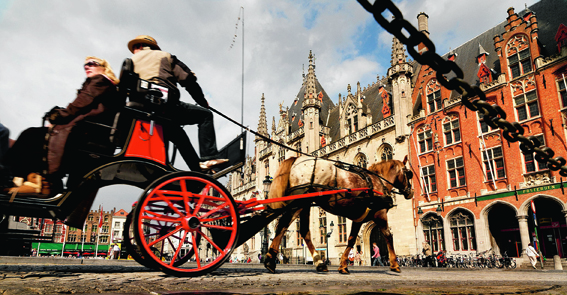 We eat mussels and frites at a reasonable price, by no means a given in Bruges, and top off our visit with yet another ice cream as we wander through the central Markt square and its extraordinary buildings.
THE HOLIDAY
Josie Clarke and her family were guests of DFDS Seaways who sail 44 times a day between Dover and France, with routes to both Dunkirk and Calais. Prices start from £29 each way for a car and up to nine passengers. A mid-week stay (Mon-Fri) at Sunparks De Haan starts from 259 Euros for up to four persons; weekends (Fri-Sun) from 299 Euros for up to four persons. Based on September bookings. For more information on the destination visit www.visitflanders.co.uk