Proving that you're never too old to enjoy Christmas, Chris Wiltshire takes his wife to see Santa in Lapland
For three, bone-chillingly cold evenings, Lapland's lady of the night had stood me up and I was beginning to despair.
Aurora Borealis, the Roman goddess of dawn, had lured me deep into the heart of icy Finland with the promise of a show, the like of which I had never seen before.
But each time I ventured out from my cosy log cabin, wrapped up like a polar explorer against the -22C cold, all I could see was a deep black sky, lit up with countless sparkling diamonds and the occasional arching shooting star.
With my neck aching from gazing upwards and my face numb against the Arctic breeze, I was ready to call it a night. But then, with the time nudging midnight, she came.
Off to my left, under the ever-present North Star, a swirl of green emerged from the blackest part of the sky like some mystical voluminous curtain. My jaw dropped and I looked around for someone to share the experience with, but there was no one around. It seemed the Northern Lights were putting on a display just for me.
A few flickers of green danced across the sky, reflected in the snow-covered pine trees, and then disappeared just as soon as they had come. The show was over.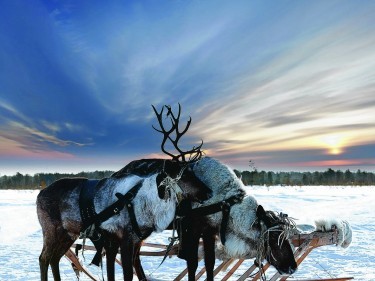 WINTER WONDERLAND
My brief encounter was one of several magical moments in a four-day trip to Levi, a picture-postcard winter wonderland just over 100 miles inside the Arctic Circle in northern Finland.
In truth, the display was nothing like the spectacular showing that had been the talk of the town the night before we arrived, but I felt blessed to have seen it.
I had come with my wife to fulfil one of her dreams and meet the real Santa Claus, Father Christmas. And, cruel as it sounds, we had left the kids behind.
Now, my family loves Christmas, but when it came to a choice of a beach holiday or a trip to Lapland, our son and daughter opted for sunnier climes. At 21 and 25, they felt they were too old to be chasing fairytales.
But my wife, Carole, really loves Christmas. Barely has the festive season passed when she is plotting the next one.
A healthy helping of snow set the scene nicely and, after being kitted out with enough Arctic clobber to have kept polar explorer Ranulph Fiennes warm and toasty, we made the short journey from Kittila Airport – a three-hour flight from East Midlands – to lovely Levi.
Guiding us along the way was one of Santa's little helpers, a happy-go-lucky elf named Twinkle. She introduced us to the delights of dog-sledding, snowmobiles and reindeer rides during our whirlwind trip, before joining Santa for a "surprise" visit to our log cabin.
There's something magical about a fir tree weighed down by freshly fallen snow – and Finland has more than a million of them.
Each winter, the Levi locals adorn their trees – both inside and out – with thousands of fairy lights, giving the town a look that has been mirrored in countless Christmas cards.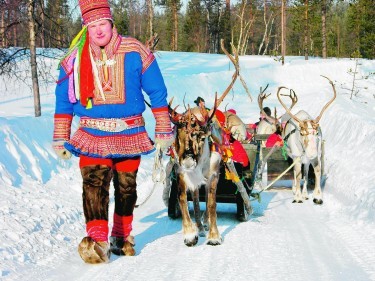 SANTA FEVER
While Santa fever hangs in the air, many head to Levi for ski-ing and snowboarding, with a well-lit downhill ski run dominating the skyline.
Levi Fell is the largest ski resort in the country, with 43 slopes, and prides itself on catering for skiers of all ages and abilities. It also plays host to one of the World Cup events, and therefore attracts the ski-ing glitterati.
But we resisted the urge to hire some skis and instead joined Twinkle – aka Suvi, a sweet-natured 20-something from southern Finland – on a ride deep into the forest for a meeting with Aliya and her herd of magnificent reindeer.
The Christmas fairy must have seen us coming because the temperature suddenly climbed to an almost balmy -5C and it started snowing for the first time, great big fluffy blobs of the stuff.
We clambered on to the back of a sleigh, snuggled up under an inviting blanket, and then watched in wonder as our reindeer led us through an enchanting wood that looked like a set from The Chronicles Of Narnia.
All we could hear was the gentle swish of the sleigh on the crisp snow and the jangle of reindeer bells as we wound our way through the snow-laden trees. I'm possibly the least romantic person in the world, but even I had to admit it was special.
In fact, the ride was over so quickly that I cheekily asked Aliya, resplendent in her traditional Sami costume, for another whizz through the woods. Then it was back to the owner's house for a cup or two of warm berry juice and a fascinating talk about the reindeer and the ways of the Sami people, who have survived in the barren landscapes of the Arctic Circle for as long as 4,000 years.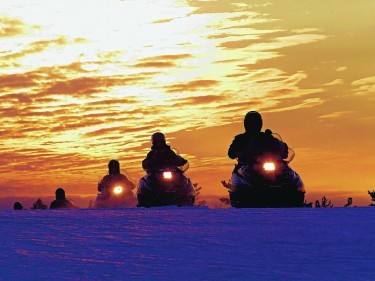 It set us up perfectly for our altogether more action-packed husky ride, something we had eagerly been looking forward to.
I'd pictured a gentle meander through the frosty countryside, led by four or five cute, fluffy Siberian huskies. But the reality was somewhat different.
Martin, a large, weather-worn dogs man from northern Finland, introduced us to his "children" – a boisterous, yelping collection of pure-bred Alaskan huskies – before showing me how to operate the basic, yet sturdy sled.
"Whatever you do, don't let go, even if you fall over," commanded Martin, with a look that could have melted the snow. "My dogs are very precious to me."
"Don't worry, I won't let you down," I promised, making a mental note to plant my foot firmly on the brake – a piece of metal wedged into the ice – as much as I could.
Then we were off, charging away from the dog kennels at breakneck speed, with Carole perched in front of me. I battled to control the sled as it zigzagged this way, then that, my right foot pressed firmly on the break and my heart pounding. The pack of six dogs was unbelievably strong as they tried to catch Martin's sled ahead of me.
Soon, we were out in the white wilderness, the dogs working as one, and the barking replaced by the soothing sound of the skis on ice.
Ahead, the midday sun was barely breaking the horizon, warming the blue, cloudless sky with yellows and soft oranges. It was absolutely perfect.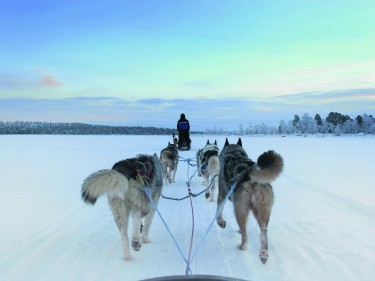 ARCTIC CHILL
The Arctic chill was numbing my mouth, but I couldn't help but let out an occasional "yee-ha!" as we charged across the snow. This was as far removed from the commercial excesses of Christmas as you could get, and I loved it.
That evening, a special visitor arrived at our cabin, with his reindeer, Comet, and Twinkle in tow.
A very authentic-looking Santa regaled tales of how he had reduced a grandmother to tears of happiness that day, by bringing her Christmas dream to life. He'd also sung Finnish festive songs with some local children and handed out Christmas presents.
It was a fitting end to a fairytale trip – and even the magical Aurora Borealis showed up before the night was over.
THE HOLIDAY
Sovereign Luxury Travel offers a three-night Lapland experience from £1,374 per adult and £1,174 per child. The offer includes return flights from London Gatwick, three nights B&B in a traditional cabin, a private elf guide, excursions including husky sledging, snowmobile and a reindeer sleigh ride, a private meeting with Santa, a Lappish festive dinner and thermal clothing.