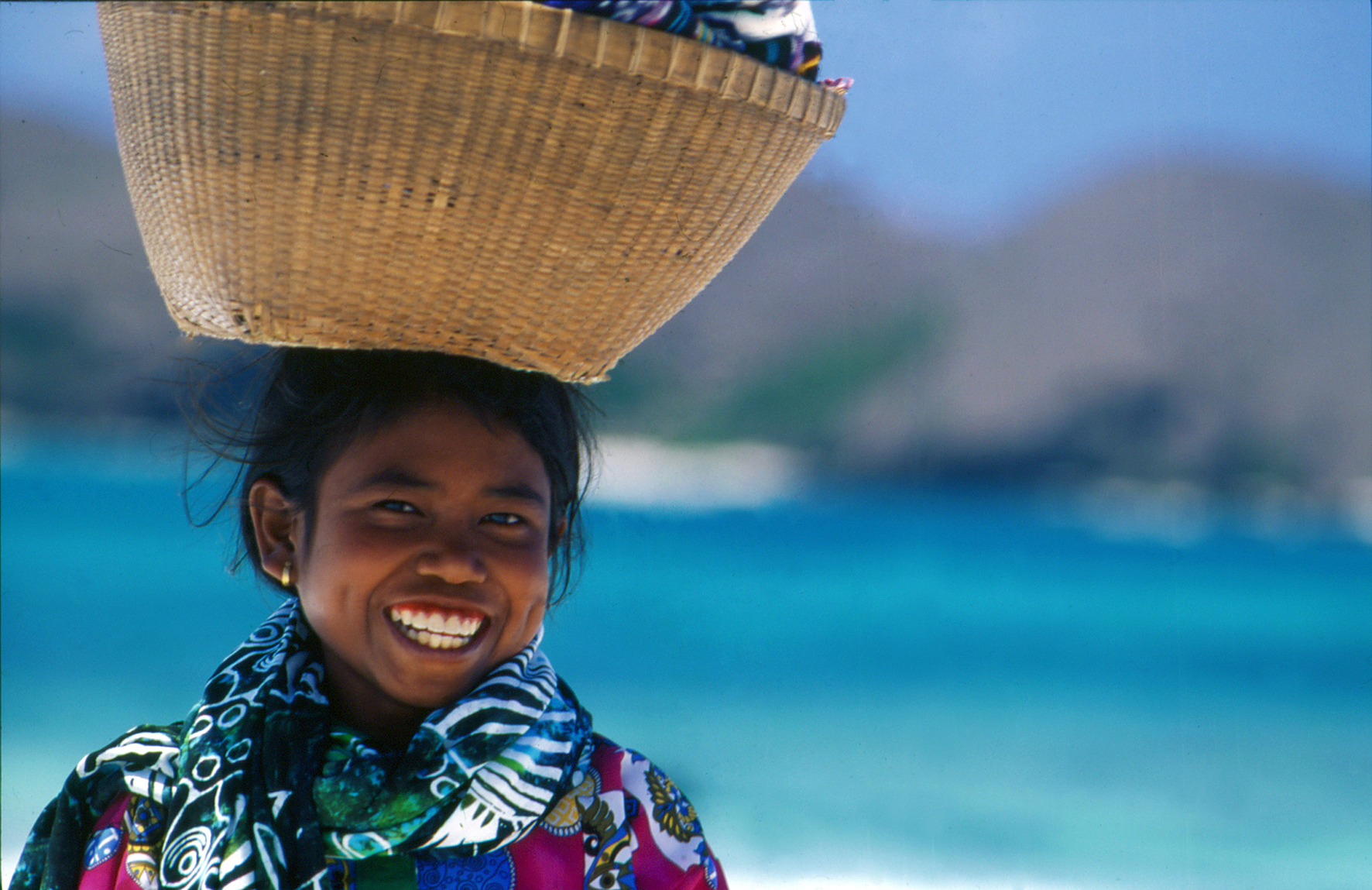 We're on what's termed a 14-day 'Discovery' cruise of Indonesia's islands, rightly described by Lonely Planet as some of the world's loveliest – but amid so much beauty there are the confronting images of poverty that tear at the heart strings.
They make a deep impression, but it's the extraordinary warmth of the people one remembers, spontaneous and genuine.
As our shuttle passes, people everywhere – particularly schoolchildren – stop to smile and wave, even lines of uniformed men in Surabaya (police or soldiers) being addressed by a capped officer break ranks to wave.
We begin the cruise on Holland America's flagship Rotterdam in Singapore, clouded with smoke haze from Indonesia's forest burning. The 1,404 passenger-capacity ship is virtually full with British, at 144 the third largest contingent among 35 nations.
Contrasts loom from the beginning, in Jakarta's port Tanjung Priok, where the shuttle in the traffic melee passes lines of slum shacks and dark, little shops on its way to a gleaming shopping mall where kids swim in a brown, garden-lined waterway.
At Semarang, Central Java's capital, the shacks are replicated down by the port's railway tracks, soon giving way to the grandeur of Dutch colonial and public buildings. Street sellers swarm around us at a shopping mall, offering batik cloth, colourful fans and ornaments; there's persistence, but no aggression.
Semarang's big draw is the ninth century Borobudur temple of Buddhist kings, a nine-hour shore excursion by train and coach to Indonesia's most visited site: 10 massive stone terraces, representing stages of enlightenment, leading to a stupa (dome-shaped mound). Covered by jungle for more than a thousand years, the site was restored at a cost of $25million with the aid of UNESCO.
Contrasts come into sharp perspective again on Komodo Island, at the 'secret' village of Kampung Komodo. We go by boat to the little community of shack-like houses on stilts where people, goats and chickens live together; huge satellite dishes and national election posters keeping them in touch with the outside world.
The village's water comes from a spring and there's no continuing recruitment at the elementary school. Yet the schoolchildren are neatly turned out in brown uniforms and perform a kind of hopscotch game with bamboo poles for our entertainment. Just across the way there's a white sandy beach with crystal waters where passengers snorkel amid coral and colourful fish.
On another part of the island, it's a four-hour excursion with much walking in 30 degree-plus heat. Those who persevere and go on to a walk with rangers in the World Heritage Komodo National Park are rewarded with sightings of the fierce, blood-smelling Komodo Dragon, unique to the island. The agile, dinosaur-like reptiles, more than 3.5 metres long and weighing some 136kg, live on the island's wild deer and pigs.
Surabaya, thriving capital of East Java, is a surprise – a tree-lined, sparkling city of wide roads, rated the cleanest in Indonesia, thanks, our tour guide Saroni tells us, to longtime mayor Mrs Risma.
We're greeted at the mayoral office by Javanese dancers in weird masks and towering peacock feathers on their backs accompanied by young women on toy horses who dance and somersault. Guided by beautiful, articulate attendants, who give the men traditional Javanese hats, the women long shawls, we meet the mayor and are entertained with more dancing. We crawl through a green-painted Russian submarine in a park, used says Saroni, by the Indonesians in 1962 "to liberate West Papua." We tour a museum and factory, producing Surabaya's 234 brand cigarettes – a room half the size of a football field with multiple lines of hundreds of women hand rolling Indonesia's clove cigarette of choice, at the rate we're told, of 325 a person an hour.
Philip Morris became a majority shareholder in the mid-2000s. Photography of the women at work is banned. The cigarettes cost around $1 for a packet of 12: "Indonesia is a paradise for the cigarette companies, but not for us," Saroni says.
It's Holland America's most extensive cruise of Indonesia. We're diverted initially from Bali as the Rotterdam avoids a cyclone, coming back to overnight later, though Makassar has to be cancelled.
Not surprisingly, Dutch, followed closely by Americans, are the biggest complement on the ship. Rotterdam, launched in 1997, is the sixth to bear the name. The first Rotterdam, built on the Clyde and shown with sails and smoke stack on the current Rotterdam's walls, went into service for Holland America in 1873, mainly to carry migrants from Europe to the new world.
It may have been superseded by newer, more modern Holland America ships, but Rotterdam has the same elegance, including $2million in artworks and antiques, and all the facilities, activities and entertainment to pamper cruisers. While there are fewer staterooms with verandas compared with the line's Vista ships, enhancements include the new Lanai style with glassed doors opening on to a lower deck; all stateroom furnishings have also been updated.
Fine dining options in the Pinnacle Grill are similarly extensive: De Librije, based on a three-star Michelin restaurant in Holland, serves dishes described as 'idiosyncratic', 'modern', 'innovative' and 'classic,' all in degustation style with wine pairing, a delight for sophisticated diners.
On the Pinnacle Grill's more traditional menu, I struggle valiantly but give up on a superb, 510g, rib-eye filet from America's Pacific northwest, complemented by an Australian Wolf Blass cabernet sauvignon. The restaurant, with impeccable service, also features cuisine from New York's Le Cirque restaurant. My classic spaghetti and meatballs in the Italian Canaletto restaurant ($US10) are done to perfection.
I ask passengers what appealed about Indonesia. Responses range over the attractions – Borobudur winning hands down – but overall there's unanimity; the people. It confirms what Rotterdam's location guide Spencer Brown tells audiences in his informative lectures: "The smiling people are the heart of Indonesia."