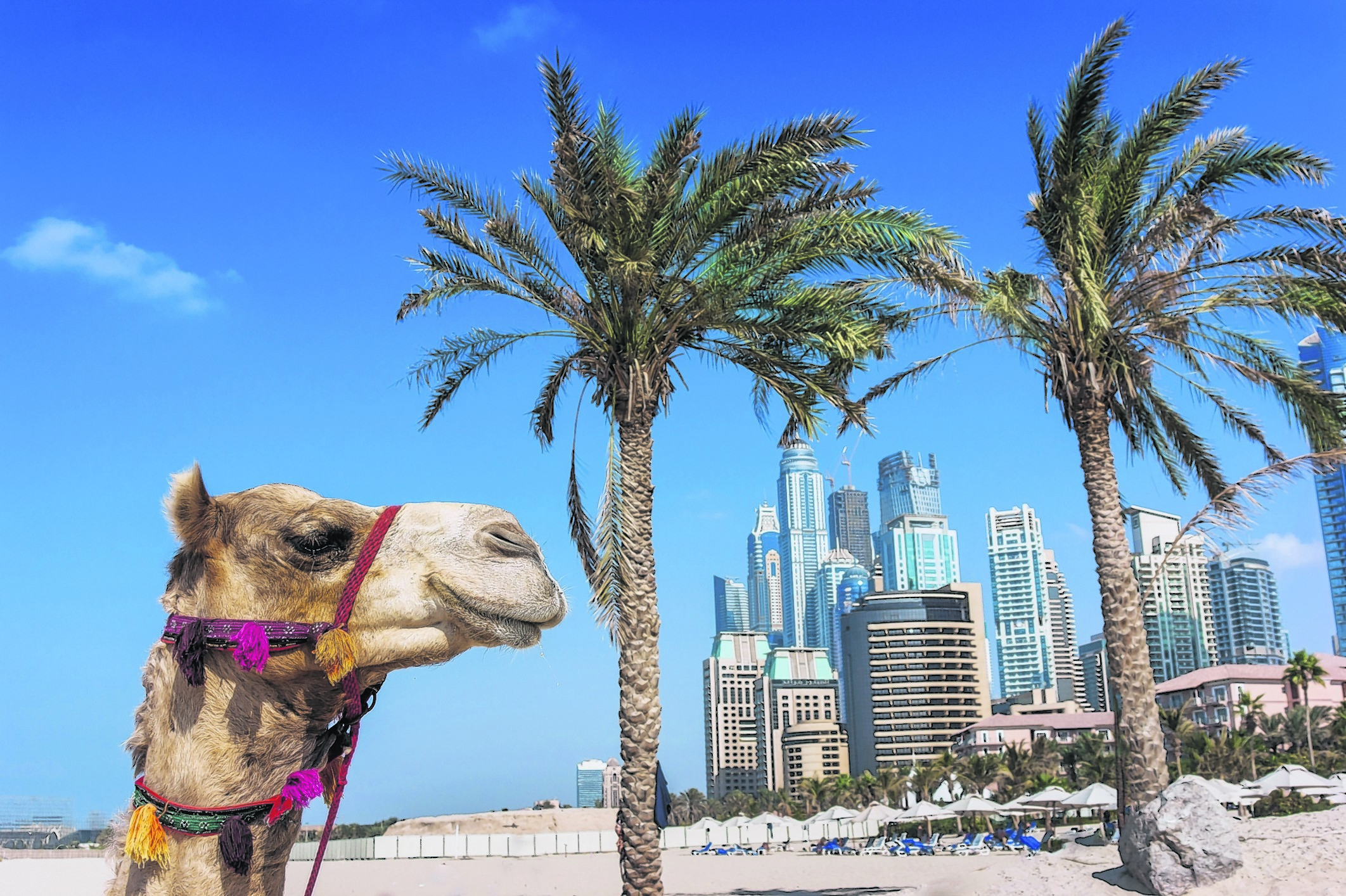 It's 8pm and my five-year-old is sitting down to dinner in the desert, having sprinted barefoot to the top of a sand dune to watch the sun set, before enjoying a jaunt on the back of a camel. Earlier she was zorbing down a ski slope and making snow angels. This could only be Dubai.
The little lady, who has finally confessed to feeling a bit sleepy, has apparently expended the last of her energy bartering with a shopkeeper for a tiny sparkly pink camel as a memento – final price 10 dirhams (a little under £2).
She's been shooed away from the shisha pipes despite her protestations and finally perches at the edge of a stage as a belly dancer makes her glamorous entrance.
All in all, it's been quite eventful.
We're the second day into a mother and daughter break – with the emphasis very much on the daughter – that began at around 6.30am when we rose for breakfast at our hotel, with its spectacular view across The Dubai Fountain to the Burj Khalifa, the first rays bouncing off the tower's beautiful curves upon curves, as we enjoyed the early warmth of an October day in the desert.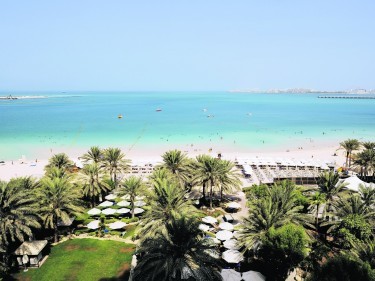 The breakfast chat revolved around the entertainment of the evening before at KidZania, the theme park in the Dubai Mall built to scale for children, where they can earn money in just about any profession they care to imagine.
It's one of those places you know kids are going to absolutely love, because parents are effectively barred from getting involved, gently directed instead to the on-site cafe, while their ambitious youngsters get on with making money.
Within the space of two hours, my daughter had piloted a passenger jet, presented a show for Al Jazeera, worked as a courier driver, raced a car and somewhat randomly bottled Coca-Cola.
There's no point even trying to tag along – and the employees supervising the activities are firmly on the side of their young charges, politely holding up the palm of their hand if you try to cross their threshold.
There's no expense spared on making the children feel like actual grown-ups, and we're deliberating if the driver's licence she acquired to race her car – that is created on site complete with photo – might do the trick if she speaks nicely to her dad back home.
But right now, we have more pressing concerns, and that's what on earth a huge ski slope is doing in the middle of a city where the temperature today is likely to reach 30C?
But sure enough, 20 minutes later we're in the cavernous space of Ski Dubai where it's -5C and we're pulling on salopettes, ski boots and gloves – fantasising about holding a hot chocolate – as people on the other side of the viewing windows wave and laugh while strolling past in their shorts and T-shirts.
No surprises here, but even Dubai's ski field is massive, coming in at 22,500 square meters of snow park.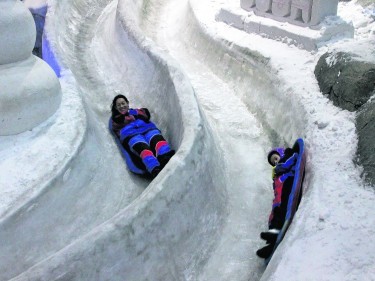 The field is serious enough to require a lesson to ensure skiers have the necessary skills, so we decide our time is better spent gazing at the ice sculptures, chatting to the ("live, actual") penguins and tobogganing the really very quick twists and turns that has mum shrieking and her daughter in fits of giggles.
The zorbing is also huge fun, she tells me, though not quite so fun for her mother, who watches her girl having to be given a leg up into the huge ball before the instructor nonchalantly sends her barrelling down the slope.
There's enough on offer to keep snow bunnies happy all day but we have a date with the desert. So it's off with the ski kit and back to the hotel, where we meet the four wheel drive Toyota Landcruiser that will take us about 45 minutes out of the city centre, before turning off into the sands to link up with 30 other vehicles.
We stop off just before the turn off to let air out of the tyres and we're advised to buckle up before the skilled drivers send us plunging down dunes and back up again at gradients so finely tuned they are constantly monitored on the dashboard.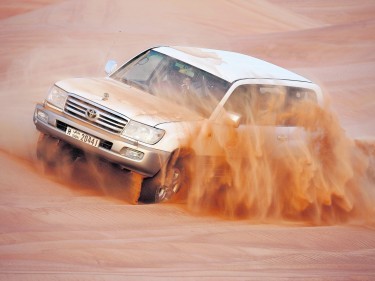 Eliza and her little friend Robert in the back seat arrange to scream depending on whose side of the truck is nearest the sand but it soon becomes a shrieking free-for-all – children and adults alike – as the convoy careens across the desert.
We stop to take in the sunset, shoes off, everyone running up and down the golden sands under an azure sky, gazing into the distance to see nothing but dunes beyond dunes.
The dune bashing companies – there are a number operating out of Dubai, but they operate in convoy – use a secure compound another 15 minutes' drive away, complete with camel, shisha pipe area and barbecue of traditional Middle Eastern food.
The dining tables are set around a stage where a beautiful belly dancer entertains her audience in the pitch black of a desert night, lanterns lighting the compound and the smell of fruit tobacco heavy in the air.
We're chatting on the drive home before sleep finally takes over and Eliza reflects that in the space of just over 24 hours, she's earned her first paycheck, hit the slopes and been to a desert for the first time.
I've visited Dubai on several occasions before, but it's the most fun I've had there. Next time you go, forget the shopping and the high rises and plan it with the kids in mind. Just don't forget to pack for all types of weather.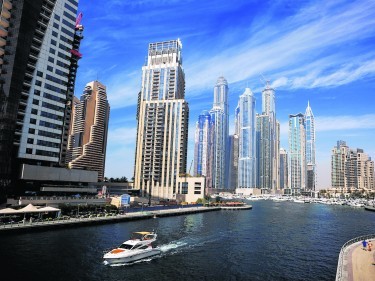 TRAVEL FACTS
:: Josie Clarke and her daughter Eliza were guests of Virgin Holidays who offer a three-night holiday in Dubai from £729pp (based on a family of four travelling). Includes flights with Virgin Atlantic from London Heathrow direct to Dubai, B&B accommodation at the 5V Grand Hyatt Dubai and private airport transfers.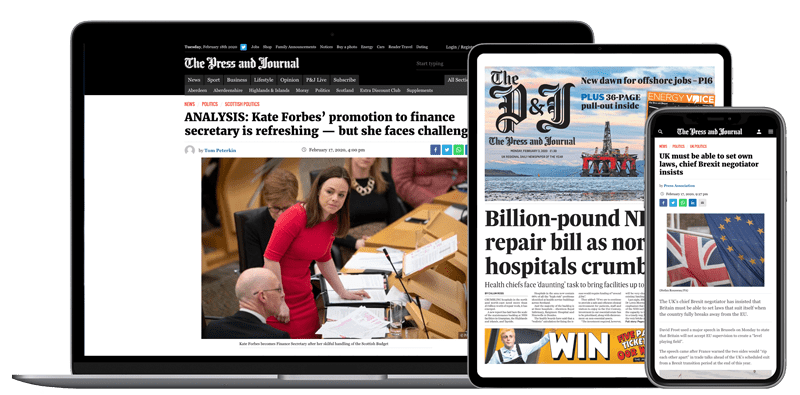 Help support quality local journalism … become a digital subscriber to The Press and Journal
For as little as £5.99 a month you can access all of our content, including Premium articles.
Subscribe