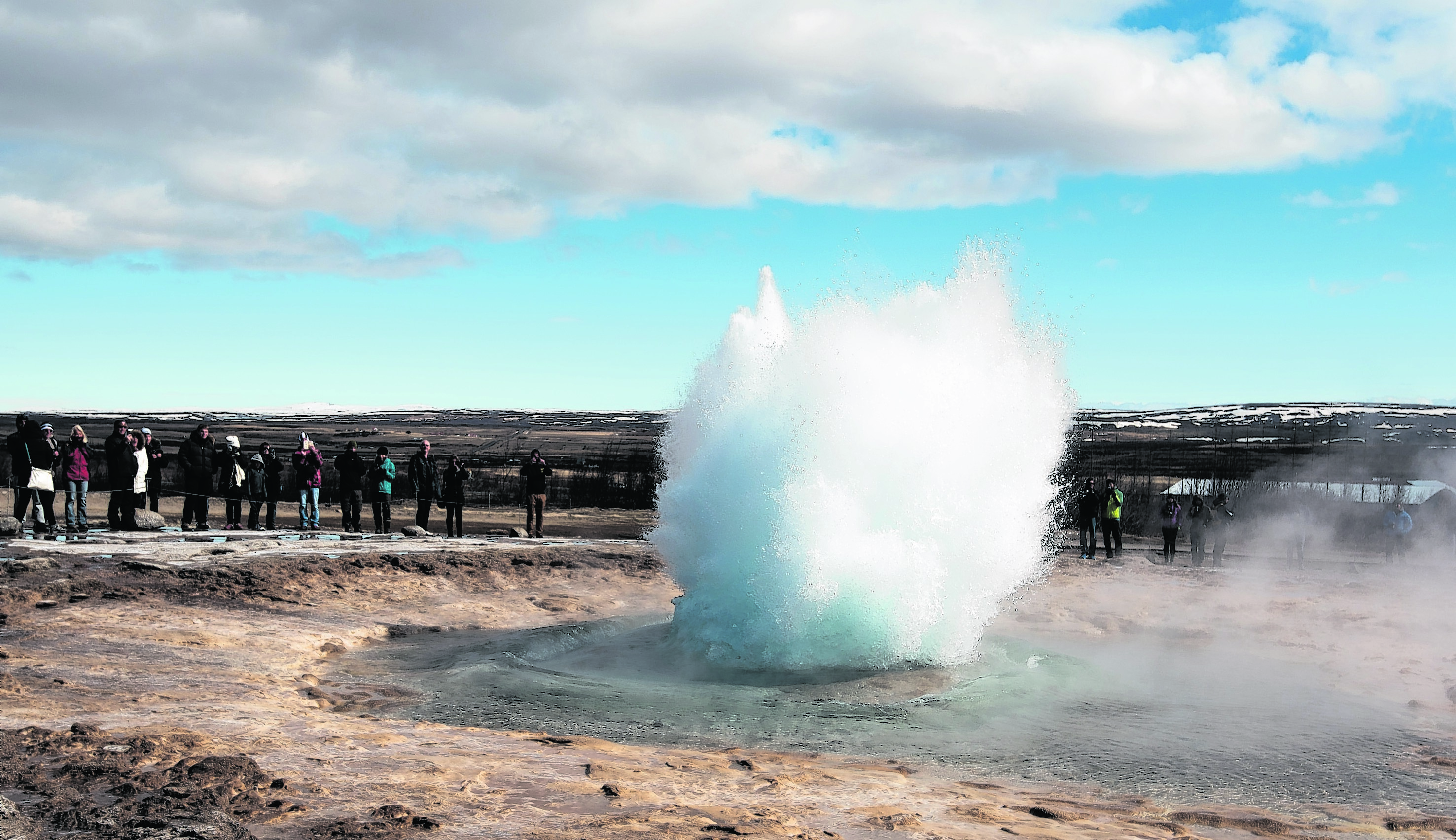 Ever imagined what it's like to be inside a glacier? Sarah Marshall wraps up warm to visit the world's most ambitious ice cave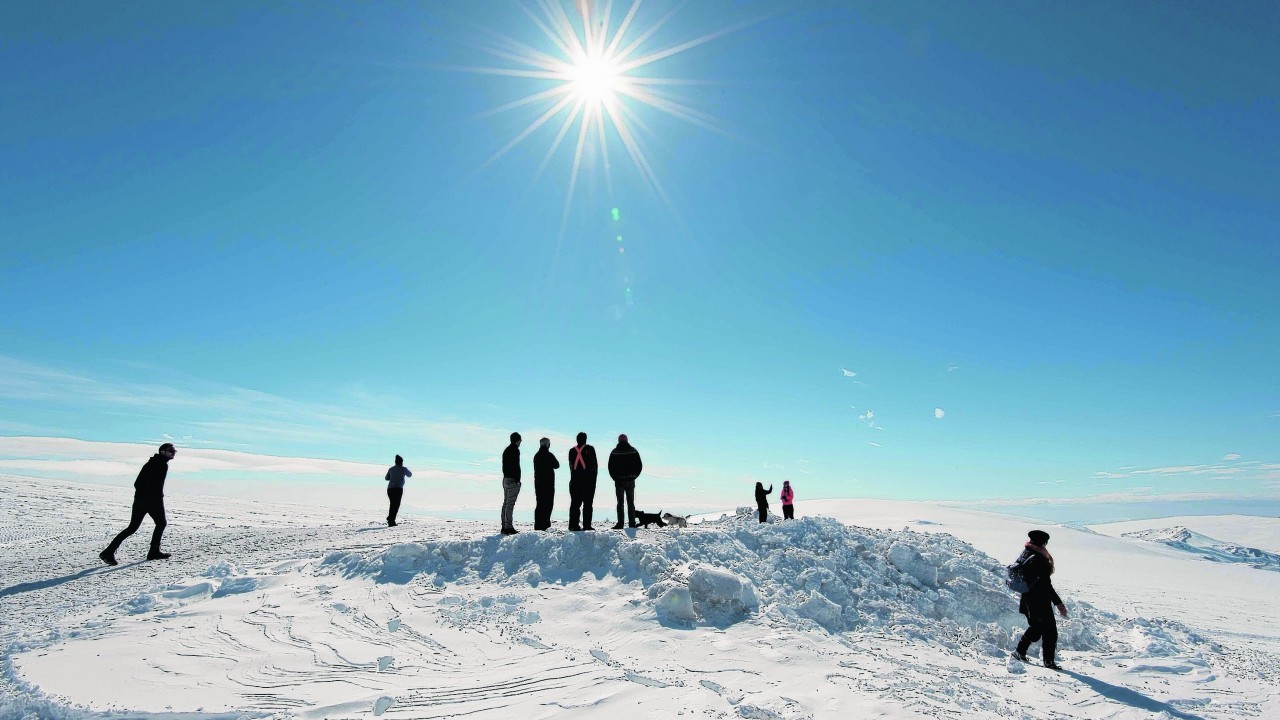 Above my head, a five-metre wide blue-hued crevasse gapes open like an icy wound, with sinewy icicles hanging from its walls. It's a sight most glacier hikers and skiers would dread tumbling into, and very few would survive to share their tales.
But from 30m below the surface, inside Iceland's latest tourist attraction, I can safely marvel at the fracture in Langjokull glacier without the need for an emergency rescue team to take me home.
Open year-round, Into The Glacier is one of the world's most ambitious manmade ice caves and has been four years in development at a cost of $2.5million.
I'm one of the first members of the public to explore the 500m tunnel that winds through the western part of Iceland's second largest ice cap, and which is expected to attract 30,000 visitors annually. But my adventure begins long before we reach the mouth of the sub-zero temperature cave.
With 11% of the land covered in a permanent layer of ice, Iceland is a playground for outdoor adventurers, and glacier tours have been running for the past 25 years.
Our driver, Addi, was one of the first people to manoeuvre superjeeps across the snow-covered plateaus, but today he's at the wheel of an 8WD, 20 tonne monster truck, which will carry us from a base in Husafell to the ice cave entrance 1,260m above sea level.
Into The Glacier project director Siggi Skarpheoinsson anticipates most people will join a seven to nine-hour day trip from Reykjavik, although with a new four-star hotel due to open in Husafell next month, there will be the option to stay closer. Surrounded by five glaciers, the area enjoys clear skies, and Siggi claims Northern lights can be seen on average three times per week during the winter season.
As we trundle upwards into the highlands, rough-hewn volcanic rocks appear vacuum-wrapped by a glossy layer of snow, with blinding sunrays bouncing from every angular surface. Last month, a film crew used this other-planetary backdrop as a location for the new Star Wars movie.
As the terrain becomes tougher, Addi gleefully tells us about a new phone app used to reduce pressure in the truck's enormous tyres and gain better traction on the snow.
Although he's hidden from view in the front cab, I can clearly visualise the mischievous grin as he describes his "blow job system", and I suspect nothing has been lost in translation.
The sexual innuendo continues as Addi tells us the secret to steering on snow lies in treating the vehicle "gently, like a lady in your hands". But the real climax comes when, after two hours, we reach the cave entrance on top of the ice cap, with a clear view extending as far as Snaefellsnes in the west.
After attaching crampons to my shoes, I head into the icy rabbit warren, trudging through compressed snow, which originally fell from the sky 40 years ago. Along the smoothed walls, a black streak of volcanic ash reveals a past eruption, while LED lights in the floor and ceiling illuminate compacted blue ice squeezed free of any air bubbles, which, along with the cave's two crevasses, forms the star attraction.
Walking deeper into the tunnel, our voices begin to echo as Siggi tells me about plans to play a soundtrack of cracking and popping glaciers through an audio system.
Other noteworthy features of the cave include a "chapel" room with pews, and even a Portaloo discreetly tucked away. (The organisers may be keen to showcase blue ice, but yellow snow is far less appealing.)
Yet for all the construction work and manmade additions, there's been no permanent impact on the environment. "We've only removed 5,500 cubic metres of ice from a 900sq km glacier. It's like taking a drop of water from a bathtub," says Siggi.
Besides, in 10 years' time, the cave could, without maintenance, completely fill up with snow. Like all glaciers, Langjokull is in constant flux.
When selecting a site for the ice cave, Siggi and his team were looking for a stable base and the possibility of finding a crevasse. But the proximity to Reykjavik and South Iceland's popular Golden Circle tourist route (covering national park Thingvellir, waterfall Gullfoss and the geyser field at Haukadalur) was also a key factor.
I base myself at the boutique ION Luxury Adventure Hotel, next to Thingvellir National Park and overlooking the vast lake where divers can swim between a fissure in the North American and Eurasian tectonic plates, in clear, lava-filtered glacial water.
The 45-room light-filled building was once the staff quarters for a neighbouring and still operational geothermal power plant. But, surprisingly, the factory in no way detracts from the view. Clouds of steam rising from the lava fields are a reminder Iceland is one of the most geologically active places on earth, and the heat has also been harnessed for the hotel's outdoor hot tub.
In fact, the area has several hot springs suited to public use. Using an iDiscover digital travel guide, now supplied by tour operator Discover The World to all self-drive customers, I traverse mountain passes recently opened now the snow is melting. (Most roads will be accessible by July.)
The Secret Lagoon is located close to a village called Fludir on the site of Iceland's oldest swimming baths, originally built in 1891. I arrive late on a misty evening to try the new Floating Tours experience, where swimmers can lie back in the water and listen to music through a padded head cap. For nearly an hour, I drift off to Sigur Ros in the 38C water as icy snowflakes melt on my parched skin.
Close by, a small geyser erupts every few minutes, and after my "float" I boil an egg in the water using a net attached to the end of a fishing rod. It's an extremely effective cooking method and the end result, served on sweet, dense rye bread slow baked in a pot underground, is outstanding.
It's not, though, something I'd attempt the following day at Haukadalur valley, where the powerful Geysir shoots boiling water up to 70m into the air. Despite the constant stream of tourists, it's still a marvel to witness, as I eagerly anticipate when the next jet of water might explode.
Even more startling is the sound of springtime birdsong, something almost incongruous to this alien landscape.
But I shouldn't really be surprised.
There may be few animals and even people in Iceland, but with roaring waterfalls, bubbling volcanoes and shifting glaciers, it's a place that's very much alive.
Sarah Marshall was a guest of Iceland specialist Discover The World (01737 214 291) who offer a seven night 'Journey to the Centre of the Earth' self-drive B&B holiday from £794pp (two sharing) including two nights at ION Luxury Adventure Hotel, return flights with Icelandair from Glasgow, car rental and use of Discover the World's iDiscover digital travel guide.
Into The Glacier 'Classic Tour' from the foot of the glacier costs from £94pp (3hrs). Floating Tours from £150pp including transfers from Reykjavik.