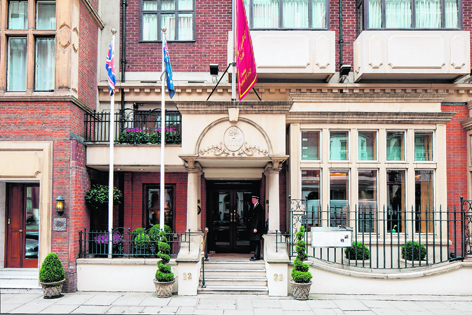 Meets the Scotsman who built a five-star hotel from the ground up 44 years ago
A decanter of amontillado sherry on the reception desk to welcome guests on arrival underscores the warmth and hospitality of The Capital, a family owned, five-star, boutique hotel nestled amid red-brick Victorian buildings in a quiet street, where the railings are decked with tumbling ivy and spring flowers, steps from Harrods in London's Knightsbridge.
The Queen dropped in late last year for an after-theatre supper, other members of the Royal family dine there and the late Queen Mother came often.
While it's exclusive, one of few remaining top rating family establishments in London, The Capital is laid-back and exudes friendliness, not least from its founder, Scotsman David Levin, his daughter Kate, who is general manager, and all staff, including long-term employees like concierge Clive Smith who points out he has been at the hotel for 24 years.
Over an elegant afternoon tea, Levin, who built the hotel from the ground up 44 years ago, diplomatically steered the conversation from royal and celebrity guests to the growth of impersonal global hotels, decline of those family owned, and to outline his philosophy on hospitality.
"We care about everything," he says. Everything includes the bread, pastries and scones we're enjoying, all made with French flour in a bakery he established on the premises and which also now supplies other London hotels and restaurants.
It includes, too, the organic wines served in the Michelin-star Outlaw's Restaurant; Levine developed them in the Loire Valley, traditional home of sauvignon blanc, and now also markets them throughout Europe, the US, Canada and Australia.
He initially founded a wine-making company in the Adelaide Hills with help and advice from notable Australian industry figures, Brian Croser and the late Len Evans, later shipping what he calls the Tin Chateaux to the Loire Valley where it stands among more imposing edifices. The winery and 19 vineyards are managed by Levin's Australian wife Lynne.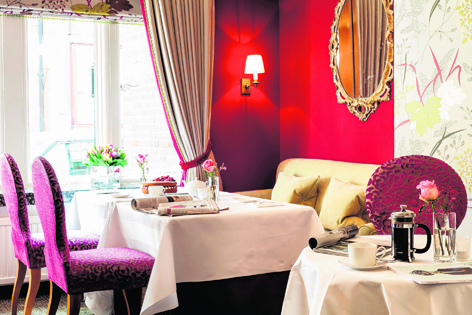 The Capital has just 49 rooms including eight suites. Our Classic double room was furnished with English antiques and artworks from David Levin's private collection with decor by British interior designer Nina Campbell, including denim wall fabric in Wedgewood blue by Ralph Lauren.
The theme of understated, old-world comfort was carried through to the bathroom fittings, with big tub and shower, the decor in cream and white marble.
Levin says his guests are divided equally between those on business and holiday – with a repeat rate of 84%.
"There's a lot happening in London," he says. A lot can mean the changing of the guard at Buckingham Palace 10 minutes away; multiple thousands, climbing on every monument vantage point, turned out for the event on our way to the hotel on a sunny morning.
Other events, like the Chelsea Flower Show, opened by the Queen during our visit, also attract tens of thousands with a flow-on to The Capital's restaurant, which specialises in seafood delivered daily from Cornwall.
Executive chef Nathan Outlaw, who also has a Michelin two-star restaurant in Rock, North Cornwall, was awarded the best single set lunch in Britain last year by the Waitrose Good Food Guide (two-course set lunch offered weekdays £22).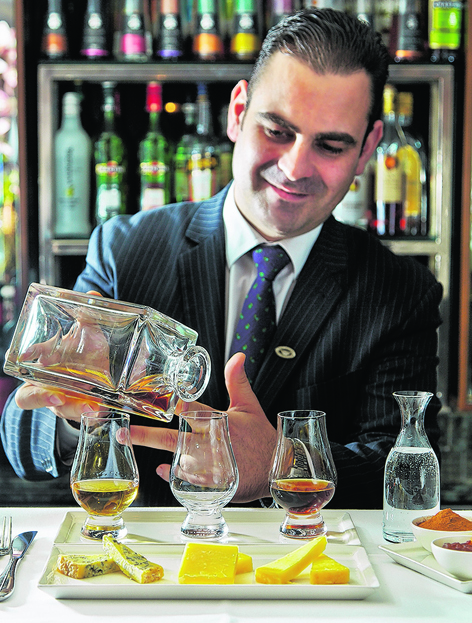 The Capital's bar is a favourite haunt for international whisky connoisseurs where the impressive collection is spearheaded by 40-year-old malts.
Bar manager, Portuguese Cesar da Silva has been awarded the title Keeper of the Quaich, the international society founded by Scotch distillers; at 32, da Silva is Britain's youngest recipient of the award.
Our "floral afternoon tea" included egg and cress toast; roast beef and horseradish, smoked salmon and cream cheese sandwiches; Coronation chicken buttermilk rolls; lavender doughnuts and apricot jam, lemon verbena meringue pie, fruit scones, strawberry jam and Cornish clotted cream, all with a choice of 10, varying and exotic teas; cost £29.50, with a glass of champagne £39.50.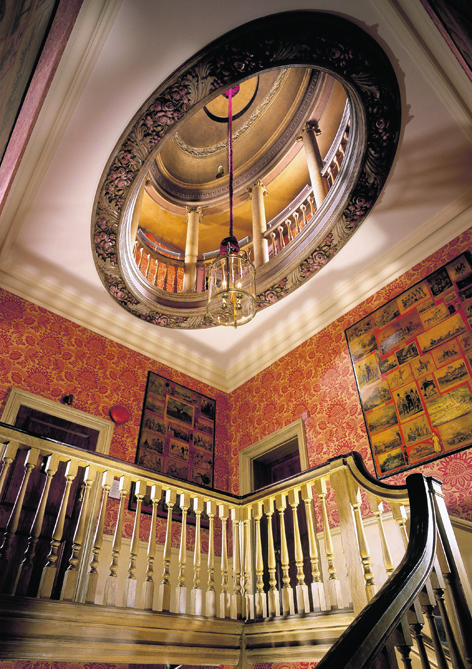 Also part of the group is a 12-room hotel, The Levin – in 1930s style adjoining The Capital – apartments and a bistro with wine bar for more informal dining.
David Levin began his career as an assistant waiter in Glasgow and worked his way through stints in hotel kitchens, housekeeping and reception before becoming a manager in Kyle, overlooking the Isle of Skye, operating his own seven-room hotel in Berkshire, and later building The Capital.
The hotel, part of the Small Luxury Hotels of the World, has received a string of awards including as one of the top London business hotels by Conde Nast Traveller and London Hotel of the Year by the Good Hotel Guide.
Levin has served as visiting professor at the hospitality universities, Oxford Brookes and Strathclyde, and is an executive committee member of the British Hospitality Association.
Now in his 80th year, David Levin is planning new initiatives – among them the production of verjuice, inspired by the product developed in Australia by culinary figure Maggie Beer from green grapes, and used in cooking, such as poaching fish, and on salads.
He plans to market it to British restaurants and supermarkets.
Apart from Harrods, which on Sundays devotes the first 30 minutes of opening simply to browsing, Harvey Nichols and other exclusive outlets are an easy walk while the British Natural History and Victoria and Albert Museums are within a 15-minute walk, Hyde Park 10 minutes, Chelsea's Sloane Street for boutiques and designer shops, a short cab or bus ride.
The Capital Hotel, 22 Basil Street, London. Doubles from £425. See capitalhotel.co.uk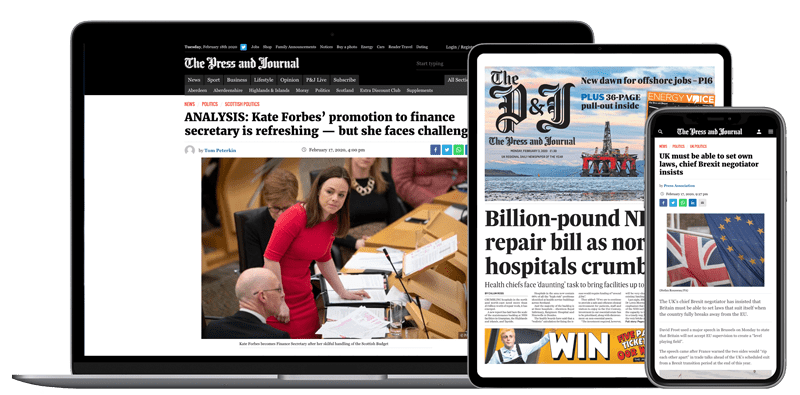 Help support quality local journalism … become a digital subscriber to The Press and Journal
For as little as £5.99 a month you can access all of our content, including Premium articles.
Subscribe