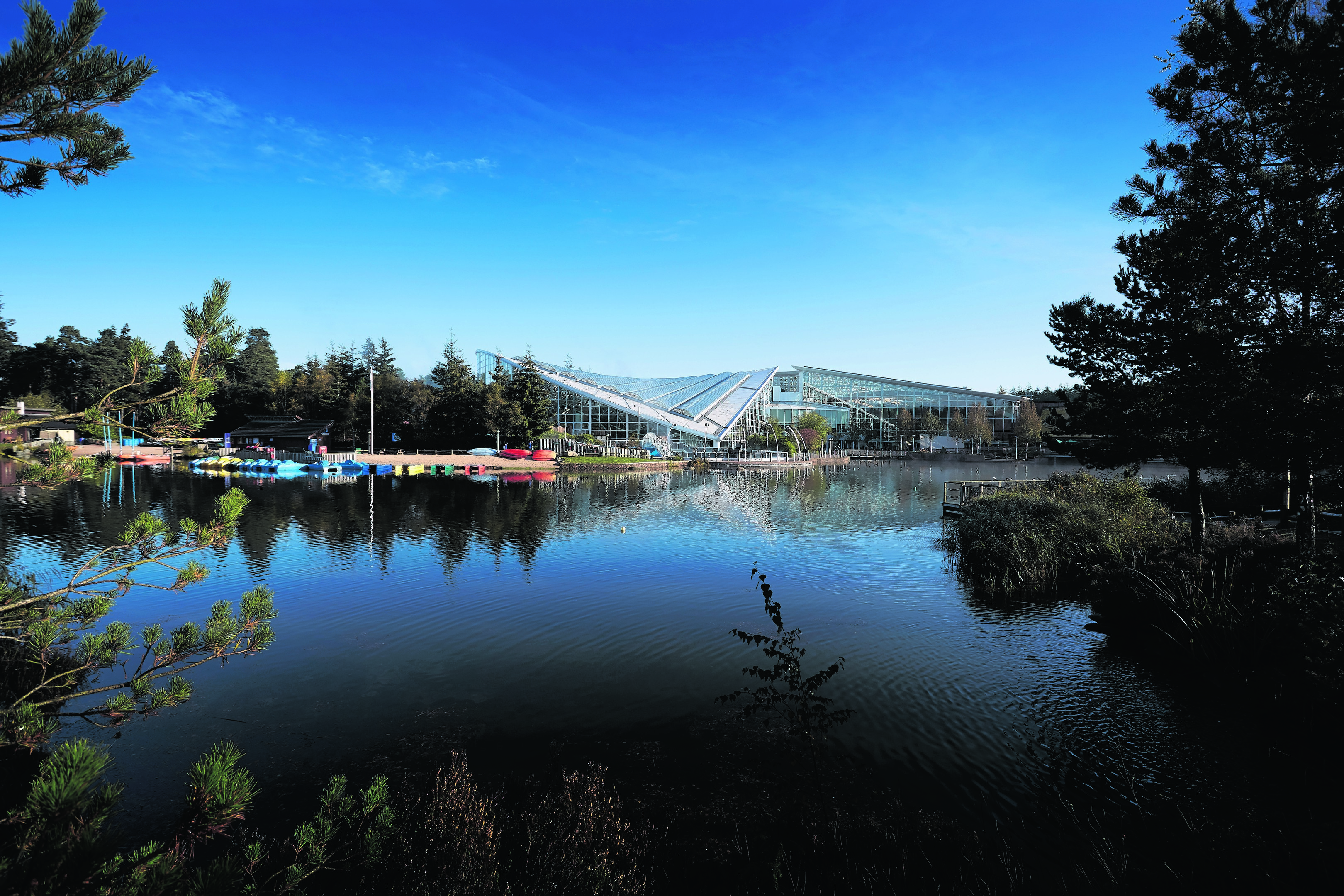 Here I am again, bombing down the roller-coaster water flumes like an eight-year-old, legs in the air, swishing erratically from side to side. Worried only that a) someone is coming down right behind me and b) I'll be able to get out fast enough at the bottom before they land on me.
It's mind-blowing, and my sinuses haven't been right since, but this is what you do at Center Parcs, mainly because you've got children with you, and if they're too scared to go down, you have to. They're seriously addictive, but so is Center Parcs. I know someone who's holidayed here for seven years in a row. You might wonder why people come back time and time again – it can't just be the flumes – and looking at the reviews on Trip Advisor, it's not.
One reviewer said: "Our third visit to Whinfell, this time we stayed in the Lakeside Lodges. Arrived, opened the patio doors, poured a glass of wine and bingo… instantly relaxed."
I couldn't agree more.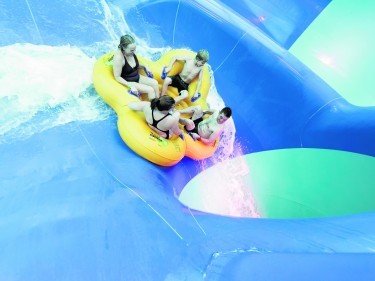 BEST HOLIDAY EVER
People say it was their best holiday ever due to the huge range of things to do for all ages; the clean and spacious lodges; and the well-kept public areas and play parks. It's a great way to bring the family together, whatever the weather. I met one family on a break who lived just 10 minutes up the road.
There are five locations in the UK set in vast natural forest landscapes with lakes and woodland. The nearest to Aberdeen is 250 miles away at Whinfell Forest in Cumbria, roughly a four-hour drive on smooth roads.
When you arrive, you drive through the check-in doors, hand over your booking reference number and in return get a security wristband to access your accommodation, and a map locating it. The handy wristband can also be used to secure pool lockers and pay for refreshments and activities.
The lodges come in all shapes and sizes, located in the woods surrounding the Village Centre. You can arrive from 10am to start your holiday, but can't access your lodge until after 3pm (while it's being cleaned), so most people head to the cycle centre to pick up their
bikes. Cars are left in the main car park until it's time to drive to your accommodation to unload and settle in, then you return your car to the car park for the duration of your stay. To keep everyone safe (including the squirrels and ducks), there's a 10mph speed limit. Being car-free is one of the other attractions of Center Parcs.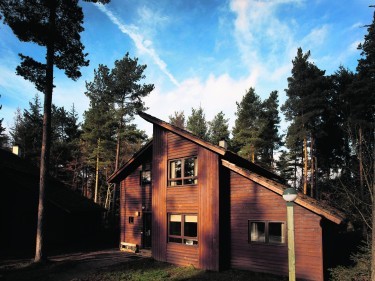 The lodges are well equipped. Ours had three bedrooms, private outside sauna, daily maid service, TVs in the lounge and bedrooms, kitchen with all mod cons, and luxury linen and towels. There was enough space in the kitchen to unload more than a week's food and drink for a large family, and it had a separate bottle cooler.
Our party was three adults and four children ranging from two-and-a-half to five-and-a-half, and there was plenty of space for us all, but the layout meant we still had our own privacy. They've thought of everything as far as fixtures, fittings and stuff for kids goes. Even stools at the bathroom sinks.
Once you've got your bikes, unloaded your food, dumped your suitcases, what next? Well, some people organise their short break with military precision, but I like to wing it.
We had pre-booked Café Rouge for one night, but with the amount of food and drink we had between us – and the barbecue outside – there was no need to eat out, although there is a great range of restaurants at the Village Centre including Bella Italia, The Lakeside Inn, Dexters Kitchen, The Pancake House and more.
There's even a supermarket on site, so we didn't need to circle round the Lake District looking for a Sainsbury's, after all.
You can also order freshly-cooked Indian, Chinese or pizza delivered to your house. We gave in to the temptation and had a beautifully-cooked curry which came on time at just the right temperature.
To make the most of your break, study the amazing range of activities
as there's something for every age. I won't list them all but here are just a few: jewelling making, den building, laser combat, high ropes, segways, paintball, pottery painting, badminton, indoor climbing… you name it, you can do it. You can do all or nothing, the choice is yours. Swimming and the flumes are free, as is the children's disco in the Leisure Bowl, 6.30pm Tuesday-Thursday and weekends. A great way to end each day for the kids.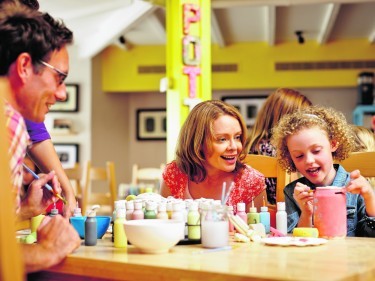 We treated them to a morning at the Chocolate Chef's Academy while we savoured some peace and quiet in a World of Spa session at Aqua Sana. The man in our party had a wonderful Decleor back massage and energising facial, while us ladies schlepped round the different rooms in the lovely spa for three, blissful hours. There are 15 different spa experiences and a steamy, heated outdoor pool…
We got some more time to ourselves while the children had fun at the three-hour Princess and Pirate Adventure, which is worth booking.
One afternoon, we hired pedalos on the lake, which was fun for the children but hard work for the pedallers, and the rest of the time we just cycled about, let the children enjoy the adventure playparks, and just chilled.
But deep within the glass-covered sub-tropical paradise is where it all happens, and it doesn't matter what the weather is like outside, because it's always warm inside.
What says it all about Center Parcs is that people go back. How many holidays can you honestly say that about?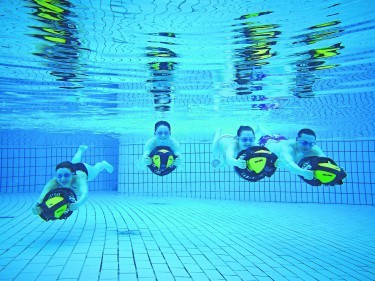 CENTER PARCS
Center Parcs has been a short-break-in-a-forest holiday option for more than 40 years, opening its first village at Sherwood Forest, Nottinghamshire in 1987.
It was a concept born in Holland; a dream from Piet Dirksen who wanted to give families a chance to escape the hustle and bustle of daily life and spend time with the people that really matter. The concept of quality time with family and friends in a natural, invigorating environment is just as popular today than it has ever been with all Villages 97% full all year round. With approximately 1,000 families on each Village on each break you may think it's a busy place to be but with 400 acres to spread out in, it's truly a peaceful escape from daily life.
There are five Center Parcs Villages in the UK; Sherwood Forest, Elveden Forest, Longleat Forest, Whinfell Forest (Cumbria) and Woburn Forest. Each Village is open all year round for weekend and mid-week breaks and they offer a choice of more than 100 activities so you can craft your own ideal break whether it be a relaxing escape or a full-on adventure.
THE DETAILS
2015 summer breaks at Whinfell Forest in a two-bedroom Woodland Lodge (for up to four people) start from £759 but make sure you book soon as these will book up quickly. Autumn breaks at Whinfell Forest in a two-bedroom Woodland Lodge (for up to four people) start from £359. Short breaks during the winter in a two-bedroom Woodland Lodge (for up to four people) start from £259. From November 6, Center Parcs Villages fall under a captivating spell and magically transform into a Winter Wonderland. Adorned in a glittering array of twinkling lights and decorations, the woodlands will come alive with the anticipation of Christmas and take your breath away. And there's always next year to consider, so it's worth booking your break early. Phone Center Parcs on 03448 26 77 23 or visit the site: www.centerparcs.co.uk