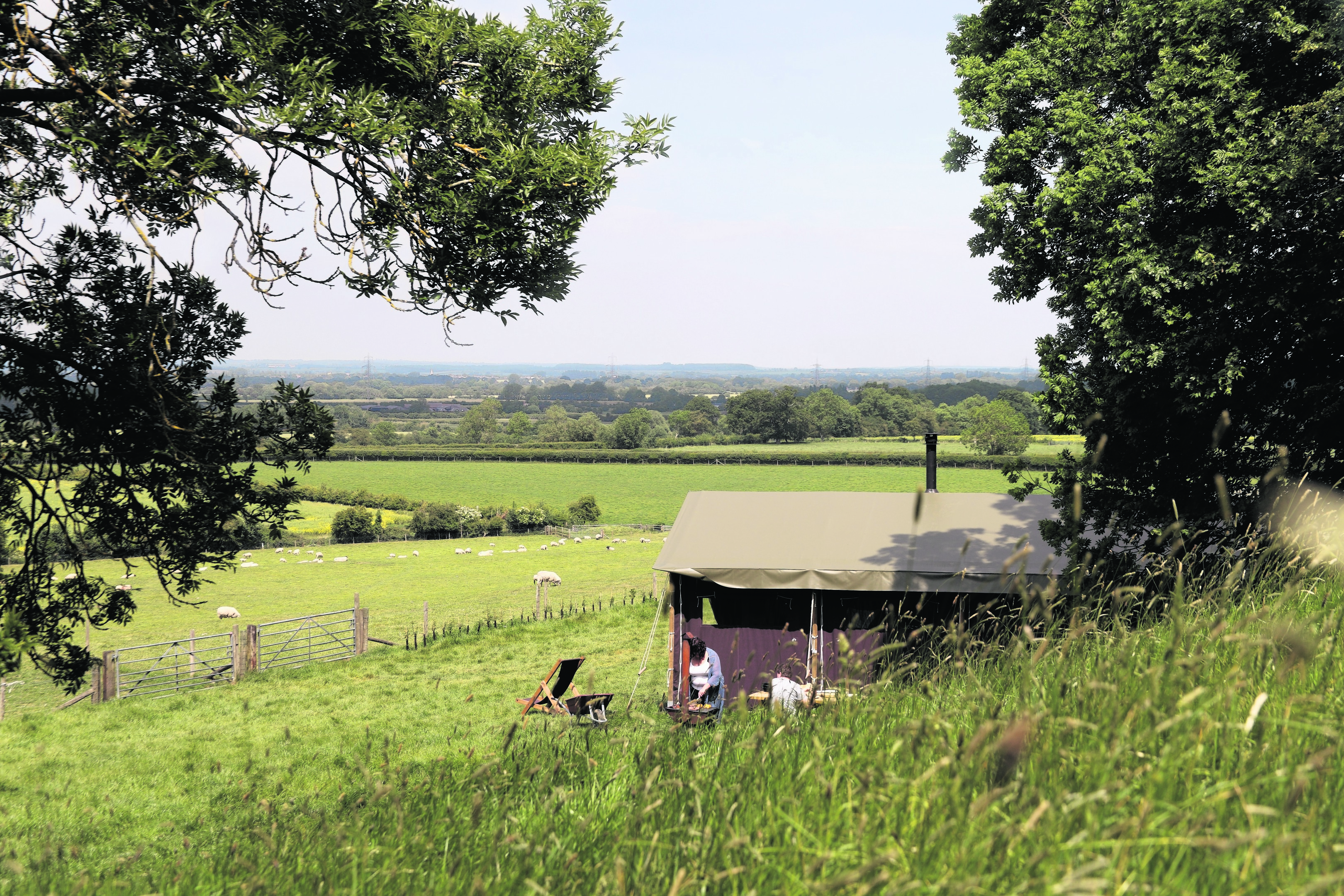 Glamping has grown in popularity in recent years. Gemma Mackenzie camped out at a luxury glamping site on a rural estate in the Scottish Borders
The word camping used to conjure up images of a very unglamorous and unpleasant experience in a tiny, damp tent.
And let's not forget the thoughts of attempting to put said tent up while battling hundreds of midges.
Yet camping has clearly moved on from my recollections of childhood trips, and a luxury version known as glamping, or glamorous camping, is now all the rage.
One company cashing in on this trend is Feather Down Farm Stays, which sets out to blend glamping with rural life.
The firm, which hails from the Netherlands, has 33 sites in the UK.
Its one location north of the border offers a bit of a twist: rather being located on a farm, this luxury campsite is on a traditional country estate.
It forms part of Feather Down's Country Retreats offering.
The retreat is found on Chesters Estate, on the banks of the River Teviot, near Jedburgh.
The 1,565-acre estate is run by John and Ellie Henderson, who have developed a fantastic tourist offering in the area.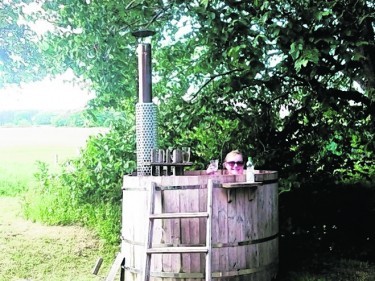 Upon arriving at the estate, we were met by John at the estate's old stables, where we left our car and took the 10-minute stroll down a windy path to the tent we would call home for a week.
Walking past the bothy and through the walled garden, we came upon four tents among the trees, each offering its own private escape from busy city life.
Our tent had wooden decking at the front, opening up into a living room and kitchen-dining area, which then led to two bedrooms and a toilet. The tent had a double bed in one room, bunkbeds in another and a secret little cupboard bed in the living room.
Outside, there was a gas-powered shower, a discovery tent for children filled with tools for exploring, such as microscopes and binoculars, and an outdoor cooking area.
However, the real creme de la creme for us was the rustic
hot tub, which is heated by a log-burning stove sectioned off within
the tub.
After the grand tour, it was back up the track to fill wheelbarrows with our luggage and supplies before trekking back down the hill with our loads.
A handy tip for those staying would be to keep one barrow down at the tent – it's handy to use to get extra logs for the log-burning stove in the tent and the all-important hot tub.
After unpacking, we set off to explore the bothy – a little honesty shop selling basic foods and supplies such as matches and toilet paper.
It's also the place to go every couple of days to get frozen water-bottles – these are used to cool a big chest in the tents, transforming them into a make-shift fridge.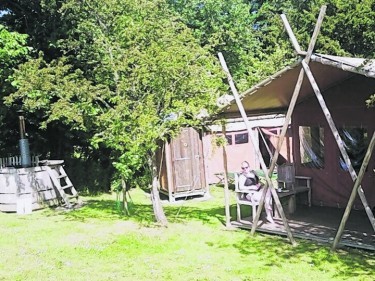 The bothy also stocks beer from the nearby Borders Brewery, which is also run by John and Ellie.
The tents have no electricity bar lighting, which is powered by an outside generator, so remember to bring a torch.
It's a real escape from the busy technology-fuelled world in which we all live.
We glamped for four nights and probably spent the bulk of our time sipping wine in the hot tub. Getting the tub ready for a mid-afternoon dip is very hands-on – a task I was happy to leave to my other half.
At the beginning of the week, he filled it up with water and then, each morning, a log fire had to be lit in the boiler, and topped up regularly, to ensure the water was nice and warm a few hours later.
To prevent my other half from going stir crazy sitting doing nothing for a few days, we spent a couple of afternoons exploring the area.
And one of our afternoon trips was to the Borders Brewery and Born in the Borders centre run by the Hendersons.
Visitors can look around the brewery before having a look around the farm shop and gift shop which adjoins a fantastic cafe with an impressive array of tasty baked treats.
There's also the chance to explore the estate itself or have a root around the walled garden for whatever fruit and vegetable is ready to harvest – a blackboard in the bothy tells you what's there for the taking each day.
After a few nights' glamping, we both felt like we'd recharged our batteries. I have to admit it was hard to readjust to using an electric kettle rather than having to light a fire and boil water in a pan.
The surroundings were gorgeous and the accommodation was topnotch: it's definitely worth a visit.
For more information visit www.featherdown.co.uk
Prices for Chesters Estate start from £359 for a weekend.