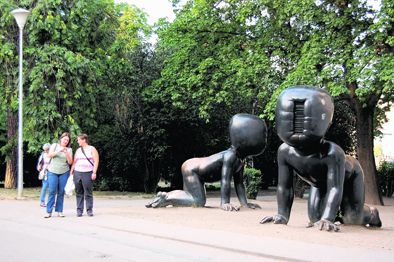 I'm suspended in a glass observation pod, clamped to a 216m tower – the highest building in the Czech capital, Prague – and I'm beginning to freak out.
But the height has nothing to do with it. The culprits are 10 monstrous (in both senses of the word) sculpted babies, who are crawling (make that prowling) up the building's three "legs" towards me.
They're the creation of the city's very own enfant terrible, the internationally-renowned artist David Cerny, whose work, which often has a political message, also has a tendency to shock.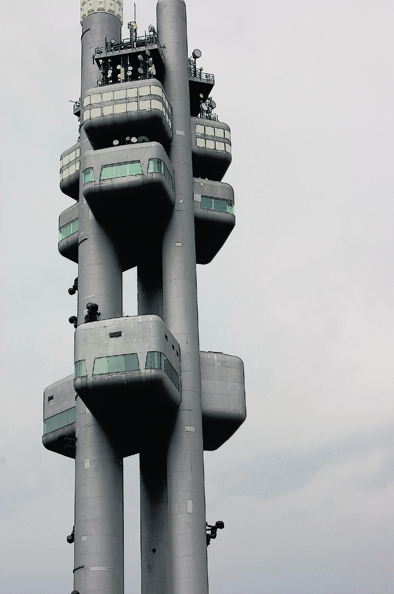 It's certainly doing that; I feel as if I'm being targeted by mutants. The babies' buttocks are inappropriately taught and their heads bloated. Even worse, they have imploded faces, as if their features have been sucked out of a vertical slit and replaced with a barcode.
My guide, Katerina Sedlakova, tries to distract me as she draws my attention to the building.
Zizkov Tower, from where we have a fabulous view of Prague, is now an observatory and communications centre. But Katerina tells me it was built in the 1980s so the former communist regime could block incoming TV and radio signals from the West.
"All media was controlled," she says. "When I was a child, anti-government demonstrations which made front-page news across the world, were never mentioned here. My parents gave up reading the newspaper."
She pauses to point out a handful of graves below; the regime built its tower on the site of a Jewish cemetery.
Closer to home, I spot a fibreglass buttock.
Cerny rarely gives an explanation for his work, but I'm beginning to form one of my own. As I learn more about him, my response to his babies is changing.
I now see adults stifled by totalitarianism, their identity lost and growth stunted. They scale the tower but make no headway. I feel embarrassed at my initial repulsion. Cerny has delivered his message.
Most people visit Prague for its ancient bridges, cobbled streets and glorious architecture – a marvellous mix of Baroque, Renaissance and Gothic, with Art Nouveau and Cubism thrown in.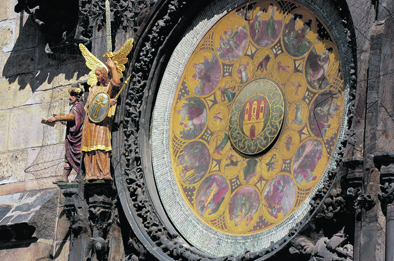 Eating out is attractive too, with prices cheap and portions generous; a pint costs around £1, a traditional meal £4.
I've come, however, to explore the city's emerging districts – to experience the grittier side of this ridiculously romantic capital.
The Zizkov Tower, four miles (6km) southeast of city centre, is just a 10-minute ride by metro, yet few tourists tend to visit.
The area was once covered with vineyards, planted by Charles IV, the 14th century king of Bohemia who planned the layout of Prague.
Today, streets are lined with Art Nouveau mansions, a phenomenal number of bars (there are 300 in an area of two square miles (5sq km) and the odd, elegant cafe.
On the way to the tower, Katerina and I pass Jiriho z Podebrad Square. At its centre is The Most Sacred Heart of Our Lord church, which is soon to become a Unesco World Heritage site. Built in the 1930s, its grey brickwork, flecked with white, resembles a king's ermine, in honour of Charles IV.
Nearby is Vinohrady Pavilion, one of the district's former factories. Its clean, spacious interior has glass-fronted designer shops and a retro-style cafe. The menu offers 40 types of tea, including Argentinian matte, olive leaf and pomegranate.
I'm about to suggest we stop for a cuppa when Katerina has another idea. She takes me to Prosekarna, a tiny bar that specialises in Prosecco.
"Czechs love it," the owner Lenka Lukacova tells us. "The drink's very trendy here."
We perch on cork-shaped bar stools and enjoy a glass for £1.70.
Of course, Prague isn't all about prices. But even at the deluxe Mandarin Oriental, you can still get a pre-dinner cocktail for under a fiver.
I sit at the bar as a fellow diner cracks open a ball of mango juice (frozen with liquid nitrogen) to create her own bitter vodka Martini, then head to the hotel's Spices restaurant for dinner, where dishes include Thai crab cakes with mango chilli mayonnaise and beef ribs with Sri Lankan red pepper curry.
Previous guests include Kylie Minogue, Madonna and the Dalai Lama. But Lenka Rogerova, who shows me around, won't be drawn on rumours that Quentin Tarantino is a present guest.
Instead, she shares a story about how Gwen Stefani secretly shot a music video.
"Our security manager was doing his rounds, when there she was, in a corridor, lying on the floor," she says.
The hotel's history is equally intriguing. It is built on the site of a former Dominican monastery, you can have coffee in the cloisters, party in the chapter house and get married in the refectory – now a ballroom with glittering chandeliers.
More than a quarter of a million archaeological finds were discovered during renovation work. Some of them, including medieval dice, buttons and keys, are displayed near the spa.
It was here, on the site of a renaissance chapel, that workers made the most exciting discovery of all, unearthing the remains of a 14th century Gothic chapel. The ruins are displayed under a glass floor.
I pad across history in my slippers, wondering what the monks would have made of it all.
With just three days in Prague, and not having visited before, I get up early to squeeze in a little traditional sightseeing. Luckily, it takes just five minutes to walk from the hotel, in the Mala Strana district, to the city's famous Charles Bridge.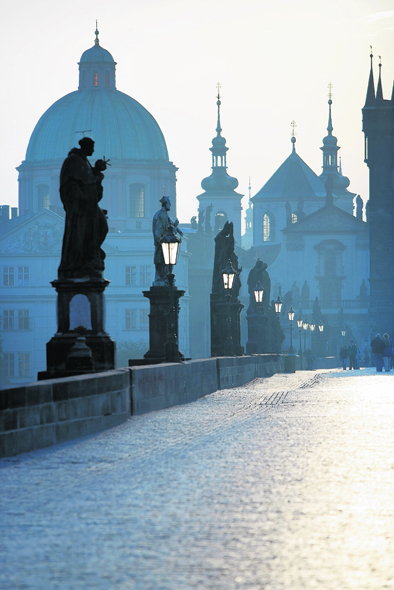 The rumble of cars across cobbles is replaced by the rush of water at the weir. The golden haloes of the bridge's baroque statues glint in the sunlight. An artist is already painting, picking out pink and purple in the ancient stone.
The bridge over the river Vltava was commissioned by Charles IV and leads, via a pedestrian strip, to Staromestske Namesti, the old town square. And there's the old town hall's astrological clock where statues of the 12 apostles shunt in and out of doors every hour. It's quite a crowd-puller.
At noon, Katerina takes a group of us on a tour. We visit the Italian-style Vrtbovska Garden with its ornamental hedges, Prague's cathedral, St Vitus, where Czech royalty is crowned, and the city's castle which, with a footprint bigger than seven football pitches, is the largest ancient castle in the world.
Later, we take a tram north to Holesovice, a former industrial district where large municipal buildings and low rents are attracting designers, architects and advertising agencies, turning the area into a creative hub.
The Chemistry Gallery promotes young artists, many of whom are graduates from the city's Academy of Fine Arts. But it's the DOX Centre for Contemporary Art that impresses the most, exploiting its independence with a programme of controversial work.
At the time of my visit, a spliced car is melting into a rock in the courtyard, Christ made of second hand shoes is being crucified on an outside wall, a giant skull is spinning on a crane overhead and an exhibition highlights how artists are being tortured for criticising the conflict in the Ukraine.
The centre takes its name from the Greek word doxa, meaning opinion.
I spend my final morning in Kampa Park, an islet on the river Vltava. As I wander back to the hotel, I come across bloated heads, barcodes and bronze buttocks; Cerny's babes are back in town. Directly behind them, their tower wrecks the skyline.
I'd like to think, for the purposes of symbolism, that the trio have somehow managed to crawl here, wrenching themselves free from communism, to play, as children should, in the park.
But I accept, with resignation, that despite having nothing but a positive experience of Prague, even democracy can't stretch that far.
TRAVEL FACTS
Karen Bowerman was a guest of the Mandarin Oriental (www.mandarinoriental.com/prague). Kirker Holidays (www.kirkerholidays.com; 020 7593 2283) offers a three-night stay at the hotel from £749pp including flights, private car transfers, a deluxe room and breakfast. A private guided walking tour and the services of the Kirker Concierge are also included.