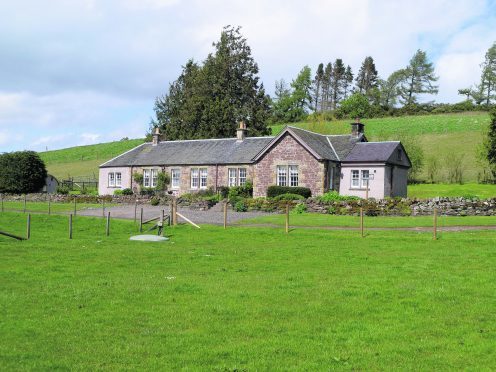 When Cheryl Livingstone was looking for a peaceful getaway, she found everything she needed and more in West Cottage
We left Aberdeen at 5pm, which meant we found ourselves slap-bang in the middle of rush-hour traffic. Then, a car accident meant the road we needed to travel on was closed and we were taking a detour.
We finally made it to Angus and then the torrential rain started. By the time we picked up a sign for West Cottage near Dunblane, our Google-maps-predicted two-hour journey had been closer to five. It was pitch dark and we weren't even entirely sure we had come to the right place.
We got out of the car, the darkness ensuring we couldn't see two feet in front of us. Two lights in Victorian-style lamps lit up the path and we made our way to the front door – a lovely rustic white door with an elegant stained-glass window. Inside was a welcoming hallway with four doors facing us. It reminded me of those game shows where contestants are faced with a number of doors and have to guess which one is hiding the top prize. After a search through the house, we discovered there was a great surprise behind each of the doors.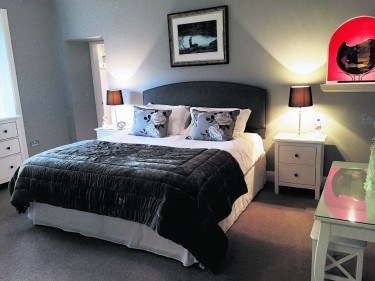 On our left was the first of three beautifully decorated bedrooms and stylish and contemporary en suites. The twin room had a lovely floral vintage decor and was a great size, with built-in wardrobes. Next door was the modern kitchen – instantly we knew we would be doing a lot of cooking – then a toilet and finally the lounge.
A stunning cast-iron fire encased in a black surround and white fireplace definitely takes centre stage in this room, which also features two cosy couches, a large flat-screen TV and a table and chairs. Then our tour took us down a corridor that was never-ending. We found a second bedroom, this time with a double bed and en suite, a utility room, and finally the biggest master bedroom I have ever seen, complete with its own dressing room and an en suite with a bath and shower.
"How do we pick which bedroom to sleep in? They are all so nice," I said to my husband, but as soon as I saw his reaction to the gigantic master bedroom – and the huge double bed it boasted – I knew what would be our sleeping arrangements.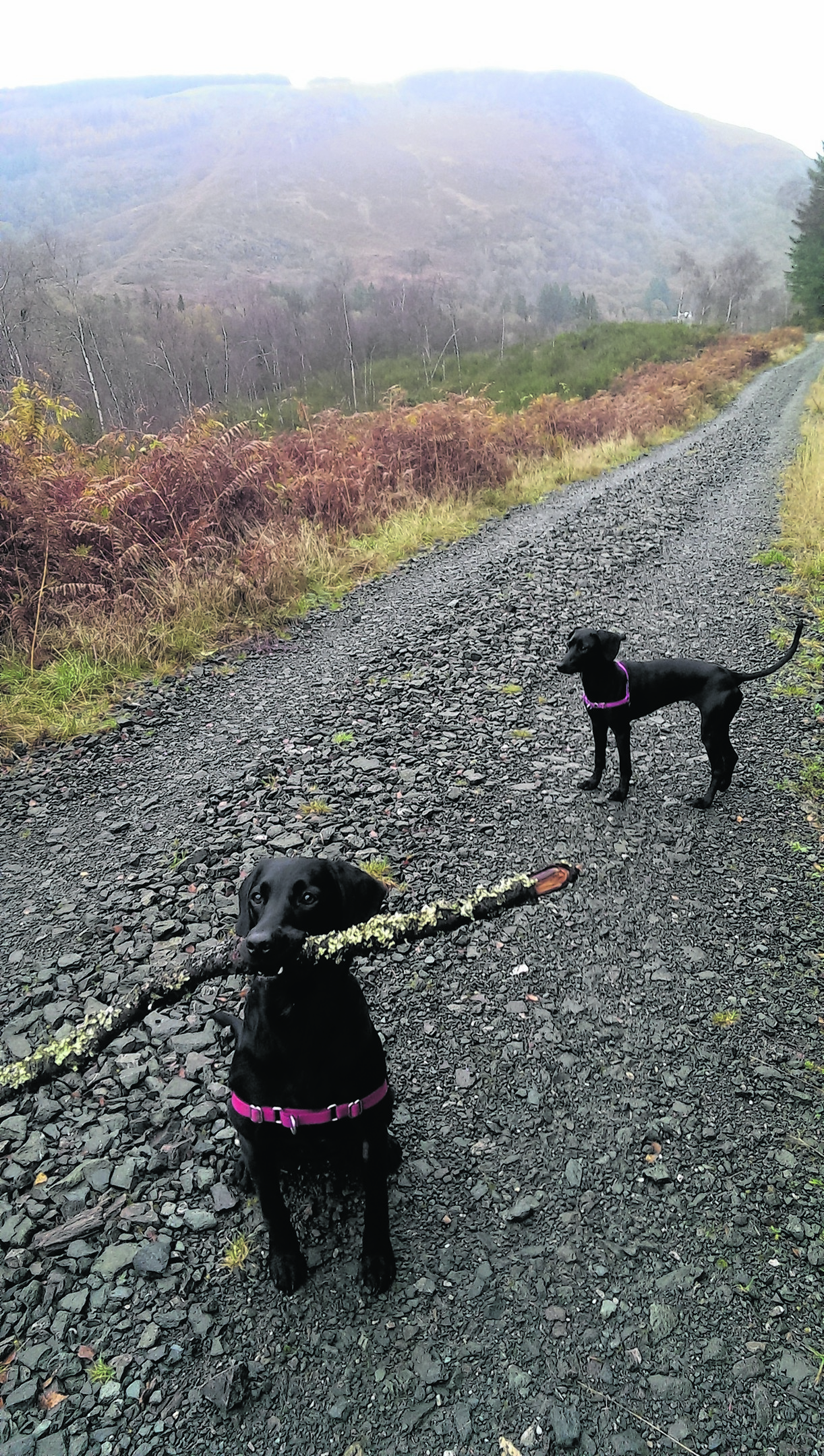 After unpacking and heating up some dinner, we got cosy in front of the roaring fire. Our dogs, South and Luna – who were also along for the few days away since the cottage is dog friendly – were in puppy heaven, lying spread out in front of the flames, enjoying the heat.
Back in the kitchen, we found a lovely surprise from our hosts – a bottle of Prosecco for us and a large blanket and dental sticks for the girls. It was a lovely thought from the owners. For the rest of the night, we sat cosied up on the couch watching TV before heading to our huge bed, definitely ready for some sleep.
One of the great things about staying in self-catering places is there is no schedule. In a hotel or B&B, you need to have breakfast when they say so. But here, we played by our own rules. So our morning began with some telly viewing in our pjs before my husband, David, made us a great cooked breakfast. Everything we could have needed was catered for in the kitchen.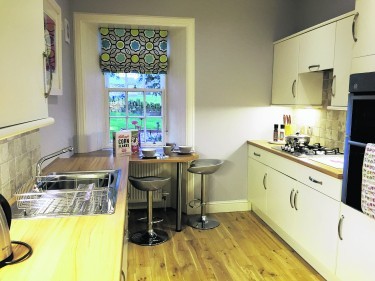 We were also able to get a proper look at our views for the weekend. The cottage is located on a working farm. So, to the front, back and sides, all we could see were fields and woods, with some sheep and chickens chucked in. It was my perfect holiday view. Some like sandy beaches, others like city breaks, my ideal holiday is tucked away in a remote location in Scotland. We couldn't have picked a better spot.
Eventually, we were ready to venture out with the dogs and, after a look online – and discovering that the Stirling countryside really was our oyster – we decided on a lovely walk in Aberfoyle, about 20 miles away. The walk begins in the town's car park. After making your way through a new housing development, you are on your way around Loch Ard and the woodland that surrounds it. It's a really good walk, allowing the dogs to stay on the lead, but also some time off it to explore. It takes around two hours, but included in that are some stunning views of the surrounding countryside and, if you are lucky, spotting some loch wildlife. Also, keep your eye out for a very cool organic sculpture of a certain bird of prey.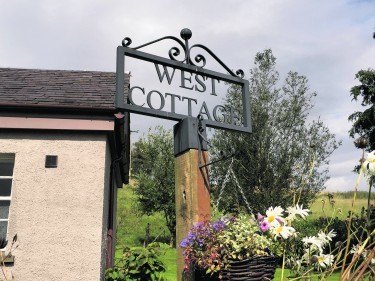 We spent the rest of the day exploring some of the nearby towns, including Dunblane – home of tennis brothers Andy and Jamie Murray – and Doune, which is definitely worth a visit, even if just to admire some of its stunning architecturally interesting buildings and pastel-coloured houses.
Then it was back to our cosy retreat, where once again we took great pleasure in cooking up a storm in the kitchen and settling down to a night in front of the TV and roaring fire to end a great day.
It was hard to leave West Cottage the following day. I could easily have spent a week or more there, enjoying the peace and quiet of the countryside and exploring the rest of the nearby towns and attractions. Unfortunately, we had only two days there, but, on the plus side, it gives us a good excuse to return.
Five attractions you can visit while staying at West Cottage
Stirling Castle
The National Wallace Monument
Doune Castle
Macrosty Park
Inchmahome Priory
TRAVEL FACTS
West Cottage, Dunblane, Stirling
Tel: 01738 451 610
E-mail: holidays@cottages-and-castles.co.uk
Website: www.cottages-and-castles.co.uk
Sleeps six in two double bedrooms and one twin.
£850-£960 per week.