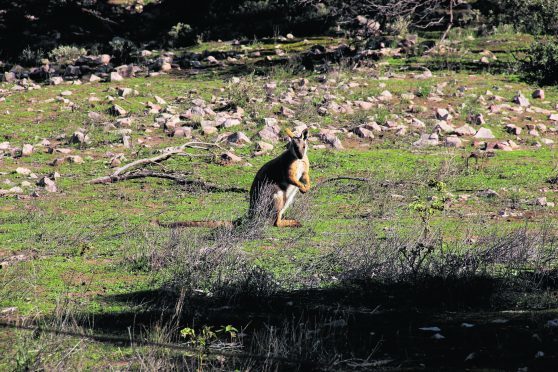 I'm lost in South Australia's enormous blue skies and endless outback, when suddenly my companion John slams the breaks, causing me to grip the dashboard as we come to a screeching halt in our 4WD.
The obstruction is an emu standing nonchalantly in the middle of the road. The flightless bird is staring at us intently, so I slowly reach for my camera. But just as I click the shutter, he's off, waving goodbye with a flurry of tail feathers.
I'm travelling around the Flinders Ranges, South Australia's largest mountain range, a four-hour drive north of the state's capital, Adelaide.
Mighty red gum trees line our route, across dried-up riverbeds and alongside jagged ridges in a rainbow of browns, greens, and yellows. Some rocks here are 650 million years old and conceal a vast collection of well-preserved Ediacaran fossils, the oldest known complex life on earth.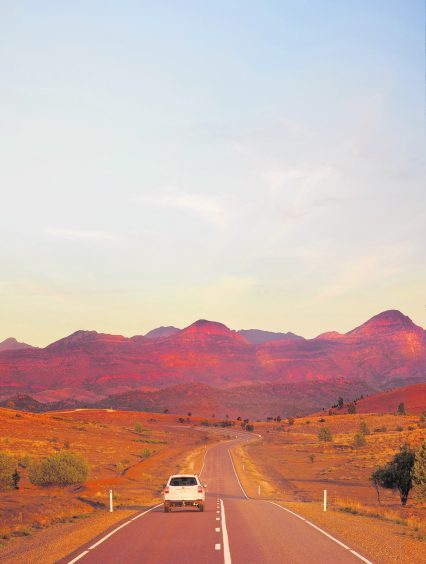 "It's a geologist's Disneyland. David Attenborough's been here a few times," John informs me, before explaining that the locations of the fossil deposits are a guarded secret to prevent 'grave robbers' fleecing the land of this valuable evidence of Earth's evolution.
The yellow-footed rock wallaby is a far more recent inhabitant of the area, and their numbers are rebounding, following a decline due to habitat destruction and poaching.
But that doesn't make them any easier to find. I stand at the side of the road in front of a large ridge where the cute little marsupials are known to congregate, carefully examining every rock and outcrop without success, until suddenly in the corner of my vision, I see movement.
A dozen wallabies are shifting around on the rocks, balancing with their long striped tails. I'm amazed at their camouflage.
I snap a few photos before we continue our journey through the heart of the gorge. The road leads us to the eastern side of Wilpena Pound, the showpiece of the region that looks a bit like a giant, deflated souffle.
Rather than scaling the Pound's mountainous rim, I access the middle through Wilpena Gap. Measuring 17km by 8km, the geological formation was once used by farmers to raise livestock and grow crops. Now the land belongs to the state.
There are several walking routes in the area, which take from one hour to several days to complete. Routes are well signposted but care should still be taken. The brother of South Australia's former premier John Bannon, got lost on a walk here in 1959, and his skeletal remains were found in the Pound 18 months later.
As the sun lowers I return to my accommodation, Rawnsley Park Station, a working sheep station. My plush villa is at the top end of their room options, which also include standard cabins and a campground and caravan area. One of the former sheering sheds is now the fine-dining Woolshed restaurant and a particular delight.
Before tucking into a kangaroo steak, I jump back in our 4WD to tour some of the station's 29,000 hectares on a dusk safari. Parrots and rosellas streak through the air, emus bob their heads in the distance and kangaroos thump the ground as they bound away from our vehicle.
"The reds ones are the better meat," my safari guide says with a laugh, making me feel somewhat reluctant to head back for dinner.
But my thoughts quickly turn elsewhere when we crack open a bottle of wine at a picnic spot and watch the western wall of the Pound turn golden at sunset.
I'm amazed to discover so many Australians have never heard of this place. Even more unknown is Blinman, a dusty old mining town in the northern Flinders Ranges. We stop for lunch at the general store, where I devour a meat pie and a quandong milkshake made from local fruit.
With our bellies full, we continue to Parachilna and the Prairie Hotel. An old steel windmill creaks as it slowly spins and a lizard scuttles across the entrance as we approach the door.
'Where have you taken me John?' I wonder to myself.
But once inside, I quickly relax. Corridors are lined with Aboriginal art for sale, and the front bar attracts people from all over the area.
It's no wonder the hotel has hosted Hollywood stars such as Kate Winslet and Harvey Keitel, and even featured as a backdrop for a recent story arc in Home And Away.
While sharing a bottle of red with John and the barman, I ask what else has been shot in the region.
"They filmed parts of horror movie Wolf Creek here," he reveals.
"So why do Brits tell you they come here?" is my fumbled reply as I try to steer the conversation towards something less macabre.
"To say they survived," he says with trademark Australian dry wit.
Nick McAvaney was a guest of Aussie specialists, Flight Centre who offer flights with Emirates from London Gatwick to Adelaide from £736 per person. Valid for travel between March 28 to June 30, 2016.
For more information on the hotels, visit www.rawnsleypark.com.au and www.prairiehotel.com.au
Visit www.southaustralia.com for further info on South Australia