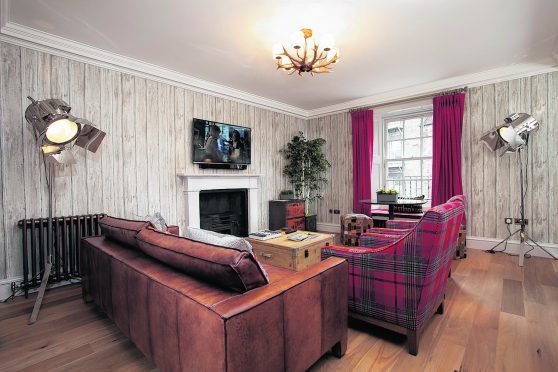 I'm up to my neck in bubbles in the Jacuzzi, having my toes, bum and shoulders massaged by jets of water and it's won-der-ful…
The enticing smell of our M&S take-away curry is wafting through from the oven, and the Champagne is chilling. God's in his heaven and all is right with the world.
If somebody had phoned to say I'd won the lottery, I might have asked them to call back later…
Anyway, who needs millions when you can rent a beautiful five-star serviced apartment in the West End of Edinburgh with its own gourmet steak restaurant, for under £200?
We're staying at The Rutland Apartments in a newly renovated townhouse just minutes from Princes Street, with its own Kyloe Restaurant and Grill just a short walk away (you can't miss the Kyloe Cow outside the door).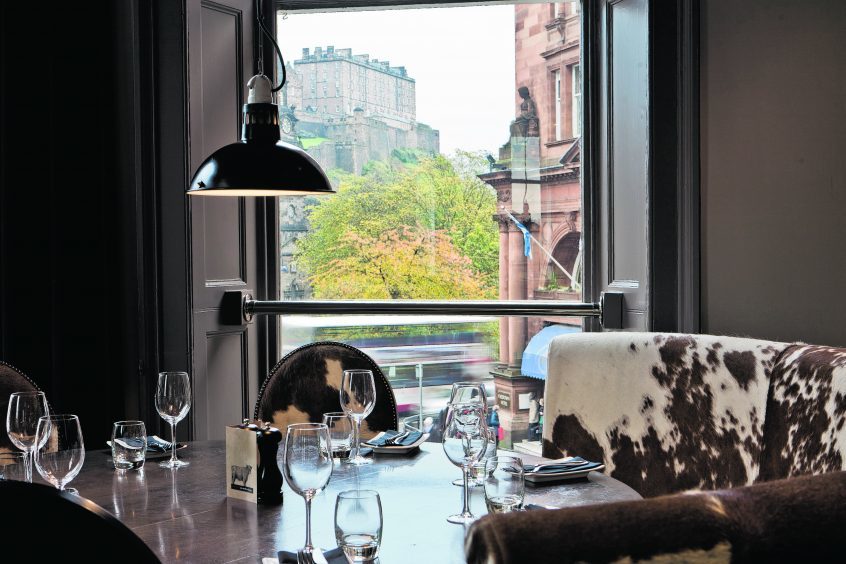 Once the home of renowned surgeon Joseph Lister, The Rutland is steeped in a history all of its own. It now offers 12 unique boutique bedrooms and five luxury serviced apartments, entered via a big, shiny black door which looks like No. 10 Downing Street. Up the carpeted spiral staircase, past quirky paintings of men with dogs' heads, I spot a beautiful roof lantern and cosy armchair at the very top, then behold… sheer indulgence and relaxation awaits behind your own front door.
Inside our rooftop apartment two spacious bedrooms and a lounge/diner each have widescreen TVs with cable, TiVo and high speed broadband. In the luxurious bathroom with bath and rainfall shower, I always look first for the complimentary toiletries and I'm not let down here: three full bottles of Arran Aromatics' Feel-good Formulas just waiting to be poured.
We look around with envy at fireplaces, chunky radiators, slate floors and underfloor heating. Each apartment is individually designed by Edinburgh firm Jeffreys Interiors using sophisticated Farrow & Ball wallpaper and vintage Ralph Lauren furniture, with stylish leather stools and funky travel trunks lit up by giant movie-set lamps – it's all very Hollywood-esque. I call it Americana with a Scottish twist, as there are lovely touches of tartan, too.
In the fully-equipped kitchen with breakfast bar and high stools there's a coffee maker with pods and even milk in the fridge. Breakfast can be eaten at The Huxley along the pavement (or delivered to your room), but we'd brought our own Crunchy Nut.
On to the bedrooms – and this is where our own home (currently, my darling) falls short – super-comfortable duck feather and down duvets, pillows and mattress toppers on a giant bed. It feels like you're floating as you sleep, it's all so dreamy.
It's all so spotlessly clean, too, but you can make a mess because the apartments are serviced, just like a five-star hotel. There was a complimentary newspaper hanging on our doorknob next morning, which brings us back into the real world all too soon. We never want to leave…
But leave we must, for a trip to the National Museum of Scotland on Chambers Street, home to thousands of amazing objects, was on the cards. There's a genuine vintage aeroplane pinned on the wall, and life-size animals including elephants, giraffes and lions. A special exhibition on Celtic heritage was on, and children can try the dino-dig, feel an amethyst one-tonne piece of rock formed in Brazil 130million years ago – or watch a live ants display. The diverse collections take you on a journey of discovery through the history of Scotland, the wonders of nature and world cultures – all under one roof.
Back to our apartment and dinner on our second night was at Kyloe, Edinburgh's first gourmet steak restaurant. The clue is in the animal standing at the door, but Kyloe is an old Scots word for Highland beef cattle. The restaurant uses pedigree Aberdeen Angus supplied by some of Scotland's top farms and butchers, and the meat-eater in our family was in his heaven.
The diverse grill menu on this first-floor restaurant with views of the castle is complemented by an a la carte selection which features Scottish seasonal produce, a tasty shellfish section and mouth-watering desserts. And for under 12s there's a great £7.50 deal which includes main course, pudding and soft drink.
Because I'm more of a fish person, I chose the pan fried Peterhead cod fillet at £17.50, which came with delicious crispy parma ham, sweetcorn puree, cavolo nero, crab & chive potato cake. The cod was the cleanest, tastiest piece of fish I've had in a while.
For the carnivore, the choice was endless. Eventually he went for a rib-eye at £27.50, and was offered the chance to pick his own slab of meat, but he let the chef choose. He said it was perfectly cooked, and had it with a nice salad as part of his 'diet'.
There are fillet steaks for £30, or why not share a whole roast rack of lamb for £40, with mint sauce and rosemary jus? Cote de Bouef, sirloin on the bone, Chateaubriand, Beef Wellington and Porterhouse feature too.
He finished off with warm pear and almond tart with amaretto ice cream, and I had the luxurious tiramisu.
Our weekend break was all very sophisticated and special, but on the way home over the Forth Road Bridge the suspension went on his car. Has anyone else noticed the potholes between Aberdeen and Edinburgh lately?
Now a lottery win would have been nice after all…
The details
The Rutland Hotel – Luxury Apartments, No. 15 & 19 Rutland Street, Edinburgh. Visit www.therutlandhotel.com or phone 0131 229 3402.
Stay in a one bedroom apartment from a nightly rate of £185.
Family mini-break 
For the summer, the family package starts from £475 and includes: Two nights' stay in a serviced apartment; welcome hamper; Full Scottish breakfast each morning; dinner in The Huxley; and tickets to Edinburgh Zoo with private transfers to and from the zoo.
Kyloe Restaurant & Grill: Gourmet Steak Restaurant, 1-3 Rutland Street, Edinburgh. Visit www.kyloerestaurant.com or phone 0131 229 3402.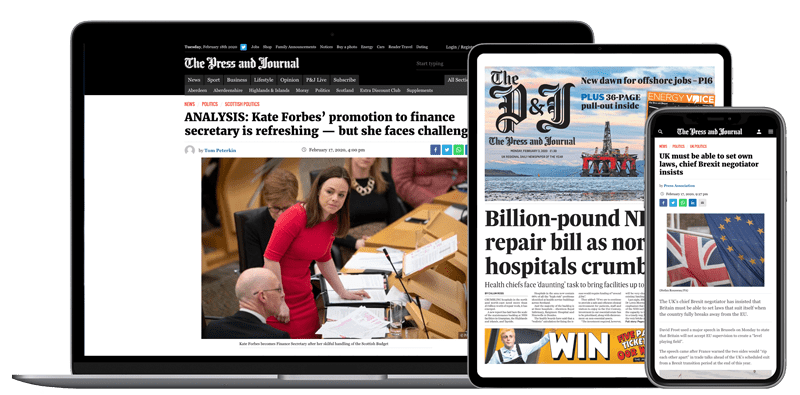 Help support quality local journalism … become a digital subscriber to The Press and Journal
For as little as £5.99 a month you can access all of our content, including Premium articles.
Subscribe