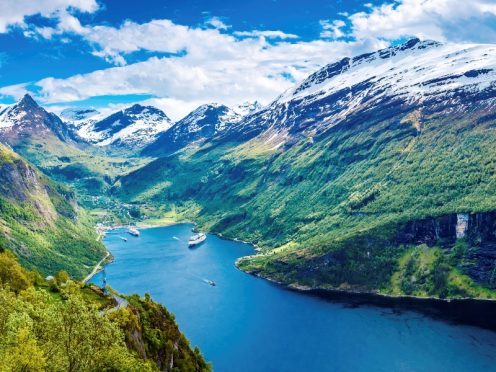 A selection of SIX cruises from Dundee has recently been announced on board Magellan sailing in 2017 for a third successive year.
Cruising has never been more accessible with fantastic itineraries covering destinations such as the Norwegian Fjords, Iceland, the Northern Isles and Russia.
Press & Journal Travel takes a look at some of highlights that these cruises can provide.
1. Copenhagen, Denmark
The stylish capital of Denmark, Copenhagen is home to the famous Tivoli Gardens and Little Mermaid statue.
Home to prolific author Hans Christian Andersen (the man whose novel inspired the Blockbuster film 'Frozen' among others) between 1845 and 1864, Copenhagen is packed full of highlights worth visiting.
We recommend stopping by Nyhavn and Amalienborg Palace.
2. Flåm, Norway
A popular port of call, Flåm attracts thousands of visitors each year.
Here you can step aboard one of the world's best train journeys, The Flåmsbana Mountain Railway.
Snaking through some magical scenery in what is officially the world's steepest rail journey; the train offers multiple viewpoints that leave an ever-lasting impression on those who make the journey with the final stop, Myrdal, resting at over 800 metres above sea level.
3. Bergen, Norway
This ancient Hanseatic city of cobbled streets and medieval houses was the birthplace of composer Edvard Grieg.
Visit the vibrant harbour and fish market, stroll past the wooden warehouses of Bryggen and take the Floibanen funicular to the summit of 'Mount' Floyen.
4. Oslo, Norway
A modern city, Oslo is famous for its spectacular architecture and array of shops and museums.
Highlights include the Munch Museum and Astrup Fearnley Museet – an art gallery resting in a building that would not be out of place in the latest science fiction films.
5. Reykjavik, Iceland
Resting at the foot of Mount Ejsa, trendy Reykjavik is growing in popularity with tourists.
With warm and friendly locals and landmarks such as the 'Ode to the Sun' sculpture (pictured), the majestic Hallgrimskirkja Church where you climb to the top for a spectacular panoramic view, and an array of bars and restaurants to try at night,
Reykjavik is a worthy port of call on any holiday.
6. Goðafoss Falls, Iceland
One of the most spectacular waterfalls in Iceland, Goðafoss Falls are also known as the 'waterfalls of the Gods' and are tied to Nordic mythology.
According to legend, ancient gods were once thrown from the top of these falls!
Today, the falls attract visitors from across the globe.
7. St Petersburg, Russia
One of the world's most glorious cities, St Petersburg is the epitome of a modern European city.
Take a stroll by the canal or stop by the Marinsky Theatre to see ballet at its best, performed by the renowned Kirov Ballet.
The holiday
2017 cruises sailing from Dundee are now available on a 'Buy one, get one place free' basis.