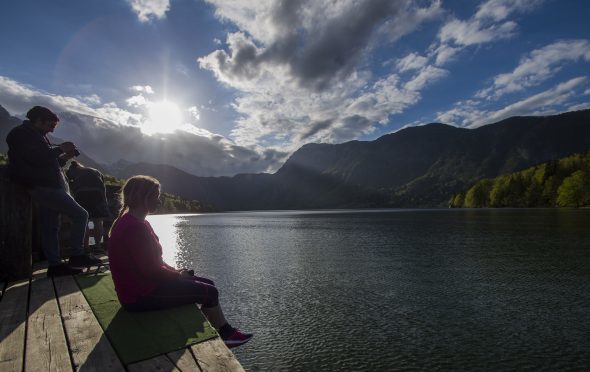 It might not yet be an obvious holiday choice, but Slovenia is a treasure trove of natural beauty. Abi Jackson paddles her way through this country of contrasts and surprises
What would a dream holiday scene look like to you? For me, there would be trees, mountains, water and unspoilt natural landscape.
Slovenia, I recently discovered, has this in spades – but I didn't just get to stop and look at the view, I stepped into it. Well actually, I paddled into it, standing up, a little wobbly-kneed at first, on a floating board.
If you haven't yet tried stand-up paddle-boarding, or SUP as it's also known, chances are, it won't be too long before you do.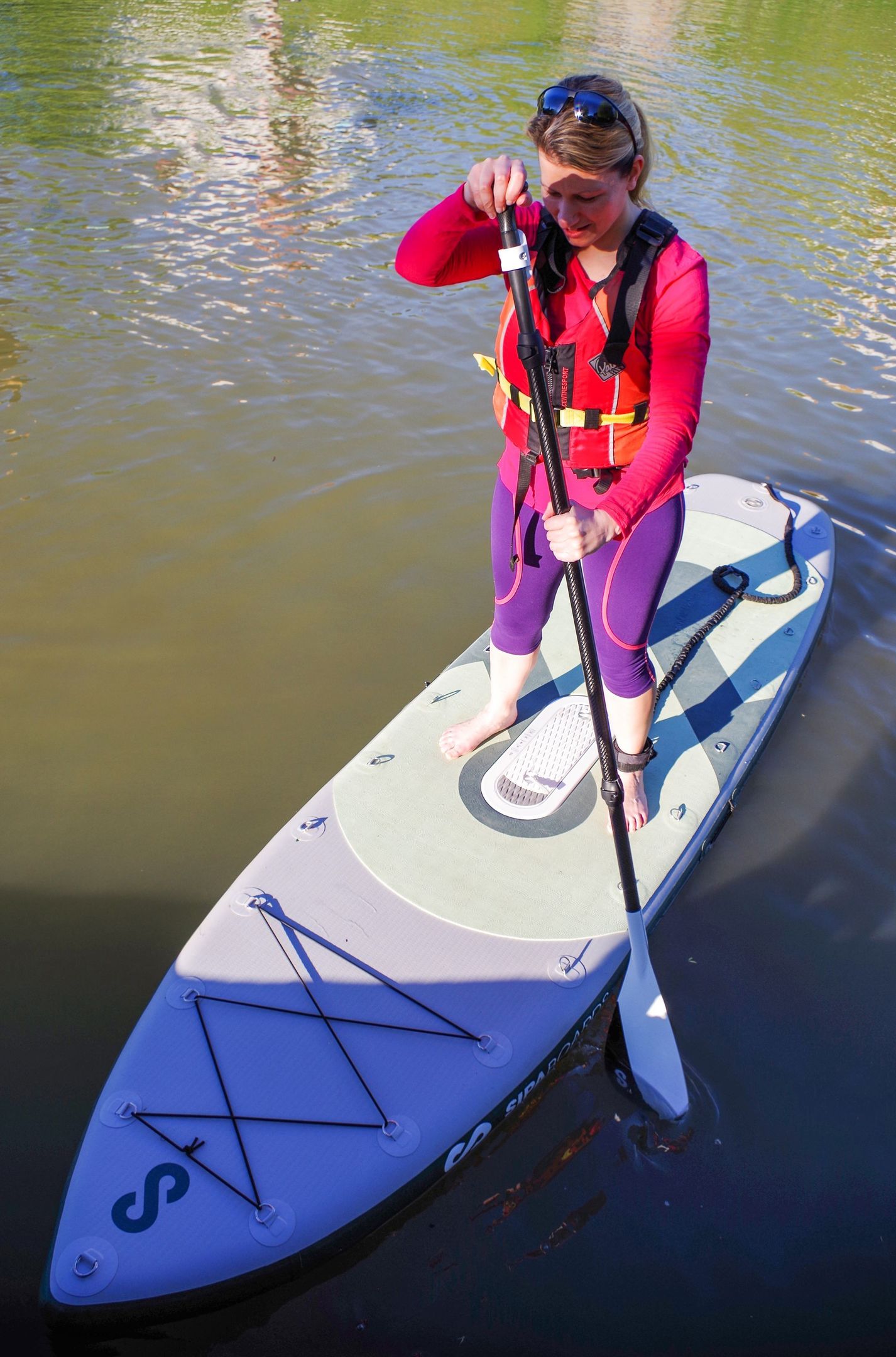 It may be far gentler than surfing, its more famous board-based water sport cousin, but SUP's really gathering pace in the popularity stakes, and it turns out Slovenia is the perfect place to do it.
Almost 60% of this small south-eastern European country (you can drive from one side to the other in a few hours) is tree-covered, and while Slovenia only has 47km of coastline – it's more or less one giant bay in the Adriatic Sea, tucked neatly between Croatia and Italy's Gulf of Venice – the land itself boasts 27,000km of rivers, streams and lakes.
It's these that I've come to explore by paddleboard, an activity that's becoming increasingly convenient and accessible thanks to SipaBoards, a Slovenian start-up whose small but passionate team have created the world's first electric and self-inflating stand-up paddleboards.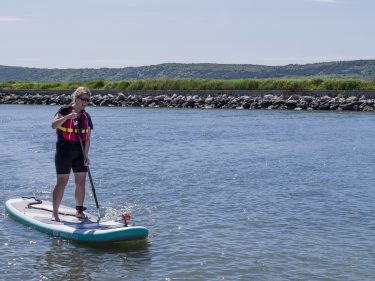 Traditionally, paddleboards are inflated manually requiring a fair bit of elbow-grease, which is fine if it's just one board; not so fine if there's a group of you or you're out for the day with your family, and all that pumping takes a chunk out of your precious time and energy reserves.
"It was paddleboarding with my kids that inspired the designs," explains SipaBoards founder Sebastjan Sitar.
"It would take ages to pump up boards for the whole family. Our boards inflate in seconds, with zero effort."
The addition of motorised engines was another family-inspired brainwave, after Sebastjan's young daughter struggled to paddle back to shore one day. Operated via a switch at the top of the paddle, the motor doesn't exactly propel you along full-pelt, but the extra momentum certainly helps when you're up against winds or currents, and helps stabilise the boards, too.
As Josh Rocchio, from SipaBoards' marketing team, explains: "These things don't make doing the sport easier; they make it easier to do that sport."
You still have to paddle, and engage those core muscles to keep balanced (SUP is a great full-body workout), and you can switch the motor off whenever you want – it simply means that anybody, even those who are nervous of the water, a bit unsteady or who need that little push, can hop on board and enjoy it.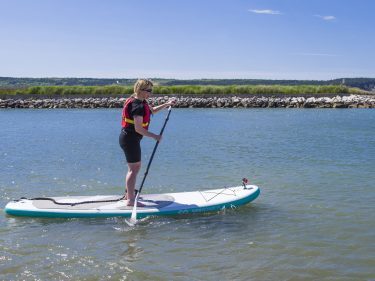 We start with a paddle along Ljubljanica River, which runs through Ljubljana. It only takes a couple of minutes to get used to standing on the boards, then off we go, sailing past the capital city's historical streets and under bridges, glancing up at the castle's belvedere tower.
It's a novel way to take in the sights, and Ljubljana also makes a great base for exploring more of the country. We stay at the Antiq Hotel, perfectly situated a stone's throw from the river, pretty squares and coffee shops.
Right now, Ljubljana – along with the whole of Slovenia – is relatively quiet. It's not an obvious spot on the tourist map, but that's changing. The European Travel Commission recently reported that Slovenia is one of the countries which recorded the greatest increase in foreign tourists (by as much as 13%) last year.
It's easy to see the appeal. Slovenia is running rings around much of Europe in the green stakes – the air, the water, the streets, everything is so clean and fresh. The vibe is fantastic too: relaxed, safe, welcoming, and flights from the UK are cheap and quick.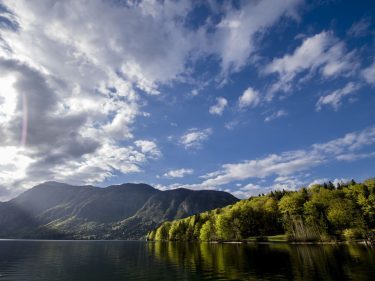 It takes little over two hours to fly here, but I immediately feel like I've been transported somewhere far further, to a land of Narnia-esque natural beauty where all your outdoorsy dreams come true.
After getting to grips with the boards in Ljubljana, we spend the next couple of days exploring Slovenia's lakes and coast.
An essential stop on every itinerary is Lake Bled, nestled among the Julian Alps in the country's northwestern region, overlooked by the mediaeval Bled Castle and made instantly recognisable by the tiny island that sits just off-centre, boldly sprouting a cluster of bushy trees, old buildings and a 52m-tall church tower.
After a fuel stop at Sava Hotel's Park Cafe, where I tuck into the famous "Original Bled Cream Cake" (aka "kremsnita"), a doorstop slab of puff pastry, custard, cream and vanilla sugar, we find a quiet patch of shore to inflate our boards, then spend a blissful couple of hours on the water.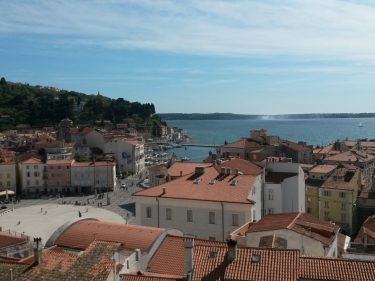 It's low-season, so we have the lake to ourselves (June to September is the most popular period). I paddle out, soaking up the peaceful wonder of it all, as twinkling ripples lap gently at the sides of my board.
Less well-known than Bled, but not to be missed, is Lake Bohinj. While Bled has the picture-postcard charm, Bohinj really draws the gasps; it is utterly dreamy.
There are some great walks and hikes in the area too, including a trail leading to the Savica Waterfall in the heart of the Triglav National Park.
Active holidays aren't just a great way to see a country – working up a sweat means you can really indulge on the food front too. And while Slovenia doesn't yet boast any Michelin-starred restaurants, there is a bounty of beautiful grub on offer.
We treat ourselves to some fine-dining at Vila Podvin (7km from the centre of Bled) and sample outstanding seafood at AS Aperitivo and RiziBizi (both in the capital).
Slovenia is also the only European country which connects the Alps, the Mediterranean and the Pannonian Plain, and our jaunt to the coast highlights that this little country really is a land of vast geographical contrasts.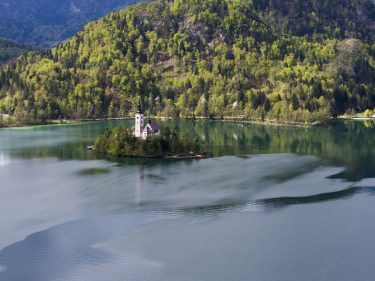 Mountain peaks and alpine forests give way to lush pastures, olive groves and vineyards, and the temperature cranks up a good few degrees as we make the hour-and-a-half drive from Ljubljana to Secovlje.
The coast has a real Mediterranean feel, and you can paddle-board off the beach when the water's calm enough, or explore near the Secovlje salt flats, where salt is still produced using 700-year-old traditional methods.
After a morning on the boards, we ditch our paddles for a stroll around Piran, an old coastal town that's all painterly narrow streets and pretty squares, bordered by dazzling blue sea and bobbing fishing boats.
Our trip ends with a visit to Kamnik, an unassuming little town nestled among some of the most breathtakingly stunning countryside I've ever seen.
Similarly, from the outside, our hotel Gostilna Repnik looks cosy and traditional – and it is, but it's also home to some super stylish rooms and supremely talented chefs, who whip up an array of dishes showcasing local produce, including the famous "boob cheese" (I'll leave you to discover how it got the name!).
We only have time for a short hike, but you don't have to venture far to lose yourself among the forests, shimmering rock faces and bright turquoise streams.
This is the true beauty of Slovenia: it has everything, and all of it is nearby.
TRAVEL FACTS
Abi Jackson was a guest of Wizz Air, SipaBoards and the Slovenia Tourist Board.
Wizz Air operates four weekly flights to Ljubljana from London Luton, from £18.49 one-way. Visit wizzair.com
SipaBoards are currently available to buy, with free worldwide shipping. For more info and enquiries, visit sipaboards.com
SUP hire and guided tours are available via the Slovenian Tourist Board. Trips can be organised independently (from around 150 Euros per day) or ready-made SUP tour packages are available through Bananaway Stand Up Paddle Tours, ranging from two-hour tours on Ljubljanica (35 Euros) to bespoke five-day tours (price on request). For info and enquiries, visit www.slovenia.info
Double rooms at Antiq Hotel start from 120 Euros per night (www.antiqhotel.eu)