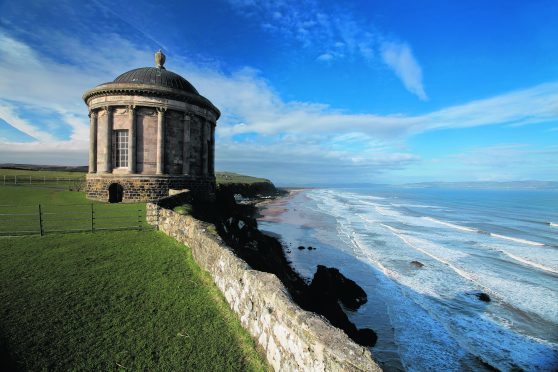 Take a trip to a land of legends, myths, stunning scenery and warm hospitality, writes David Dalziel
Northern Ireland. One of our closest neighbours, but not somewhere I had ever visited before.
Surprising when you think how near it is and how easy it is to get there.
So that is exactly what my family and I did recently on a long weekend to the Emerald Isle.
The FlyBe flight only takes about an hour from Aberdeen to Belfast, and you can also fly from Inverness, Edinburgh and Glasgow.
This was my children's first time at an airport and on a plane, so there was huge excitement as we started our journey.
Arriving without a hitch, we collected our hire car and made our way to the Roe Park Resort in Limavady. Just over an hour from Belfast, this would be our base for the weekend, and it is perfectly situated for exploring the best of what the country has to offer in terms of visitor attractions, scenery and food and drink.
The Roe Park is a sprawling golf resort catering for all kinds of guests, from weddings to family holidays to groups of golfers there to enjoy the fantastic facilities.
We had a lovely, large family room with a welcoming bottle of Prosecco and a box of chocolates waiting for us, which is always a nice touch.
After the excitement of the journey, it was time for dinner at the hotel's Coach House restaurant, which is in the building adjacent to the main hotel. It has a relaxed clubhouse feel to it with a real buzz, and was perfect for dining with children.
There was plenty of choice on the menu and I plumped for an 8oz fillet steak with all the trimmings. All their steaks come from Northern Ireland Farm Quality Assured herds and are matured for a minimum of 28 days, and this piece of meat was delicious, and cooked just how I had asked for it. I love a blue-cheese sauce with my steak, and despite this not appearing on the menu, it was no problem when I asked if the kitchen could make one up for me. Delicious it was, too.
My wife was just as happy with her Thai green vegetable curry from the numerous vegetarian options available, and the kids devoured their pizzas before moving on to dessert.
More food lay ahead the following morning as we tucked into a bumper breakfast buffet of bacon, sausages, egg, beans, black and white puddings and anything else you could think of.
This set us up perfectly for a busy day of sightseeing, starting off at Roe Park Valley Country Park, which is right next to the hotel, and offers lovely walks, a cafe and a visitor centre. We amused ourselves with games of hide and seek, and some time spent down by the river, throwing stones and watching the tiny fish swim along. All in glorious
sunshine, too.
After returning to the hotel for a swim at the onsite leisure centre – which also boasts a spa, sauna and gym – it was time to head for the harbour town of Portrush, where we had reservations at the Ramore Wine Bar.
Not having been to these shores before, I didn't know much about Portrush, but what a beautiful little place it is, with an incredibly picturesque harbour, which was glistening in the welcome sunshine.
I also hadn't expected to find such a trendy and bustling restaurant in the town. The Ramore would not have looked out of place in London, such was its cool but unpretentious setting. And this approach clearly works as every table was full with diners ranging from young hipsters to families to older day trippers.
And one look at the menu made it clear to see why it is such a popular place – fabulous food at surprisingly low prices. For example, my delicious seafood thermidor came with a price tag of just £7.95. Move this restaurant to a city, and you'd quite easily be looking at paying double or more for the same dish.
The presentation of the food was another high point. We were all impressed when my wife's main of stuffed vegetables arrived at the table; a really colourful and classy example of thought being put into every dish.
We could have idled at the Ramore for hours, gazing out at the boats bobbing about on the water, but we had a date with a fast boat at Portstewart, so we dragged ourselves away and made the short journey to meet Richard, from Aquaholics.
We set out on the beautiful calm sea and headed for Rathlin Island, which is home to an abundance of wildlife. We were told we might see puffins, which was great news as I had never seen a puffin before and have always admired them. After an exhilarating 10 minutes' sailing, we floated up alongside the rocks of Rathlin Island – which is only 11 miles from the Mull of Kintyre – and sure enough, there they were. Puffins, razorbills, guillemots, all zooming above our heads and nesting on the dramatic rocks. Despite having done this thousands of times, our guide Richard still seemed excited by every passing bird and you could see the delight in his eyes, just as he could see it in ours.
We bobbed up and down looking at the birds through binoculars, and we also saw a number of grey seals sunning themselves on the rocks. What a magnificent way to spend an afternoon.
As well as being a haven for birds, it is thought that Rathlin Island also served as a sanctuary for Robert the Bruce when he took refuge in a cave on the island during a fight against the English in 1306.
After taking in the wildlife, and the "upside down" lighthouse on the island above us – said to be the only lighthouse in Ireland where the building is on top of the light – it was time to head back to the mainland for a look at the world-famous Carrick-a-Rede rope bridge.
The rope bridge may not look like much, but it was absolutely mobbed with tourists waiting to cross it. And it is certainly one of the sights that most visitors to Northern Ireland make sure they tick off their "must-do" list.
As we headed back to Portstewart, we took in the impressive coastline of caves and cliffs. In fact, so dramatic is this area, that many scenes from TV epic Game of Thrones have been filmed here; some filming even being done from the boat we were travelling on. So even if wildlife isn't your thing, there is plenty to keep the interest in this area.
After an ice cream in the pretty port area, it was time to head back to
Limavady for yet more culinary indulgence, this time at the intimate Lime Tree restaurant in the centre of the town.
We enjoyed a warm welcome – as we did everywhere we went during our trip – before poring over the fantastic menus.
There was so much choice that I just could not decide what I wanted. I was intrigued by the smoked Lough Neagh eel with rape seed oil and mustard dressing, but equally tempted by the pan-fried breaded goats cheese with red pepper relish. This was no problem for owner Maria Matthews who suggested I have the goats cheese and she would gave me a taster portion of the eel so I could try it. This was ideal, as the cheese dish was delicious. And I was pleased to try the eel, which was completely different to how I had imagined it.
In Northern Ireland, everything comes with a "wee story", which I love. And the eel was no different. There are stories based on facts, which are interesting – eel is a popular dish here, but 80% of it is exported to the EU – and there are stories based on legend, which are even more interesting. For instance, St Patrick rid Ireland of snakes, but he threw them in the sea which is why we have eels.
In between stories, I enjoyed a lovely fish dish for my main and finished
off my meal with a dark beer from local brewers Lacada, a co-operative brewery based on the north-coast with 230 co-owners. Again, with every product comes a story, and my Stranded Bunny porter is based on the loneliest colony of rabbits on the Skerries, who nibble the sparse grass and watch the twinkling lights of Portrush across the water.
Owners Maria and Stanley also shared some nuggets about Limavady itself, such as the fact that Danny Boy was written just along the road from their restaurant, and that the Lime Tree was so named because when a local man became president of New Zealand, lime trees were planted in Limavady in his honour.
We had a fantastic dining experience at the Lime Tree, and the food was matched by the warmth of its owners and staff, and all these ingredients made it a wonderful evening.
The following day saw us hit the road once more and travel up to Bushmills to visit the UNESCO World Heritage Site the Giant's Causeway.
The scenery on the journey north was so similar to parts of Scotland that we could have been driving along the A9. Brown signs along the roads tell you that you are driving through an area of outstanding natural beauty. If I had designed those signs, I'd have been tempted to throw a few more superlatives in there to do the scenery justice.
And so to the Giant's Causeway. It really is quite a phenomenon, and the Natural Trust has recently completed an £18million visitor centre to do it justice. It really is worth a visit to take in all the interactive displays and collections.
But the main event is the causeway itself, and the best way to see it is on a guided walking tour.
Yet again in Northern Ireland, it's all about the "wee stories", and there were plenty of them on our trip down to the stones, including the fantastic myth of the mighty giant Finn McCool. The balance of fact and fiction was just right, and added to the sight of the 40,000 interlocking basalt columns that were created 60million years ago.
What a sight to behold. No wonder this is a UNESCO sight which is visited by thousands of people from all corners of the globe each year.
After spending a couple of hours at the causeway, we stopped at the
couthy Bushmills Inn for a hearty lunch to keep us going on our busy sightseeing trip.
The four-star Bushmills Inn is one of Ireland's best-known hotels, which boasts a location close to Royal Portrush Golf Club, Old Bushmills Distillery, the Giant's Causeway, Carrick-a-Rede Rope Bridge and Dunluce Castle.
It is full of cosy nooks and crannies and has a rustic feel of times gone by. But don't be fooled, as it also boasts an AA Rosette restaurant. It was well worth popping into for lunch.
The final stop before returning to our hotel was a place I hadn't heard of before, Mussenden Temple.
Another National Trust site, as well as the temple, there are walled gardens, a mausoleum, ruins and some of the best views you'll find in the country.
We spent a good 90 minutes here exploring the grounds and then wandering around the temple, which dates from between 1783 and 1785. And as pretty as the little temple is, it was its situation and the views from it that were truly remarkable.
The temple sits a few feet away from a sheer drop down to a gorgeous white-sand beach, with turquoise seas lapping against its shores.
This was a real find, and somewhere I would heartily recommend visiting, especially on a beautiful, sunny day like we had.
Back at the Roe Park, we enjoyed another super meal in the familiar surrounds of the Coach House restaurant before preparing for our journey home the following day.
What an adventure we had been on. Northern Ireland is full of little gems, and the people are so friendly and full of fun.
The Roe Park Resort is a fantastic base from which to explore the north coast of the country, and there is certainly plenty to explore. And with cheap and regular flights from all over Scotland, there really is nothing stopping you from enjoying a "wee trip" to this gem of an island.
TRAVEL FACTS
Roe Park Resort, Limavady, BT49 9LB. www.roeparkresort.com
Ramore Wine Bar, Harbour Road, Portrush. www.ramorerestaurant.com
Aquaholics, Portstewart. www.aquaholics.co.uk
Lime Tree Restaurant, Limavady. www.limetreerest.com
www.bushmillsinn.com