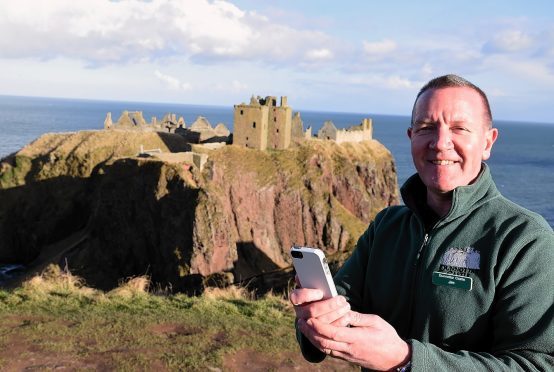 Built dramatically into the rugged Mearns coast, it is one of Scotland's most iconic landmarks.
And now people from all across the world will be able to explore Dunnottar Castle, south of Stonehaven, from their phones.
The ruin has been included in a new virtual reality app, ScotlandVR, created by VisitScotland in the hopes of convincing more people to visit the country in person.
The ruin is one of 26 Scots attractions which included in the software, alongside the likes of Orkney's Skara Brae and Edinburgh Castle.
The app was made following a collaboration between academics and technology and tourism experts.
ScotlandVR includes 360-degree views, images and footage of the landmarks included, accessed through a map of Scotland.
A team of students from Edinburgh Napier University came up with the idea for the app following a competition last year. It was created by company, Whitespace.
Last night Dunnottar Castle custodian Jim Wands said: "We had a fantastic year last year, figures were up more than 10%. We had more than 100,000 people visiting.
"People are just blown away by the castle. It looks like it should be something in a film or something out of somebody's imagination – but it's a real place people can come and visit.
"It is definitely an experience to come and see, and it is an authentic castle as well. It is not dressed up to look like something else.
"VisitScotland especially brings people to Scotland and the app is another fantastic opportunity to sell Scotland to the world. We are delighted to be featured in it."
The castle as it is now can be traced back to the 15th and 16th centuries, however the site is believed to date back to the 5th century.
Also included in the app are Robbie Burns' Ayrshire birthplace, the Cairngorms National Park, the Calanais Standing Stones in Lewis, the Glenfinnan Viaduct and the "hollow mountain", Cruachan.
VisitScotland regional director, Jo Robinson, said: "I am delighted that Aberdeenshire is featured in VisitScotland's exciting first venture into the world of virtual reality.
"Dunnottar Castle is an outstanding Scottish attraction and fantastic tourism asset so I hope that a virtual visit will encourage more people to come to see it in person and explore the region."
Scottish cabinet secretary for culture, tourism and external affairs, Fiona Hyslop, said: "This virtual reality app provides people across the globe with a window into Scotland's fantastic attractions. It will, I hope, inspire more people to discover Scotland for real."