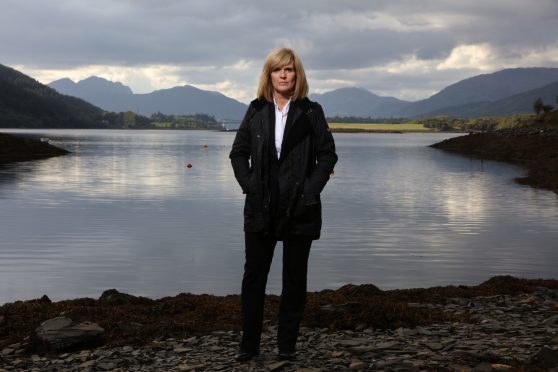 The first episode of STV's new crime drama set on the shores of Loch Ness has been aired.
The show follows village cop Annie who is tasked with finding a killer after grim discoveries are made at the famous spot.
It's the first of the six-part drama, which was filmed at the iconic loch as well as other places in the Highlands.
The first episode received a mixed response from Twitter viewers with some turning off in the first five minutes and others eager to see what happens next.
Many south of the border tweeted ITV stating they found the accents hard to understand.
I have subtitles on otherwise no clue what's happening. That said beautiful scenery #TheLoch

— (((Grumps))) ??? (@TheGrumpyBitch) June 11, 2017
While people in Scotland questioned some of the geography and inhabitants in the Highlands…
A wolf….roaming free in Scotland, excuse me but unless it's escaped from the wildlife park, this is a tad wrong… #TheLoch

— Rachel Melvin (@rachy_rants) June 11, 2017
Let's go to Inverness by going South then arriving from North over the Kessock bridge ??? #TheLoch

— StoviesPlz (@Stoviesplz) June 11, 2017
But there was one thing everyone seemed to agree on – the setting stole the show. Here's what people had to say about Loch Ness and the Highland locations:
Straight away #TheLoch is showing a beautiful part of Scotland I would love to visit never been.

— Lil (@lorrainewood73) June 11, 2017
Loving the Scenery/Landscape shots! #TheLoch ?

— Kayleigh (@KayTaylorX) June 11, 2017
Wow Stunning scenery on ITV's new drama #TheLoch

— Tim (@timdsewell) June 11, 2017
Scenery upstaging everything else in #TheLoch

— Charlene (@DublinPretender) June 11, 2017
Our scenery in Scotland tho ??#TheLoch x

— Lindsay (@MissLala_B) June 11, 2017
Right, Inverness for our next holiday it is. #TheLoch

— Warren Kearney (@KearneyWarren) June 11, 2017
Wow Scotland… #TheLoch

— moni natasha (@moni_natasha) June 11, 2017
#TheLoch absolutely captivated by the scenery love #Scotland @WeAreSTV great seeing Scottish drama on our screens

— Wee Rene (@cheekychic41) June 11, 2017
Enjoying #TheLoch as I was on holiday in the area last year recognising places we went. Just stunning.

— Julie (P) 3 sleeps (@albiongirl68) June 11, 2017
The scenery…. take me there! #TheLoch

— Katie-Lou Thomas ♡ (@PinkDivaChick) June 11, 2017