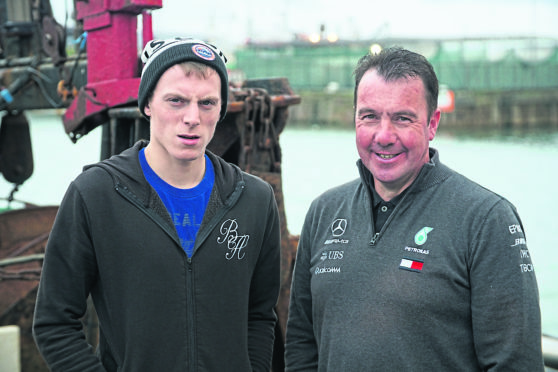 Peterhead is rarely in the spotlight, but this gritty port town has unexpectedly found itself at the heart of a new
BBC documentary series called Fish Town.
The waft of fish fills your nostrils as you step out into the bitter wind of the Blue Toon.
It's early morning and shrieking gulls circle above the boats unloading in the harbour.
The Reliance II has just come back from a week at northern fishing grounds, filled to the brim with the scaly bodies of monkfish, haddock and prawns.
With his feet back on terra firma, her charismatic skipper John Clark, 46, is talking 19 to the dozen, yelling orders at his crew.
A local fisherman of 30 years, there's not much that could surprise him, until last summer when an unexpected offer arrived out of the blue.
"They wanted to film us," he said with a chuckle, as if the idea still seemed nothing short of ludicrous.
"A film company wanted us to take a cameraman on board and show them our side of the job.
"I told them nae chance!
"But they were persistent, I'll give them that, and eventually I caved."
From then on, John found himself responsible for a guest crew member, one with more recording equipment than he had ever seen one man possess.
As well as a standard camera, the boat was rigged with a series of smaller static cameras to capture every movement of the crew, day or night.
But it wasn't exactly plain sailing, because despite all the technology being in place, the cameraman himself was incapacitated due to sea sickness.
"When we got back to shore he told me he'd never question the price of fish again," said John, with a smile, "and we got a different cameraman."
From there things ran a little smoother and the crew went out on their first expedition.
"The best thing about it all was that they didn't have an agenda or a script," said John.
"Our trips were anything from five to 10 days at sea and we just did what we always do.
"They captured some pretty hairy moments, particularly when we were out in Storm Hector.
"There was one second when we were struck by a huge wave in the middle of the night that damaged the boat, ripping off a two-tonne metal bar.
"When we were fixing it our hydraulic pump broke so the nets were stuck out in the storm, and we had to head straight back to Peterhead for emergency repairs.
"Another time we saw two huge Russian warships 70 miles off the coast of Fraserburgh.
"Coincidentally it was the same weekend that Trump was visiting Aberdeen."
As it was with Trawlermen some 10 years ago, the Doric is not diluted, and this time – crucially – not subtitled.
John himself is Doric through and through, though rather unusually in this profession, fishing is not in his blood.
"I've been a fisherman all my life but my mum and dad both worked for the NHS," John said.
"I used to tell my teachers at school that I wanted to be a fisherman and they laughed at me.
"Back in the day I remember skiving off Banff Academy to take a bus up to Macduff and watch the ships being built.
"One particular boat I saw being released was the Reliance, and later I was offered a job on it.
"After a wee while I was offered some shares in her, then eventually I bought all the shares and she was mine.
"Altogether I spent 18 years on her before I commissioned the Reliance II in 2009.
"She's done me very well and I've got Reliance III coming in July this year."
However, despite his personal success in the industry, John is concerned about the future.
Wherever you look in Peterhead, it is possible to see the effect the already strict EU quotas have had on the town, meanwhile a no-deal Brexit will see the UK fishing sector bobbing down an unknown path.
"There was a time where the Blue Toon was really a gold town," John said.
"We had lots of jobs and fishing was a real mainstay of the community.
"Today it's not seen as either a desirable career or even a practical one.
"We rely on international crews to make up our numbers and call young local crew 'gold dust'.
"My son bucks the trend a wee bit. He always maintained he would never be a fisherman, but he came away with me on a trip and one pay packet later he was hooked," said John.
So times may be a-changing in the Blue Toon but as the bitter cold wind carries a fresh waft of fish through the air, for some it will always smell like home.
Catch Fish Town on BBC1 every Monday from now until February 19.