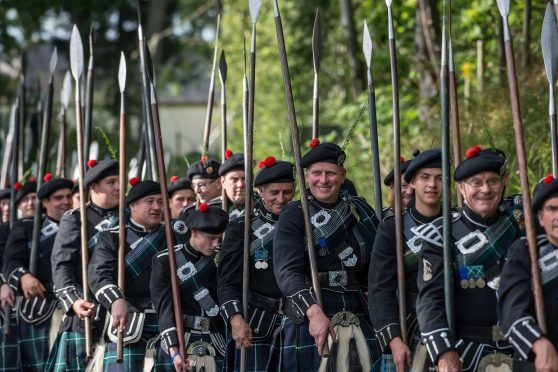 For almost 200 years, the men of Lonach have marched through the ancient glens of Strathdon proudly wielding their traditional pikes and sporting their historic tartans.
But this year the Lonach Highlanders will set foot on new ground when they attend the Royal Edinburgh Military Tattoo for the very first time.
A group of 75 of the region's finest clansmen will travel to the capital on August 14 to take part in the iconic annual celebration.
In front of an audience of around 8,500 people, including many international visitors, the highlanders will parade onto Edinburgh Castle's esplanade to herald the start of the evening's performance.
With a history stretching back to 1823 when the Lonach Highland and Friendly Society was first formed, the organisation is believed to be the largest body of non-military men to carry ceremonial weapons in Britain.
The Lonach Highland and Friendly Society's secretary and chief executive Jennifer Stewart said: "This is the first time that the Lonach Highlanders have been present at the event and there is huge excitement amongst those taking part.
"This is a fantastic opportunity for the society and the highlanders to help promote our history and heritage, the Lonach Gathering, Aberdeenshire and highland games in general."
The day's events will be televised, meaning that for the first time the historic traditions of the highlanders could be watched by millions of people around the world.
And just 12 days after the Tattoo, the men will march back up to Strathdon for the 176th Lonach Highland Gathering on Saturday, August 26.
The 75 clansmen that visit Edinburgh will be joined by more than 100 others for their six mile march around the local area, following in the footsteps of their forefathers and continuing 176 years of tradition.
Ms Stewart added: "If you think the sight of 75 Lonach Highlanders marching is special, the sight and sound of 200 of them, pikes aloft, marching through picturesque Strathdon is one to behold, and not to be missed."
To find out more about the Lonach Gathering and the clansmen, visit www.lonach.org