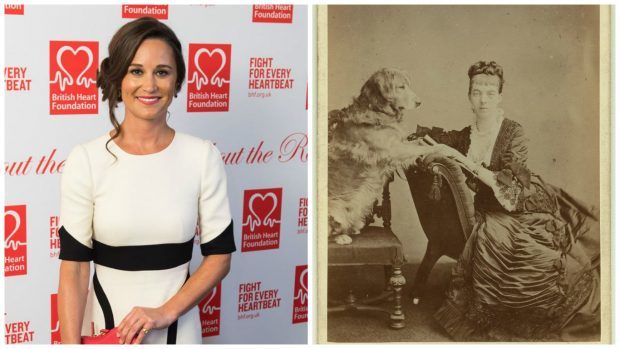 One of these pictures shows a party-loving socialite who made a name for herself as a gracious hostess to the great, the good and the royal.
The other is Pippa Middleton.
In Edwardian times, Fanny Spencer-Churchill was a society hostess of note, whose nephew – Winston Churchill – became one of the country's most famous prime ministers.
Back in the modern world, party planner Pippa Middleton, 33, first grabbed the nation's attention in that figure-hugging dress when she was bridesmaid at the wedding of her sister, Kate, to HRH Prince William in 2011.
But what they both really have in common is a large Highland estate – Glen Affric – and its courtesy title. It was here where the daughter of the 7th Duke of Malborough once entertained prime ministers and royalty as Lady Glen Affric and it will be at the Invernesshire pile where the daughter of Party Pieces boss, Michael Middleton, will one day do the same.
This Saturday, the younger of the two Middleton daughters will marry James Matthews in St Mark's Church in the village of Englefield, near her family's home in Bucklebury, Berkshire.
Her father-in-law-to-be David is the current Laird of the 10,000 acre estate near Beauly – which means one day, the title could be handed down to James and make Miss Middleton Lady Glen Affric.
Michael Reed, an Australian historian who unearthed the comparisons to the former Lady Glen Affric, said: "In Pippa's future role as a hostess and party planner she is emulating the style of the Edwardian hostess who went before her.
"The previous Lady Glen Affric loved outdoor pursuits, as Pippa seems to, and she was involved with royalty – which Pippa obviously is.
"It's fascinating to see history repeating itself."
The Edwardian Lady Glen Affric was a great hostess and, in 1897, entertained the Duke and Duchess of York, later King George V and Queen Mary.
She even drove Queen Mary around the huge grounds. Winston Churchill also visited his aunt's Glen Affric estate and enjoyed learning to drive on the private roads there.
When she died at Glen Affric Lodge in 1904, it was reported that Fanny Spencer-Churchill was "known and loved as Lady Glen Affric by the Highlands people".
David Matthews, who also owns a luxury Caribbean resort, bought the Glen Affric estate back in 2008. As his eldest son, James, 41, a multi-millionaire hedge fund manager, will inherit the title, Laird of Glen Affric.
James has two other brothers – Spencer, who has starred in 'Made in Chelsea' the reality TV show on E4 since 2011, and Michael, who tragically died in a climbing accident on Mount Everest when he was just 22.
Pippa, who is a graduate of Edinburgh University, knows both the estate and Scotland well, and is also a dog-lover – just like her Edwardian predecessor.
PIPPA AND FANNY
NAME: Fanny Octavia Louisa
BORN: 1853
LOVE LIFE: Married Edward Marjoribanks, the 2nd Baron Tweedmouth in 1873.
SOCIAL: Many of her society gatherings were in support of Prime Minister, William Gladstone, and she spoke out in public in favour of the Liberal Party.
CLAIM TO FAME: She helped to develop the Golden Retriever breed of dog.
NAME: Phillipa Charlotte Middleton
BORN: Reading, September 6, 1983.
LOVE LIFE: Pippa was named the No 1 Society Singleton by Tatler magazine in 2008.
SOCIAL: From Made in Chelsea to the Royal Family.
CLAIM TO FAME: Her figure-hugging bridesmaid's dress at the Royal Wedding in 2011 was designed by Sarah Burton of Alexander McQueen.