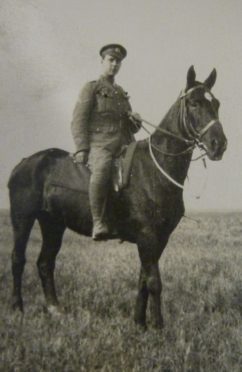 The wartime diaries of a north-east soldier, only recently unearthed and rescued from oblivion, offer a fascinating insight into the final days of the conflict from the perspective of the frontline.
Peterhead-born Lance Corporal Robert Stephen kept a detailed account of his experience of the Great War from the moment he was drafted in Aberdeen on September 15 1916, aged 20.
The small books were recently rescued from a skip in the south of England, where he is thought to have died in 1980, and have now been put on display in the Granite City.
It is thought that the Sapper with the Highland Division of the Royal Engineers must have kept the hobby a secret, as typically only officers would be allowed to keep a diary.
Entries continued until early 1919 and document the turning tide of the conflict, the relief as the guns fell silent and efforts to repair shattered communities in the aftermath of the war.
On September 4 1918, the Germans were in retreat as British and French troops made advances along the Canal du Nord, near Arras, Obozerskaya in northern Russia was occupied by Allied forces and a United States contingent landed at Murmansk to join the effort.
The developments clearly provided L/Cpl Stephen, who had previously described horrific battlefield scenes and survived a near-fatal bout of Spanish flu, with some relief as he and his battle-weary brethren staged a football match involving "Jocks in boots and shirts".
Throughout the rest of that month, Allied strides continued apace and he reported a surge in morale as it appeared that the end of the conflict was in sight.
With the Armistice less than a month away, spirits had continued to improve to such an extent that the soldiers – who had experienced the horrors of Vimy Ridge and Passchendaele the year prior – engaged in a skirmish of an altogether different nature.
The journal states: "Shearer, Yale, Quartie Mac and I share a billet; we had pillow fights in the evening."
However, the following day, there was a return to the harsh realities of war.
Despite being severely on the backfoot by this point, German forces continued to target the frontline.
L/Cpl Stephen recorded: "Fritz shelling a lot, and they were coming pretty close".
A "terrible day of rain" followed on the 16th, which left the north-east man feeling "about washed out".
As October neared its end, the soldier described the "sad sight" of civilians passing by as the troops advanced and of seeing "lots of our dead about".
He recorded some of the harrowing accounts given to him by French villagers of their time under German occupation.
On October 24, he wrote: "We shifted to Noyelles as civilians were returning to their homes. We heard terrible tales of people having to eat cats and dogs and visits from Gerry with revolvers."
But there was renewed optimism on October 30, when "sons were coming home to their parents after four years with the trenches" and "between them there was great rejoicing".
One the eve of the Armistice agreement, he wrote of the "great excitement about peace".
L/Cpl Stephen added: "I hope it comes true."
On Monday November 11, he wrote: "Hostilities ceased today at 11am, there was great rejoicing and we heard the bells ringing. A happy day, THANK GOD!"
But his experience overseas did not end there, despite a well-timed spell on leave commencing on November 16 which allowed him to return to Aberdeen where he and other soldiers were greeted by a "large crowd" at the railway station.
After spending time with his family there, and future wife Bee in Glasgow, he returned to France at the start of December.
The Armistice may have brought the fighting to an end, but the British Army still maintained a presence in France working on clear-up operations.
Less than a fortnight after his return, L/Cpl Stephen wrote: "I am getting very weary of this life, but will just have to stick it out, not long now."
When he set off for war, in October 1916, an anxious L/Cpl Stephen – whose diaries showed him to be a man of great religion – prayed to be brought home safely.
It must have been with some delight that he left camp for the final time at 4.30pm on February 6 1919, to board the Lydia boat to Southampton.
He wrote: "I then had a weary journey all the way to Edinburgh, where we changed for Kinross, and we were soon bundled through and finished with the Army.
"Arrived in Aberdeen at 2.45pm, nobody was at the station, but I found all was well at home."
Less than a week later, L/Cpl Stephen's brother Alex made that same journey and was welcomed back "looking well".
The final entry in L/Cpl Stephen's diaries was penned on February 27 1919, when he made his final transition back into civilian life.
It simply stated: "Started work for Alexander Day in Aberdeen."
Aberdeen City and Aberdeenshire Archives has taken possession of the diaries and staff are eager to hear from anyone who can tell them more about their original owner's life.
Senior archivist Ruaraidh Wishart said: "He would have kept the diaries in his pocket with his uniform, it is amazing to think that perhaps these went through battle as well."