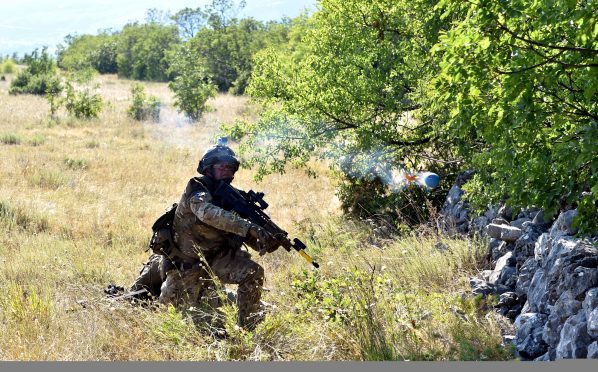 Jamie McKenzie explains what weapons and ration packs the reservists are equipped with.
Weapons and kit
The reservists have been issued with the same standard weapons and gear used by regular infantry soldiers.
The 5x6mm rifle has an effective killing range of 300 metres and weighs 5.8kg when a bayonet and night aid have been fitted.
Soldiers also carry the glock 9mm pistol for close-quarter battle – and this has a 25m effective killing range.
They also wield a light machine gun, which has a range of 600 metres and fires 130 rounds per minute. After 400 rounds, the soldier must change the barrel because the gun has heated up so much.
In addition to guns and body armour, every soldier carries a medical pack which contains enough supplies to cater for at least five comrades in the field.
The kits include items for treating serious haemorrhages and breathing and circulation problems.
Food
During exercise Sava Star, reservists have been issued with ration packs typically given to regular soldiers while on patrols.
Every pack contains the equivalent of 4,000 calories for 24 hours and meals are contained in a sealed bag which can be boiled in hot water.
The pack includes windproof matches which are used to light a heating gel under a small cooking device which will cook one meal.
A typical pack may include: a spork, an all day breakfast sachet, a chicken or vegetable biryani, chicken and pasta, wipes, tissues, chewing gum, coffee, tea bags, hot chocolate, energy drink sachets, muesli, dried fruit, peanuts, fruit juice, biscuits, cereal bars, chicken or vegetable soup, a coconut and cherry flapjack, a water bottle and can of beer.