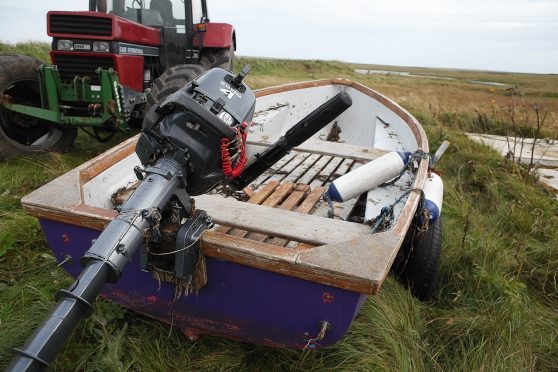 A man has died and another was hospitalised after their dinghy capsized off the coast of one of Orkney's northern islands.
Both men managed to reach the shore on Sanday after ending up in the water on Sunday evening.
The two were airlifted to hospital but one was declared dead shortly after arrival at Balfour Hospital in Kirkwall.
The victim was named locally last night as David Croft, a 54-year-old joiner who lived on the island.
His companion, named locally as Andrew Felthouse, 50, was airlifted to the Gilbert Bain Hospital in Lerwick where his condition is not believed to be life threatening.
Police are now trying to establish what happened – but a senior officer last night said it appears to have been a "tragic accident".
Orkney MSP Liam McArthur, who grew up on Sanday, said: "This is desperately sad news and my heartfelt condolences go to Mr Croft's family at what will be an incredibly difficult time for them.
"My thoughts too are with the wider community in Sanday, who I know are feeling a real sense of shock at this tragic event.
"We will have to wait to find out how and why this terrible accident occurred, but in the meantime I would echo the pleas of local police that people exercise care when taking to the water."
Locals on Sanday said that sea conditions had been "extremely calm" at the time of the incident.
The two men launched in their small boat from Black Rock Jetty and ultimately came ashore at Otterswick Bay.
Sanday-based councillor Stephen Clackson said: "It is a tragic accident that once again demonstrates how we must treat the sea with respect.
"I extend my sympathies to the family and friends of the deceased, and I wish to pay tribute to the coastguard for airlifting the two men involved to hospital."
Area Inspector Alicen Winston said: "Firstly I would like to say that my thoughts are obviously with all those involved in what appears to be a very tragic accident.
"In saying this, inquiries are at a very early stage and I would ask that anyone with information about what happened or anyone who was in the area around the time in question to contact police.
"It's understood that the men had been sailing in a dinghy in the Sanday area in the lead-up to this incident. As such I would appeal to anyone who might have seen them and could assist officers to also get in touch on 101."