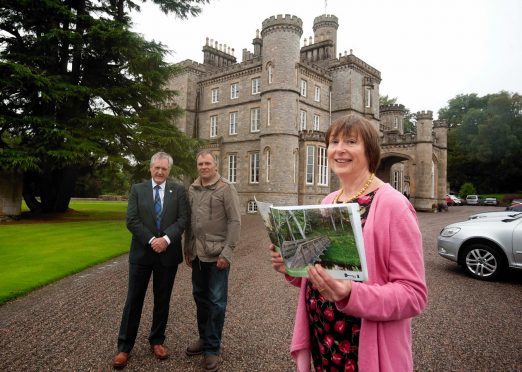 An environmental group has unveiled an ambitious scheme designed to attract more visitors to a nature hotspot in Moray.
The Drummuir 21 charity yesterday set out proposals to enhance the environment of the scenic rural area, which lies south of Keith.
A local action plan has been published at a cost of £10,000, which details the organisation's aims to encourage visitors to Drummuir by improving access to some of its most picturesque locales.
The scheme will run across the next 15 years, and includes projects to boost the area's red squirrel and water vole populations.
Youngsters from the nearby Botriphnie Primary School helped to shape the initiative, and they gathered with project leaders at Drummuir Castle to share in the excitement when it was launched.
The charity's chairwoman, Priscilla Gordon Duff, said the improvement programme was the result of a year's worth of discussions with local people and businesses.
She added: "I am delighted that we have been able to launch it, but this is only the start.
"The hard work will now begin in implementing the priorities identified in the plan."
The group hopes to create community facilities such as picnic tables, woodland shelters, wildlife hides, and outdoor classroom areas in the woods around Drummuir.
Their proposals also include completing a link along the Isla Way, a 13-mile route which connects Dufftown and Keith and is a popular path among tourists.
The chairman of Moray Council's economic development and infrastructure services committee, John Cowe, said the plan could help shine a light on that part of the region.
He said: "I am delighted that Drummuir 21 has been so productive in producing a local action plan to enhance the existing natural beauty and tranquillity in Drummuir."
The group secured a grant to cover the cost of forming the action plan, and its next step will be to assess how much the following phases of the initiative will cost and how best to fund them.