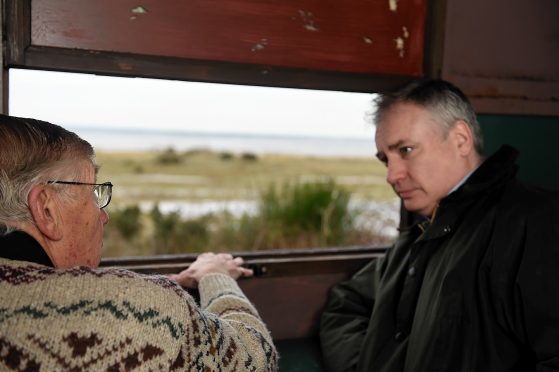 Moray Council has been urged to create a permit system for shooting at a coastal beauty spot, amidst a dispute between wildfowlers and campaigners who want a ban on their activities.
Local MSP Richard Lochhead met with representatives from a hunting organisation determined to maintain the traditional pastime at Findhorn Bay.
The British Association for Shooting and Conservation (Basc) has vowed to defy a voluntary agreement between local wildfowlers and the Friends of Findhorn Bay protest group, which restricts shooting to certain times and designated parts of the bay.
The organisation's bosses claimed its terms were "unnecessarily restrictive".
The move sparked outrage among dozens of locals, who marched on the shoreline waving placards and chanting calls to "give geese a chance".
Following his meeting with Basc, Mr Lochhead argued it was "absolutely clear" the existing regulations weren't working properly.
And he has now encouraged councillors to impose a permit system with certain by-laws to satisfy parties on either side of the debate.
Mr Lochhead said: "There's been a backlash in the local community due to some visitors not respecting the local environment, and it's absolutely clear the status quo is not an option.
"My meeting with Basc was positive and they made it clear they support a permit system with by-laws.
"We need the council to adopt a can-do attitude and calculate the costs of a permit system to inform the debate.
"The shooting season is under way and I don't think anyone wants to see another season go by without a solution being put in place."
Basc Scotland's Donald Muir added: "We explained that a permit system should be put in place at Findhorn Bay, which should eliminate any bad practice taking place."
The Friends of Findhorn Bay group responded it was willing to consider a compromise – although members have maintained that a "total ban" remains their preferred option.
Lead campaigner Lisa Mead said: "We have always been willing to consider a reasonable compromise.
"This might take the form of a permit system, controlling how many people can shoot on the bay, and where and when they can shoot.
"And some no-shooting days will be necessary for wildlife tourism purposes."
Moray Council will meet next Tuesday to discuss its next move.