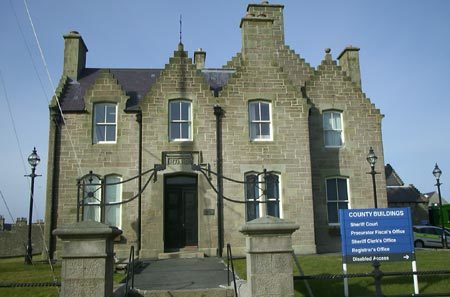 A man who was believed to be hiding from Yorkshire police in Shetland has been sent to prison for one year for giving a false name to officers after driving while disqualified.
Procurator fiscal Duncan Mackenzie suggested at Lerwick Sheriff Court on Wednesday that Martin Maughan, of Bowling Back Lane, Bradford, was in Shetland at the time to escape police questioning in England.
The 26 year old previously admitted driving a vehicle while disqualified at Lerwick's Westerloch Drive on 2 September.
Maughan also pled guilty to obtaining a room worth £130 at Scalloway Hotel on the same day "without paying and intending not to pay thereafter".
Mackenzie said the man and his partner, 23 year old Kathleen Boswell of the same address, left the hotel room "in a state" before staff contacted the police.
Scalloway residents later became suspicious after Maughan began touting himself for work.
Police traced his vehicle in Lerwick and spotted the groundworker leaving the driver's seat and entering the passenger side.
The couple then "lied voraciously" about the identity of Maughan, who also claimed Boswell had been driving.
Mackenzie added that Maughan had no connection to Shetland. It was the crown's position that he was in the isles because he was a "wanted" man in England, with Yorkshire police keen to speak to him about "serious" matters.
Defence agent Tommy Allan said Maughan, appearing from custody, had been spending time away from his partner in Shetland and was suffering from "stress and depression".
He added that his client gave the false name purely to avoid detection for driving while disqualified.
Allan said that Boswell was "caught up" in the deception and went along with the false identity to help her partner.
Sheriff Philip Mann backdated Maughan's jail sentence to when he first entered custody on 5 September. He was also disqualified from driving for four years.
Boswell was given 60 hours of unpaid work to complete.