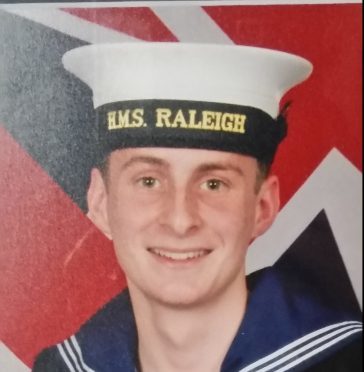 Tributes have been paid to a north-east Royal Navy engineer who died in a freak accident.
Ruairidh MacKay was rushed to hospital after falling off a 6ft wall during a night out in Banff earlier this month.
The 18-year-old – who was just weeks away from his first deployment – died from his injuries on Monday.
The teenager was visiting his family and friends at home in Macduff after completing the second phase of his training at HMS Sultan – the home of Defence School of Marine Engineering – in Gosport last month.
He had been due to then continue his training onboard a navy ship.
But Ruairidh was seriously injured after falling from a wall on St Catherine Street, Banff at about 3.30am on September 4.
Friends and colleagues at the Royal Navy's school of Marine Engineering, HMS Sultan, have paid tribute to the young sailor.
Lieutenant Commander Steve May, Training Officer at the Defence School of Marine Engineering, HMS Sultan, said: "The school is deeply saddened by the loss of a young, talented engineer who had a promising career ahead of him in the Royal Navy.
"He was a hardworking, diligent and rightly ambitious young man, who thrived on the challenges set before him, who thoroughly enjoyed all aspects of practical engineering.
"ET Mechanical Engineer (ME) Mackay was respected within the School and he enjoyed many outdoor sports notably, running, rugby and cycling. Our thoughts go out to his family and friends at this terrible time, and we stand by to support them however we can."
Defence School of Marine Engineering Divisional Officer CPO Warren Taylor said: "ET ME Ruairidh Mackay was a bright and cheerful character with a keen sense of humour who was looking forward to deploying with his first ship HMS OCEAN.
"In his Divisional Officers joining interview he told me with a smile on his face that he joined the Navy because he 'wanted to see the world'.
"It was obvious that ET Mackay cared deeply about his career in the Royal Navy and he worked hard, displaying commitment, courage and a great deal of personal integrity.
"Outside of the class room Ruairidh was a talented runner coming third in HMS Sultans Captains Cup cross country race.
"It was with the upmost joy that I presided over his journey through HMS Sultan and watched on as he completed his passing out parade. It is with the greatest of sadness that I learn of his passing. The Royal Navy is poorer for his loss."
Former Classmate at HMS Sultan ET ME Joseph Saunders said:
"Initially Ruairidh was a quiet character who seemed very keen to succeed in everything he did.
"He was great fun and could always liven up the atmosphere. Vibrant and eccentric, there was never a dull moment and I was privileged enough to pass out with him. He is sure to be missed by all."