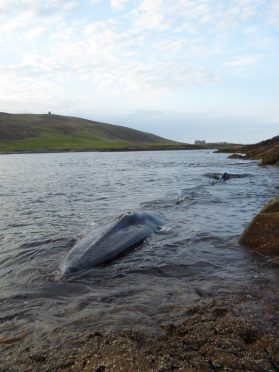 Attempts to save a massive fin whale stranded on a remote stretch of coastline in Shetland have failed.
Wildlife volunteers were called to the scene on the island of Noss on Wednesday afternoon to what initially appeared to be a large minke whale in distress.
However, with the fading light and the mammal's head stranded on rocks it turned out to be impossible to refloat the creature.
One of the volunteers said: "It was a huge creature in a very difficult location, and it was too dark and dangerous to do anything, so we had to abandon any attempt at a rescue and return home."
Sadly, the whale died overnight.
It was only on Thursday morning after local Scottish Natural Heritage manager Karen Hall saw the first photos of animal that she realised that this was not a large minke whale but a relatively rare fin whale.
She said a team would now be sent out to take measurements and samples to determine the cause of death.
Fin whales can grow to 18 metres in length and weigh up to 30 tonnes. They are relatively rarely seen inshore and are more likely to be seen around the Continental shelf.
Paddy Dinsdale of the council's environmental health department said she was aware of the situation and was keeping a watching brief on developments.