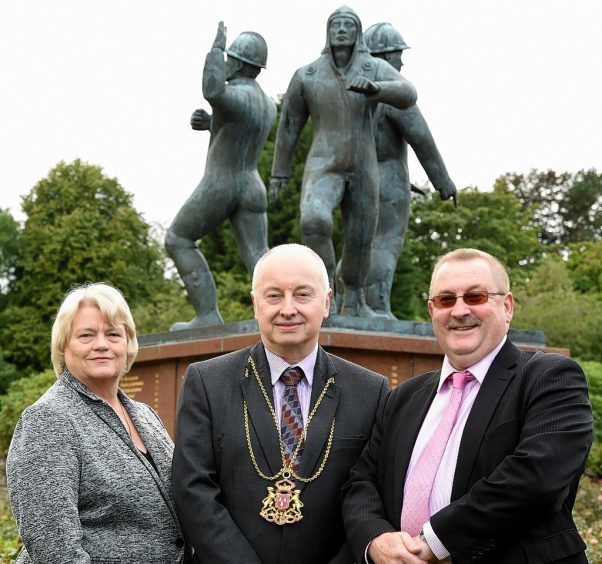 Thousands of pounds have been donated to make sure the Piper Alpha memorial is kept in good condition for years to come.
The Pound for Piper Memorial Trust yesterday handed £63,500 to Aberdeen City Council.
The money will be used to pay for the upkeep of the North Sea Memorial Garden, at Hazlehead Park.
The trust was set up in 2012 to help maintain the memorial where people can go to remember the 167 people who died in the 1988 disaster.
Trustees Gus Munro, Carol Banks, Lucy Norval and Shaun Liddle presented the money to Lord Provost George Adam, who said the council was very grateful for the generous donation.
He added: "This money will go towards the upgrading and maintenance of this beautiful garden.
"It is a beautiful space for people to come and remember their loved ones."
The trust also funded a major regeneration of the garden in the run up to the 25th anniversary of the tragedy in 2013.
Thousands of new roses were planted, the monument was thoroughly cleaned and the surrounding benches painted.
Mr Munro said this latest round of funds would cover all maintenance costs up until the end of 2017.
He said: "It includes looking after the rose beds, cutting the grass, maintaining the monument, the benches and making sure the hedges are in control.
"The gardens are so important for a number of reasons.
"It is a place of solace and rest – a place for reflection.
"A lot of folk in Aberdeen are still affected by what happened back in 1988 so is important to keep it looking nice and beautiful as a place of contemplation for families and friends of the bereaved.
"But it is also a constant reminder with regard to safety in the North Sea.
"It sends a message out that a disaster like that should never happen again.
"We'd like to thank the folk of Aberdeen and the folk offshore and those who have been affected by the incident themselves for putting their hands in their pockets."
The money was raised through donations from offshore workers, oil companies and members of the public.