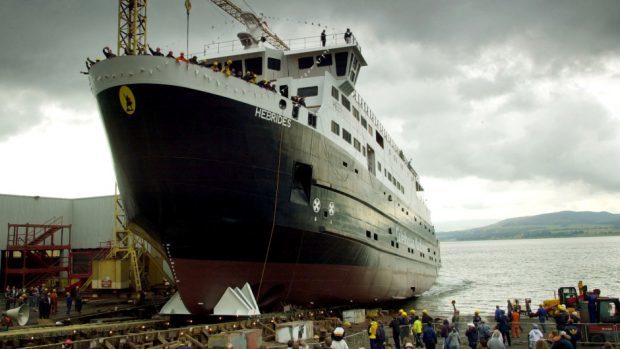 A ferry with more than 70 people on board crashed into a harbour after overshooting her berth and ploughing into a marina at high speed.
The MV Hebrides hit a rocky outcrop as it approach Lochmaddy in North Uist before colliding with a series of pontoons.
No one was hurt in the dramatic incident.
Operator CalMac – which has launched an investigation – said was caused by a technical failure which meant the ferry was unable to slow down.
The vessel has been withdrawn from service for at least the next 48 hours and divers are being sent to the Western Isles to assess the damage.
Locals described the damaged harbour as being a "a scene of utter devastation" – and early estimates suggest at least £100,000 of damage was caused to the marina.
The ferry was travelling from Tarbert on Harris before picking up passengers in Lochmaddy for the onward journey to Uig in Skye.
It was carrying 76 passengers and crew, 13 cars, one lorry and a motorhome.
Holidaymakers Joe Stafford, 30, and his friend Sean McManus, 26, from Bathgate in West Lothian, were on deck when the ferry shot steamed into the harbour far more quickly than usual.
Mr Stafford said: "We felt a bump and then another bump and then the boat turned and we could see what had happened. The pontoons were all wrecked and the side of the boat seemed to have hit a rocky outcrop."
Mr McManus added: "We didn't panic, but the crew members were running about a bit which was disconcerting. We weren't called to muster stations or anything.
"People were taking it quite well and laughing."
Morag Macleod, who is originally from South Uist and is a pupil support assistant at the Gaelic school in Inverness, was visiting the islands for the weekend.
She saw the incident from her car as she waited in the embarkation area.
She said: "When you see the ferry coming in it usually comes in slowly to berth at the pier but it just steamed on, it seemed to carry on into the smaller bay and you're thinking, crikey, what's going on because it shouldn't be there.
"It was travelling at some speed, and we don't know what happened but at some point it hit rocks.
"You could hear thrusting noises as they were trying to control what was happening but it was an awful situation to watch because you're thinking is it going to go on to the rocks.
"The captain seemed to manage to control it, but when he started to turn the pontoons got churned on it. Luckily there no boats at the part of the pontoons.
"He seemed to get it turned round and then came into the pier, bumped up really hard against the pier and then went back out into the bay and came back in to berth at the pier.
"We all waited to see if everyone coming off was ok. They had to turn the vehicles round in the opposite direction to get them off."
She added: "It was frightening to watch and I feel quite shocked about it. It could have been a lot worse. But I think the captain did quite well to get it under control."
The 325ft vessel was commissioned in 1998 and built by Ferguson of Port Glasgow.
A CalMac spokeswoman said : "A technical failure led to the vessel being unable to reduce speed sufficiently for the routine docking."
The damage to the pontoons is a blow for the local organisation responsible for their installation and management.
Comann Na Mara (CNM) had the £400,000 pontoon system built in 2014 under the first ever local management agreement with the Crown Estate. They were officially opened by Princess Anne two years ago.
CNM chairman, Gus Macaulay, inspected the damage with North Uist Estate factor and CNM secretary, George MacDonald.
Mr Macaulay said that at first glance it looked like at least £100,000 of damage had been caused.
He said: "We walked onto the pontoons to be met with a scene of utter devastation at the hammerhead.
"The pontoons are anchored in and we don't know what's underneath yet. There has been knock-on damage to the rest of the pontoon with the main bridge looking off-kilter."
He added: "It's luck no one was injured or worse, but it was very close."
A team of divers has been called from Stornoway to inspect the damage to the ferry and he company which installed the pontoons, Gael Force, will also send a team to the islands.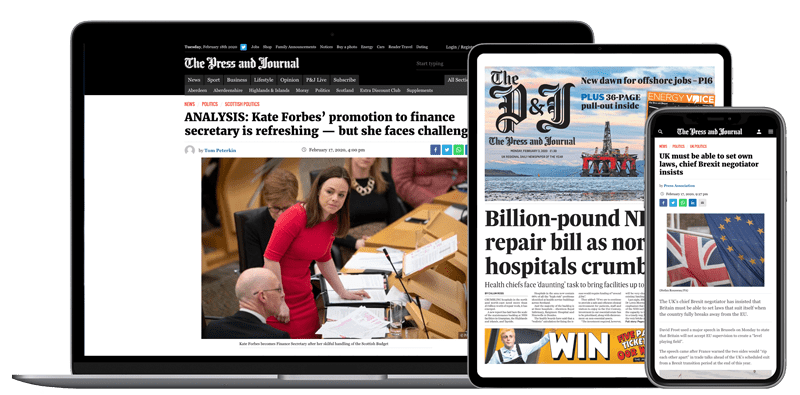 Help support quality local journalism … become a digital subscriber to The Press and Journal
For as little as £5.99 a month you can access all of our content, including Premium articles.
Subscribe