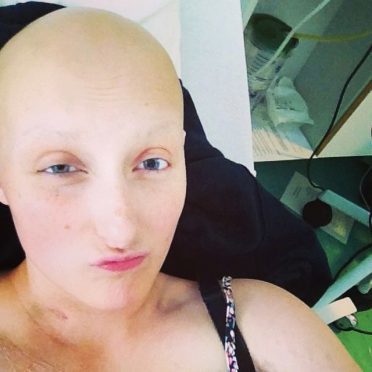 Emily Findlay stands tall and proud and her 20-year-old body reveals nothing of the trauma it has suffered over the past six years.
From emergency spinal surgery to antibody chemotherapy which nearly cost Emily her life, she has battled against neuroblastoma since she was just 14 years old and been told she will never be completely free of it.
Fewer than 100 children are diagnosed with neuroblastoma each year in the UK. It is a cancer of specialised nerve cells and most commonly occurs in adrenal glands in the abdomen or nerve tissue which runs along the spinal chord. It mostly occurs in children under the age of five.
Emily believes cancer has enriched her life, and led to her baring her body as part of a role model campaign.
Picked out of thousands of applicants, she was chosen to model for lingerie brand Panache as part of Modelled by Role Models. She hopes to encourage other women to love their bodies.
She is a breath of fresh air in comparison to photo-shopped images – her pictures have already been seen by thousands of people across the country and may yet be beamed to Times Square in New York.
Emily took part without hesitation, for with every gruelling treatment cycle, came a new love of her body which continues to fight back.
For the first time in six years she is taking a proper break from treatment and moved to Aberdeen from Orkney last month to study events management.
She hopes to lead a normal, student life devoid of the rigmarole of cancer, for a time at least.
"I needed to come to Aberdeen, for as much as I love Orkney, I needed to get away and actually take some time for me," said Emily.
Looking back over her remarkable journey she said: "My general attitude in life is that I never say no. I was actually in the oncology ward when I got an e-mail to say I had been chosen to taken part in the campaign.
"I was nominated and although she's never owned up to it, I think my mum put me forward.
"I was chosen out of 7,000 people which is pretty amazing, and then I flew to London with my best friend and did the shoot earlier this year.
"I think I was a little bit nervous in the morning but the whole experience was brilliant and I love the message it sends out."
Having grown up in a small community with her parents Michelle and Clinton, and her seven-year-old brother, Max, Emily is finally spreading her wings and forging an identity outside of cancer.
It has been a journey of incredible highs, crippling lows and intense cycles of treatment which meant Emily left school without sitting her Highers.
"My type of cancer is such a big thing because it never goes away. I'll never know what it feels like to be in remission.
"You always think what would life be like without this diagnosis," she said.
"I can't even begin to imagine.
"Before I was diagnosed I wanted to be an architect but every element of my life has been effected by cancer. It's always in the back of my mind and my consultant described this as a chronic illness that can always come back.
"I've never had an individuality without cancer or the chance to be a normal young adult, but I actually don't think I would change anything."
Emily is now an ambassador for the Archie Foundation and has organised endless fundraising events.
She's also met The Queen and Sir Alex Ferguson, as well as amazing friends within what she calls 'the cancer community'.
"It was so hard when I was diagnosed because my life changed overnight and people didn't know what to say," she said.
"My friendship group now is amazing. My best friend went through cancer and she knows when to tell me to get up and when the pain is too much.
"There's also a lot of guilt attached when you make friends with other sufferers, you have to face the fact that half of your friendship group might not always be around.
"We lost two girls within two months and went from a group of five to three. It was a massive shock and you think why them and not me?
"When you form attachments you have a choice though, you can have all the pain of losing this person versus the joy of knowing them in the first place."
Emily finished treatment last November but antibody therapy left her at her lowest ebb, both physically and mentally.
She ended up in intensive care and had to be resuscitated.
"Everything possible went wrong and that is the first time that I had honestly had enough," she said.
"I told my mum that I just wanted everything to stop, I was sick of being a guinea pig and I felt completely broken.
"I felt so horrific and wanted treatment to end. I would rather have faced however long I had left than go through that again."
Doctors are unsure of Emily's life expectancy, it could be five years or 40 years, but she is determined to make the most of every moment.
"There has been so much heartache over the years because I don't know what normal is, I've had to make my own normal," said Emily.
"You get up and brush yourself down though, you can't feel sorry for yourself and I think I've had it instilled into me that I'm still alive.
"I've dealt with what I've been given and I think the wonderful thing about the role model campaign is that it's about normal women.
"Images of normal women are really lacking in the media and advertising. Growing up, all I saw were actresses or singers but I still struggle when people tell me I'm inspiring.
"I feel a bit like a turtle that wants to hide in its shell. I'm turning 21 in two weeks' time though and this time last year I didn't think I would get there."
She's enjoying living independently and Emily's plans for the celebrations include a night out in Aberdeen.
"I think this chapter of my life is about doing things that every other young person does.
"This is my time now and I just want to take some time for me outside of cancer," she said.
Panache's Modelled by Role Models was launched in 2015 to coincide with International Woman's Day. The images feature six women comfortable in their own skin who have all achieved remarkable things.
Victoria Sargeson, head of marketing at Panache, said: "We are proud to be working alongside six inspirational women whose achievements exceed skin deep beauty.
"The role models – who were chosen by the public – look absolutely stunning and we feel that the set of images really capture their beauty and personalities.
"We hope that the campaign inspires other women to have the confidence to achieve their dreams and to be happy and comfortable in their own skin."
Emily's images will be used by various lingerie brands and various magazines.
She hopes the campaign will encourage more women to be body confident.
"I think women need to embrace everything they've been given with their bodies – but you have to learn to do that. True happiness doesn't come from losing weight or altering your body, it's about accepting yourself for who you are.
"No matter what life throws at you, get up, dress up, show up," said Emily.
THE ARCHIE FOUNDATION
Emily has raised thousands of pounds for The Archie Foundation through her role as an ambassador. From organising a fairytale children's ball to making a film about her own experiences, she is passionate about the charity which has provided her with continued support. Every year Archie impacts on the care of 175,000 sick children. It buys specialist equipment, supports families, funds research, and provides specialist staff. Archie is also investing more than £2million in The Royal Aberdeen Children's Hospital and opened the new Archie Highland Children's Unit in April.
To make a donation or for more info www.archiefoundationhome.org.uk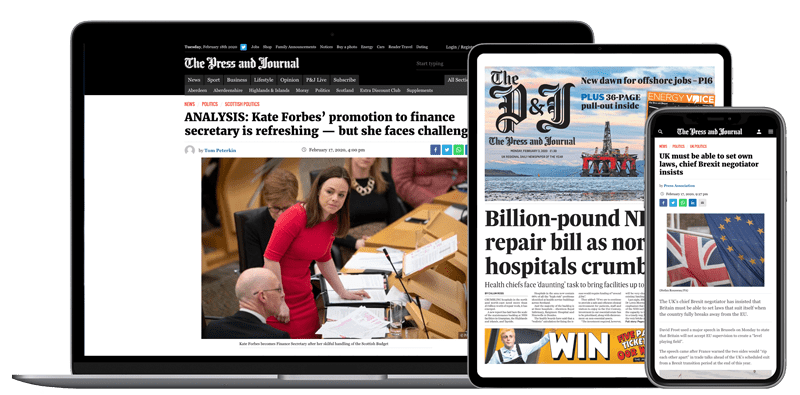 Help support quality local journalism … become a digital subscriber to The Press and Journal
For as little as £5.99 a month you can access all of our content, including Premium articles.
Subscribe